Nestled in the heart of Gujarat, Ahmedabad city is the seventh-largest urban agglomeration in India. Its rich cultural heritage along with the contrasting flavours of food, warm people and fascinating history makes it a travel and food hub. The Sabarmati divides the city into two physically distinct eastern and western regions. The eastern bank of the river houses the old city, packed bazaars, pol system of settlements, and numerous places of worship. Declared as a World Heritage City by UNESCO in 2017, Ahmedabad or  Amdavad, as it is popularly known, has many offbeat destinations and secret locales that you can uncover during your trip. From its fascinating history, beautiful riverfront, warm people and bustling nightlife, Ahmedabad has plenty to offer the discerning tourist. Here's our complete guide to 22 offbeat things to do in Ahmedabad. 
Ahmedabad Heritage Walk
Imagine walking into bylanes or pols of a city and gaining a fascinating insight into the colourful past and beautiful present. Ahmedabad Municipal Corporation offers you just that. With a knowledgeable guide in tow, you criss-cross the pols of Ahmedabad as he or she regales you with stories, shows you architectural delights and allows you to experience Ahmedabad for what it is. 
The 'Mandir to Masjid' is a 2 km long heritage walk starting from the 19th century Swaminarayan Temple Kalupur. The walk comprises 22 locations including several popular Chowks, Pols, and the famous 15th century Jama Masjid. The standard package of the walk is offered at Rs 200 per person for Indians and Rs 300 for Foreigners whereas the luxury package is provided at Rs 350 per person for Indians and Rs 450 for Foreign nationals. The Mandir to Masjid Heritage walk is one of the best things to do in Ahmedabad. 
Ambapur Ni Vav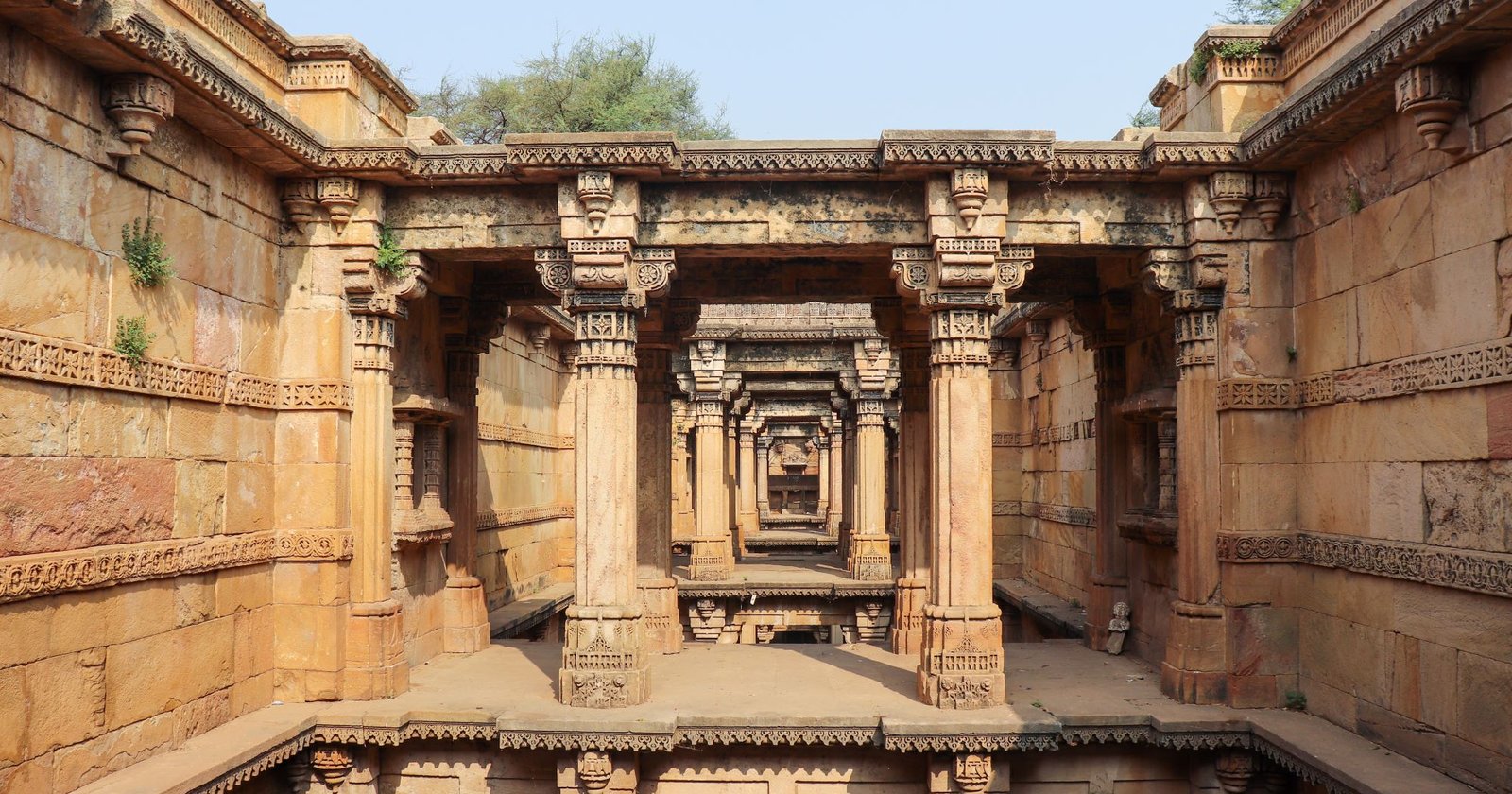 Ambapur ni Vav is 15th century, 5 storied step-wells known for their architectural marvel. Located close to the village Ambapur, this stepwell is a popular tourist spot located on the outskirts of Ahmedabad. Queen Rudabai Vaghela is said to have established this step well with intricate carvings that depict the amalgamation of Indian and Islamic architecture. There is no entry fee for Ambapur Ni Vav and the best time to explore this serene location is 10 am onwards. It is one of the nicest things to do in Ahmedabad in one day and you can find it relatively empty most of the time. Spend some time admiring the beauty of the intricately carved step-wells, marvel at the beautiful view or simply indulge and create some Instagram worthy content. Ambapur Ni Vav is also a great picnic spot and is a great thing to do in Ahmedabad for families. 
The Auto World Vintage Car Museum
If you love vintage cards, this museum is a treasure for you. has one of the largest private collections of exotic cars, bikes, buggies, and utility vehicles. Among the 300+ mechanical extravaganzas on display, two stand out: the automobile featured in the film Gandhi and the first Maybach ever built. Among the rare models on display are a Bentley, Lagonda, Rolls Royce, Cadillac, Austin, Jaguar, Mercedes, and Auburns. This incredible collection has also earned a  position in the Guinness Book of World Records. What's more for just Rs. 1000, 4 people can enjoy a 15-minute joy ride in a vintage car of their choice! It is a perfect unique family activity in Ahmedabad. 
Adalaj Stepwell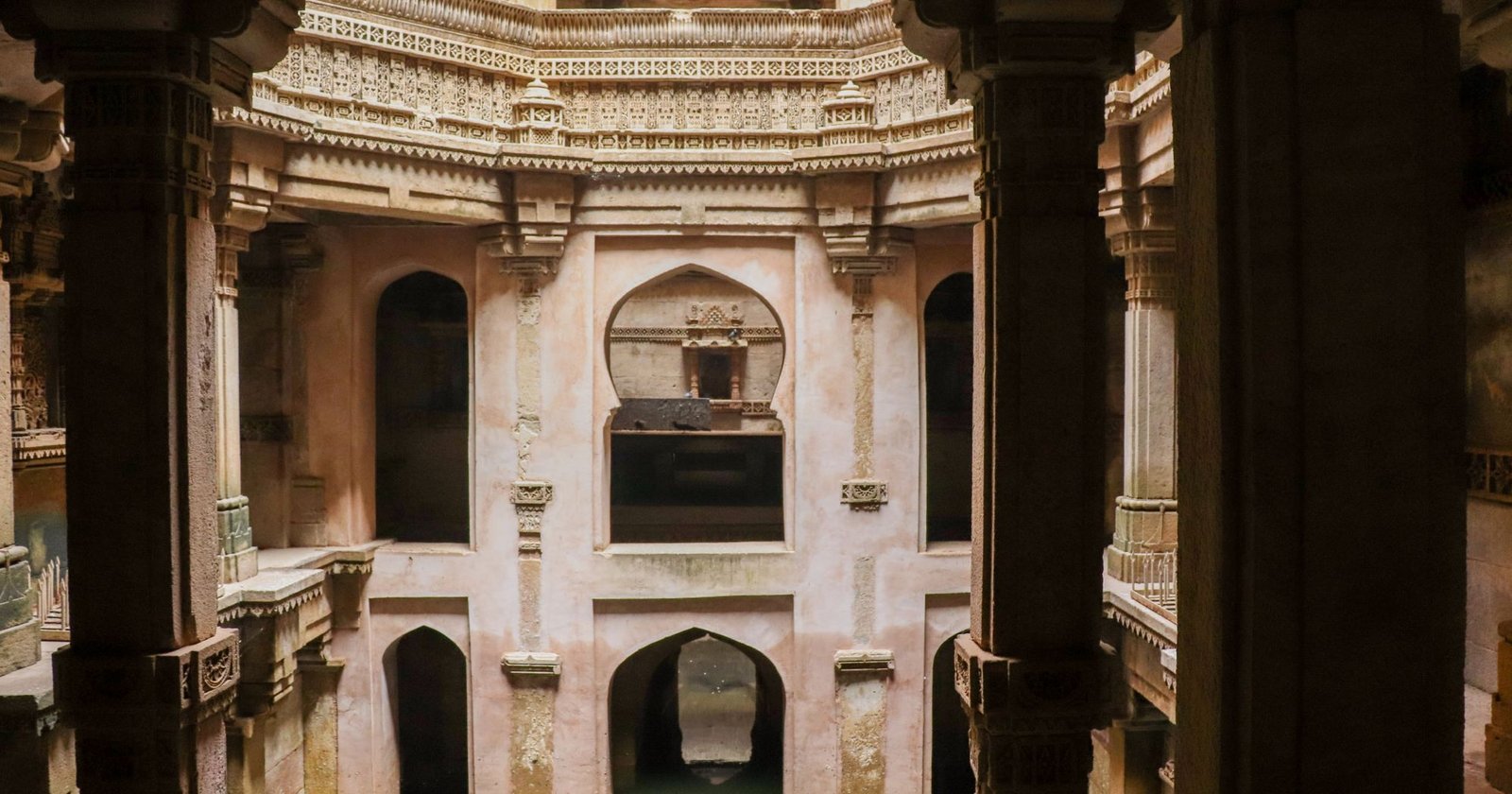 Stepwells were commonly constructed in semi-arid areas of the country, particularly along trade routes. Several pilgrims and businessmen going along the route used these architectural structures to store rainfall and as a resting area. Adalaj Step Well, an integral part of Ahmedabad's history, was built in 1498 by Queen Rudabai, the wife of Vaghela dynasty's Rana Veer Singh. He was the King of the Dandai Desh, a minor kingdom. According to history, the kingdom was in desperate need of water, so King Rana Veer Singh decided to construct a large stepwell to remedy the problem. Though he began the building work, he died in a war with the Sultan of Gujarat, Mahmud Begada, and was unable to complete it.
Today Adalaj Stepwell is a famous tourist destination in Ahmedabad. The splendour of the past, the architectural beauty and the possibilities of exploring and finding something interesting are endless. Located very close to Ambapur Ni Vav, you can enjoy a day trip from Ahmedabad and visit both these wonderful places.
Sidi Sayed Mosque
Sidi Sayed Mosque, Ahmedabad is known to be the symbol of the architectural beauty of the city. An Abyssinian from Yemen, Sidi Sayed built the mosque with the help of 45 craftsmen. Its architectural design symbolizes divine art with its intricately carved filigree work on the jalis. The construction involves arches, vaults, squinches, and domes, setting up the mosque just like a theatre having no fourth wall. This is also the point where the Mandir to Masjid heritage walk ends. 
Vechaar Utensils Museum 
Vechaar is the only museum in the world that displays a huge collection of old and precious utensils from several ethnicities. Established in 1981 by designer Surendra Patel and anthropologist Jyotindra Jain, the museum reflects the unmatched genius of humankind during the lack of modern facilities. The collection highlights utensils made up of steel, zinc, wood, bronze, German silver, mud, and glass and allows the visitors to get lost in the grandeur of the past. The timings for the museum are from 3 pm till 10:30 pm but remain closed on Mondays. The entry fee for adults is Rs 30 per person and for children aged 3 to 11 years is Rs 10. 
Dada Harir Vav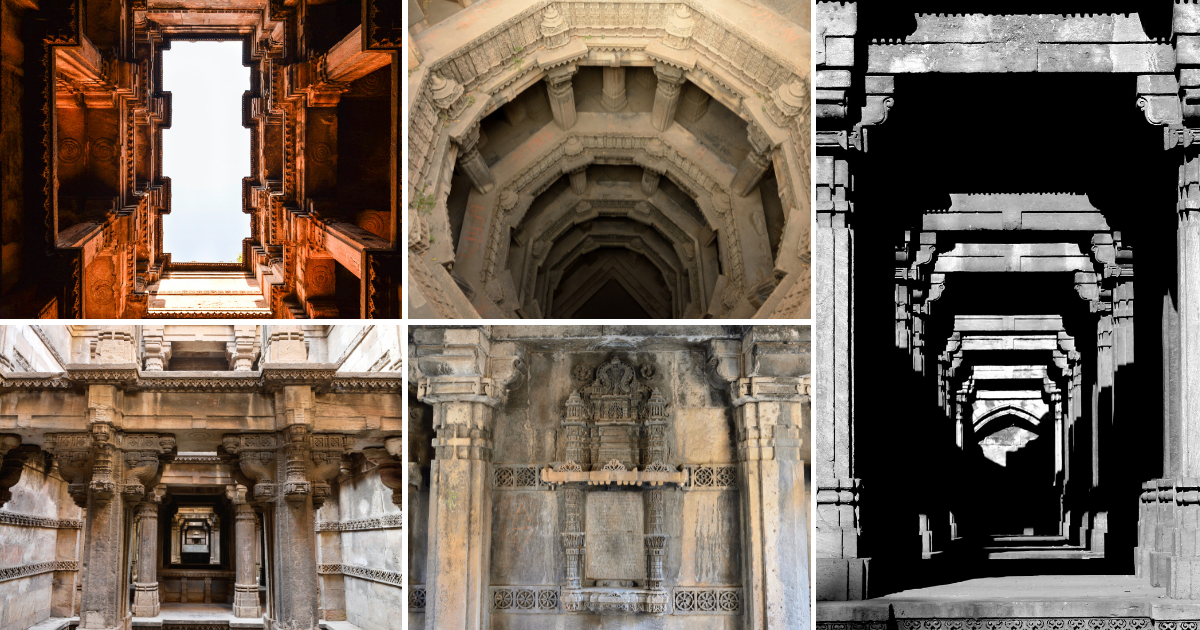 An Ahmedabad point of interest, Dada Harir Vav (also known as Bai Harir ni Vav) is a 15th-century stepwell constructed under the supervision of Sultan Begada Harem. The stepwell is a serene place to be because the depths of the well are cool even during the hottest days. Arabic and Islamic inscriptions, 5 storied octagonal step-wells, and the architectural marvel are things worth admiration.  It remains open from 7 am to 6 pm and you can have the place to yourself on the weekdays with weekends getting crowded. During your trip, this should be on your bucket list of activities to do in Ahmedabad.
Hutheesing Jain Temples
Hutheesing Jain Temple, the sacred place of worship for the Jains, attracts huge crowds of people owing to its divinity and spirituality. This architectural gem was built by Jain trader Sheth Hutheesing Kesarisinh. Stone carvings in white marble, stone images, pillared hall, and the idol of Osai Mata are sights to behold at this place. The temple timings are 8 am till 5 pm and are located at a distance of 3.6 km from Ahmedabad railway station. 
Victoria Garden 
A trip to Ahmedabad is incomplete without visiting the Victoria Garden. Situated close to Bhadra fort, with a magnanimous statue of Queen Victoria, the garden is the ideal location to spend rejuvenating time in nature. The well-maintained lawns, pretty flower beds, beautiful trees, and spacious playing areas make it a popular place in Ahmedabad. It remains open for 24 hours and is the perfect getaway from the hustle and bustle of city life. 
Drive-in Cinema 
Drive-in cinema is a place where one can enjoy their favourite movie under the open sky.  With premium sound quality and delicious food available easily, it is one of the most romantic things to do in Ahmedabad. You can enjoy this fabulous experience from 7:30 pm to 1:30 am every evening. With the COVID restrictions being lifted, the drive-in cinema is truly the best things to do in Ahmedabad at night. 
Shopping at Law Garden
Law Garden Night Market, Ahmedabad (named due to its closeness to the Law college) is a popular shopping destination.  Home to stylish accessories, clothes, handicrafts, souvenirs, and much more, it is a shoppers' heaven. It is called one of the most happening markets in Ahmedabad and is a popular destination for youngsters in Ahmedabad. Along with traditional Gujrati items of clothing, the Law Garden Night Market is also famous for embroidered wall hangings and silverware from Saurashtra and Kutch. Apart from shopping, several food trucks line up the market offering some delicious Gujarati snacks and local street food.
Indroda Fossil Park
A popular getaway from Ahmedabad, Indroda Dinosaur & Fossil Park in Gandhinagar, Gujarat's capital, is a priceless treasure sprawled over 400 hectares on either bank of the Sabarmati River. It is said to be the world's second-biggest dinosaur egg hatchery. The Gujarat Ecological Education and Research Foundation manages India's Jurrasic Park, and it is the country's sole dinosaur museum. A zoo, gigantic remains of sea creatures including the blue whale, a big botanical garden, amphitheatre, learning centre, and camping facilities are all part of this park. It also has a massive forest with hundreds of nilgais, langurs, and peafowls. Its Wilderness Park has varieties of birds, reptiles, and hundreds of nilgais, langurs, and peafowls.
Jhulta Minar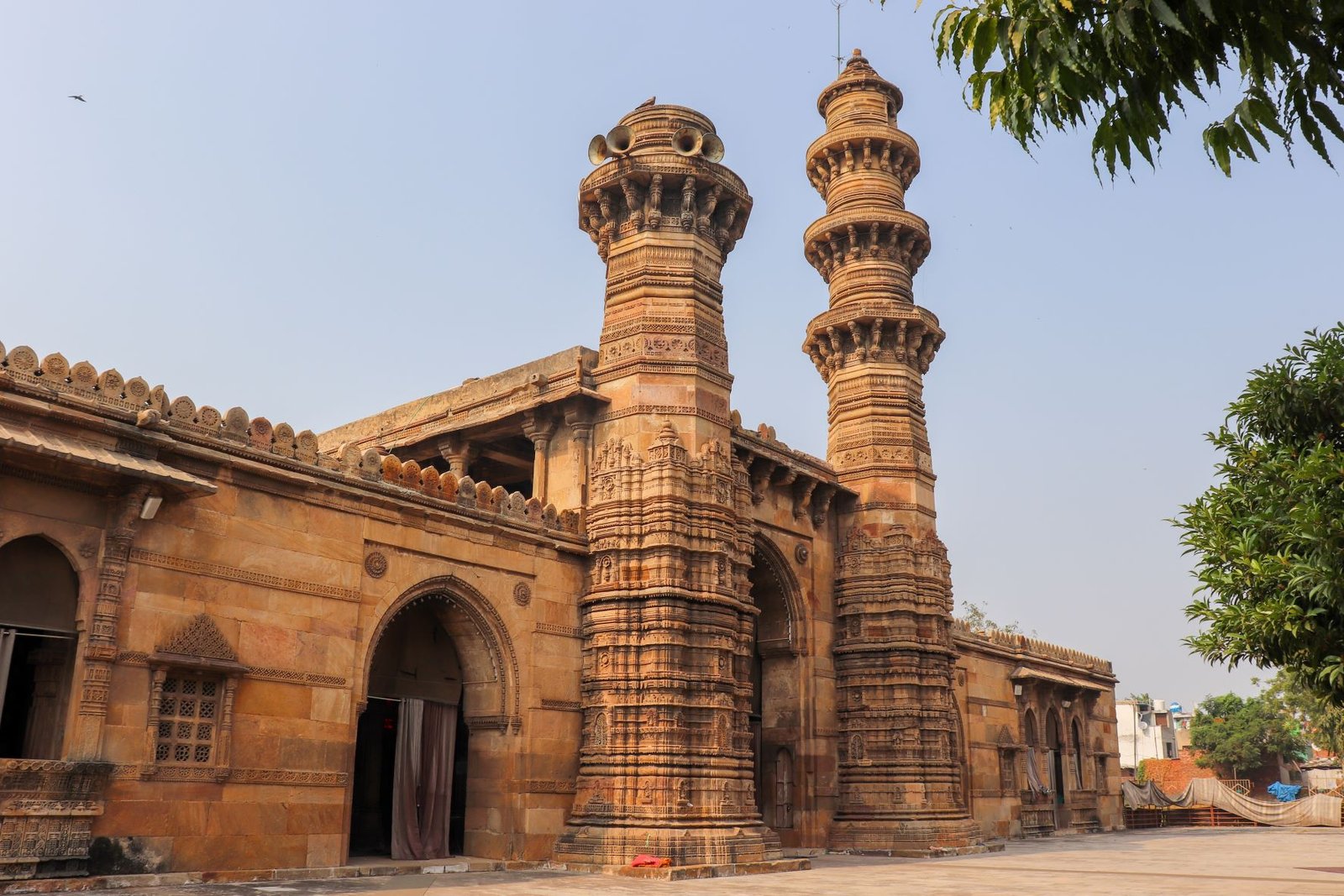 Bibi ki Masjid built by Makhduma-I-Jahan, in 1454 AD is one of the finest examples of Indo-Islamic architecture. Its most famous feature, however, is the swinging minarets or the Jhulta Minar. It is a part of the mosque Siddi Bashir and is a remarkable example of exceptional craftsmanship. The mosque has been built in such a way that if you apply a small amount of force to its upper arc, the Minar will swing. An effort, by an Englishman, was attempted to demolish one of the mosque's minarets, but it was unsuccessful. He did so in order to figure out what was causing the minarets to sway. The process that causes vibration still remains unknown. Till a decade ago, travellers to Jhulta Minar had the option to walk up to the minarets and experience the swinging effect. In recent years, efforts are being made to preserve Jhulta Minar and while you cannot climb up to the minarets, you definitely appreciate the beauty of the place. When at Jhulta Minar, don't forget to meet the caretaker who is happy to regale you with stories from the past. 
Amdavad Ni Gufa
Amdavad Ni Gufa is a perfect combination of art and architecture, an underground cave-like structure in Ahmedabad, India. It is an art gallery that was designed as a combined effort of an architect Balkrishna Doshi and an Indian artist Maqbool Fida Hussain. The roof of this cave-like art gallery is inspired by the tortoiseshell that protects the interiors below and is made of several interconnected domes that are covered with patches of tiles. On the other hand, some irregular tree-like columns stand on the inner side to support the domes.
The tiles on the roof mitigate heat by reflecting the sunlight. On of the most interesting things to do in Ahmedabad for everybody, Amdavad Ni Gufa should definitely be on your list. 
Calico Museum of Textiles
The Calico Museum of Textiles was established by an industrialist Gautam Sarabhai and Gira Sarabhai in 1949. The inspiration came from Ananda Coomaraswamy who was a pioneering historian, metaphysician, and philosopher of Indian art. The collections preserved in this museum are among the world's finest handmade collections of antique and stylish Indian textiles up to 500 years old.
The most amazing pieces include Kashmiri shawls that took almost three years to make. It is also home to double-ikat fabrics utilizing 100,000 threads each dyed individually before weaving. Each piece displayed in the Calico Museum of Textiles showcases extravagance and incredible virtuosity that leaves the visitors amazed. 
Manek Chowk
The word Manek means "Ruby" in English. Manek Chowk, however, got its name from Saint Maneknath who has historical importance in Ahmedabad. Manek Chowk is the second-largest jewellery market in India where you can buy any kind of gold or silver jewellery. However, as the night sets in, the whole place transforms into food heaven. Despite the replacement of old shops with modern-day shopping malls and showrooms, this place still remains a favourite shopping destination in Ahmedabad.
Seva Café
Situated near the Shoppers' Plaza, Seva Café in Ahmedabad is a unique restaurant working on the principle "Gift economy". The actual meaning of the café i.e., making people happy and distributing happiness among them makes it the most well-known café in the city. It was established by Manav Sadhna in 2006, an NGO founded by Jayesh Patel and John Silliphant.
When you had your meal, you can pay whatever amount you like in an envelope; the amount will be used to pay for the meal of someone else. This unique concept of the gift economy and simple, hearty meals served at the Seva Cafe, make it a fascinating place to visit when in Ahmedabad. 
Sabarmati Riverfront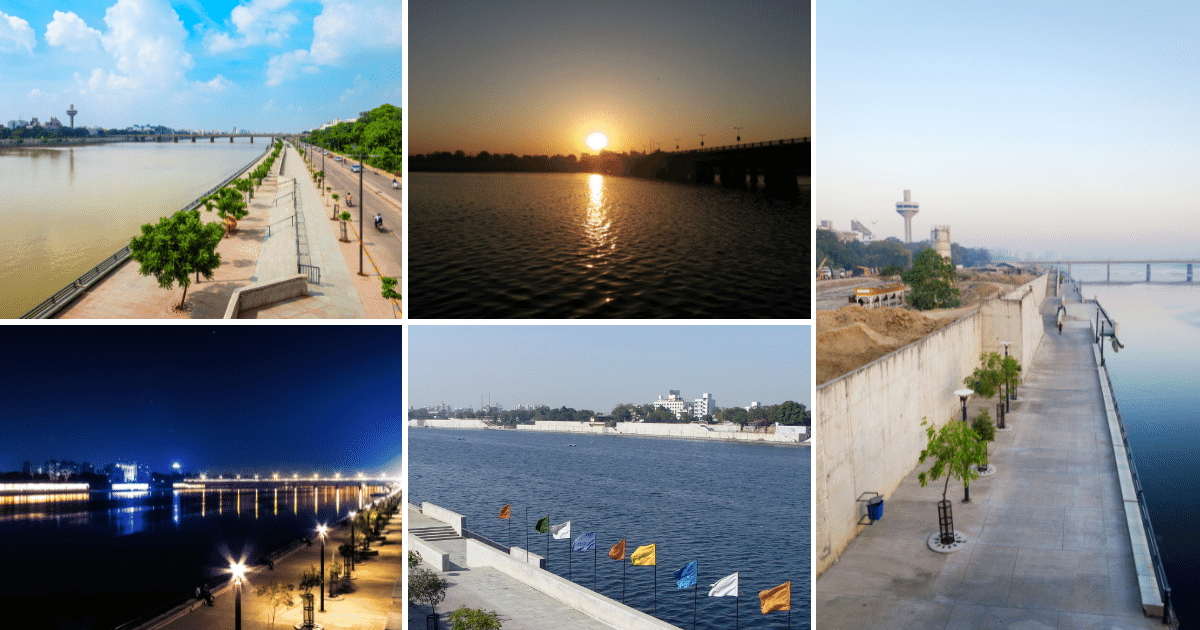 With the restoration of the cityscape and the Sabarmati river in 2005, the Sabarmati riverfront is a popular tourist destination in Ahmedabad.  The river connects new and old parts of the city through eleven bridges. Of these bridges, the oldest bridge is the Ellis Bridge which was built in 1873, destroyed by a flood. It was later reconstructed for use. Another speciality of the Sabarmati Riverfront is a flower garden that has around 330 exotic as well as native flower species.
Kite Museum Ahmedabad 
Kite flying is considered auspicious and forms a significant part of Gujarat's tradition. It provides a glimpse of the culture of people through kites. It showcases more than 125 varieties of kites flown in Gujarat during festivals. Do note that the museum remains closed on Mondays and the government holidays.
There is no entry fee to visit the kite museum and it is considered to be one of the fun things to do in Ahmedabad for youngsters. If you are travelling to Ahmedabad during the International Kite Festival, don't forget to visit the Kite Museum. They have fun displays and activities for kids and adults alike. Truly one of the best Ahmedabad points of interest. 
Kaligam Fort
Kaligam Fort Ahmedabad is located on the Northern edges of Ahmedabad. Due to its not-so-popular location, this historical heritage remains hidden from the attention of the tourists. The flat and thin bricks used in its construction indicate the fine Mughal craftsmanship. This fort was built for weapon storage as a military camp by "Suba Aazam Khan" during the reign of AhmedShah Badshah (1632-1642 A.D.). Another representation of the native architectural influence are the windows projecting outwards (Jharokhas). If you are looking for an offbeat place to visit in Ahmedabad, this is one of the best options. 
Bhadra Fort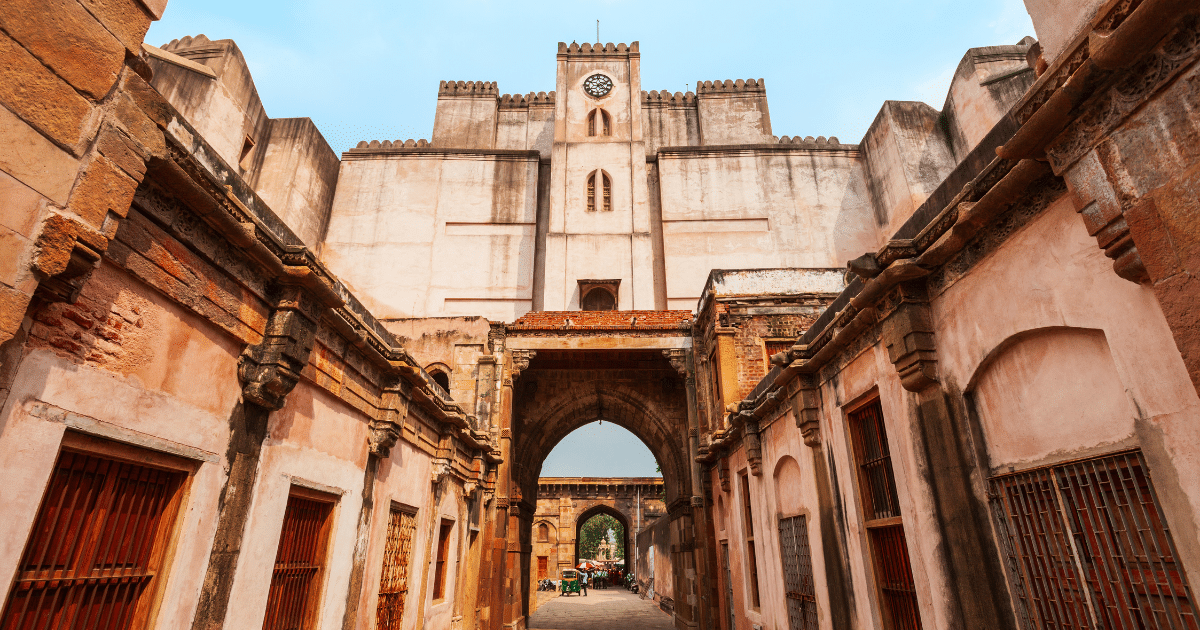 Bhadra Fort, Ahmedabad is an important historical monument that symbolizes the Indo-Saracenic architectural style. It was built near the eastern banks of Sabarmati river after the foundation of Muzaffar dynasty. With Lush gardens and red stone architecture, Bhadra fort was built in 1411 A.D. It was named so because of a popular Bhadrakali temple nearby. It is also called Aark Fort and is spread over 43 acres of land. Having fourteen towers, eight gates, and two large openings, this intriguing fort remains an architectural marvel. Another impressive feature of the Bhadra Fort is its windows having astounding latticework.
Science City
One of the best things to do in Ahmedabad for families, the Gujarat Science City promotes science and scientific temperament among the local communities. This centre for scientific development fosters education in an entertaining and engaging way for children and adults alike. It hosts many informative, imaginative, and contemporary working models, virtual reality with live demonstrations, interesting activity corners, and varied exhibitions. With an amphitheatre, a Hall of Science, an IMAX 3D theatre, a Life Science Park, and a lot more, the Gujarat Science City is definitely the best family activity in Ahmedabad. 
We hope you enjoyed this virtual adventure in Ahmedabad through lens and words. Have any questions on any of these offbeat destinations in Ahmedabad? Comment below and we will be happy to help.