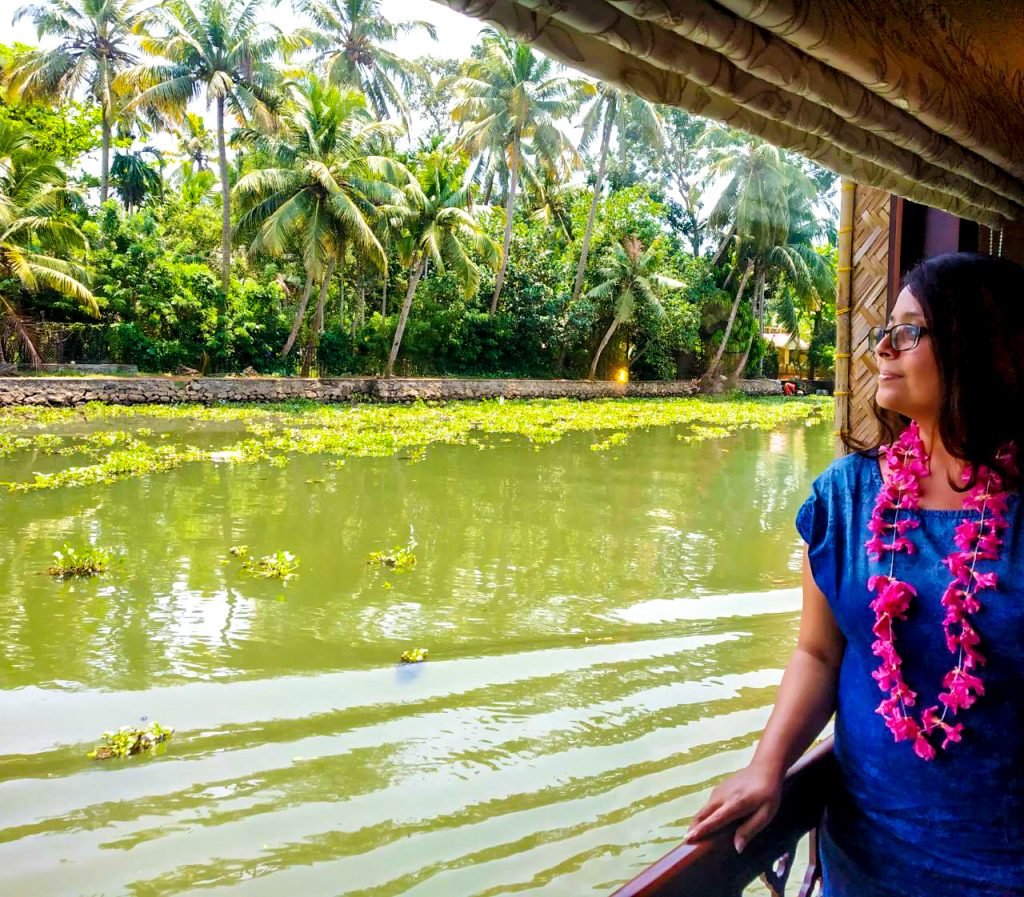 The stillness of the backwaters of Alleppey and the soothing hum of my houseboat as it languidly moves through the canals are a stark contrast to my mind that is abuzz with thoughts. I am trying to reimagine the times when Kettuvalams (the original houseboats of Kerala) would take long arduous journeys to transport grains, wood and other essentials to the villages.
Kerala Houseboat: Complere guide and review
A soft breeze tickles my hair bringing me to the present. My stomach rumbles and I allow my nose to guide me towards food.  Banana leaves are set for our Sadhya (lunch feast). We are served Neymeen or Aikoora (King Fish), beautifully spiced and grilled. This is followed by nendran chips, mango pickle, aviyal, curry and so many other dishes that I can't keep track of all their names. All I know is everything tastes delicious.
Indeed, a quintessential Kerala Houseboat journey is all about delicious meals, exploring the myriad Kerala backwaters and learning new things.
Here's presenting my complete guide to a Kerala Houseboat Experience to help you plan your own magical experience.
My Alappuzha boathouse experience: What does a Kerala houseboat itinerary look like?
A houseboat ride in Kerala is unique as it engages all five senses. The unhurried pace of the houseboats allows you to relax and soak in the surroundings. For overnight stays, houseboats have comfortable rooms equipped with television, sometimes even Wi-Fi and a dining area to enjoy your meals. The staff on board can catch fresh fish which they are happy to cook for you on the spot. However, this will cost you extra and the prices tend to be on a higher side.
Houseboas in Kerala are all about enjoying the slow pace of life, exploring and learning about Kerala's villages. What makes experience onboard Kerala's Houseboats magical is the fact that you are not rushing around trying to cram different things into a day. All you are doing is cruising the calm Kerala backwaters, waving hello to the locals, stopping by any place that piques your interest and enjoy the sumptuous meals onboard.
Once you board your houseboat at around 9:00 am, you can travel on the backwaters till 5:30 pm. After that, your houseboat will be anchored to the shore as the local fishermen start working till the wee hours of the morning. Next morning, after taking a quick shower you can enjoy a delicious Kerala breakfast as you head back to your hotel or to Alleppey.
History of Houseboats in Kerala
The beautiful, modern houseboats that we see today are inspired by the Kettuvallams of Kerala which were first built in 3000 BCE. Kettu means 'a dwelling structure' whereas 'Vallam' means boat. These boats were used to carry passengers, rice and spices across long distances. The boat would be made using wood and coir which would then be covered with black resin derived from cashew kernels.  What is unique about these houseboats is that not a single nail would be used for construction! These boats also had a thatched roof cover and a space to serve as sleeping quarters for the crew. They would prepare fresh fish from the Kerala backwaters along with seasonal vegetables.  It is said that these sturdy Kettuvallams were built to last for several generations.
Where are houseboats found in Kerala today?
Houseboats are available from Alleppey (Allappuzha for locals), Ernakulam, Thiruvananthapuram, Kollam, Kottayam, Thrissur and Kasaragod. I have experienced staying on a Alleppey Houseboat.
The Modern Kerala Houseboat: What amenities can you find in a Kerala Houseboat?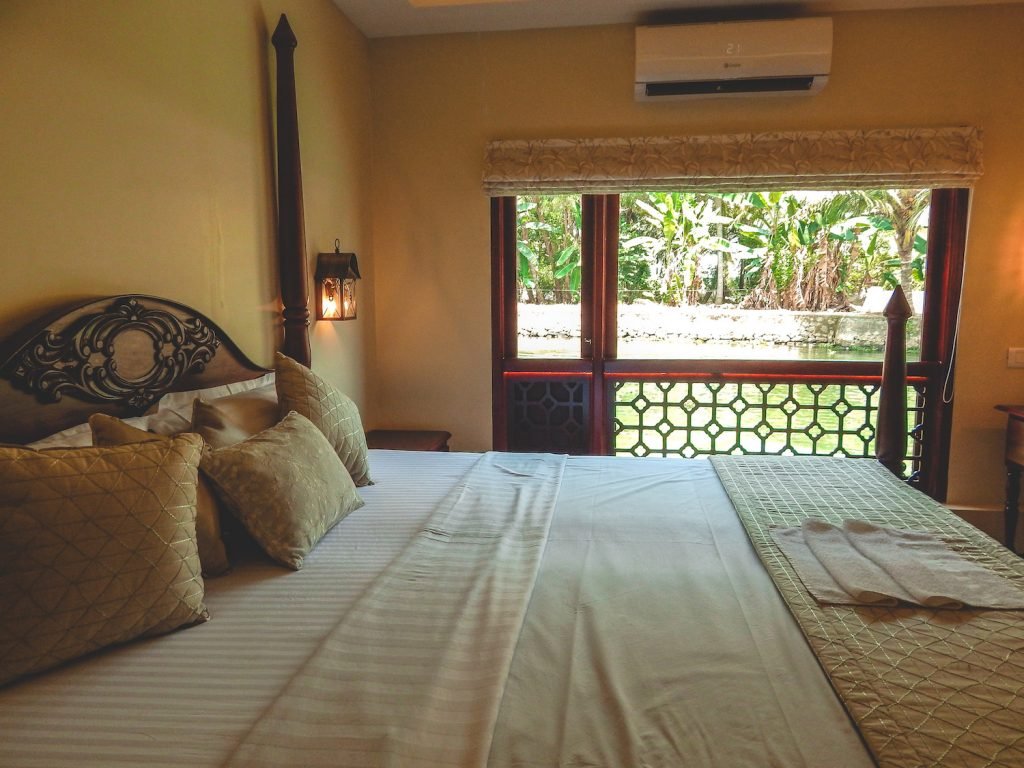 Modern houseboats of Kerala are a blend of the ancient Kettuvallams and modern technology. The interiors of typical Kerala houseboats range from simple to top of the range Kerala boat houses. They are fitted with all creature comforts that you would want which includes LED TV screens so that you can Netflix and Chill! Care has been taken to ensure that the ancient technique of using natural materials such as wooden planks and coir is not forgotten.
The houseboats are constructed using bamboo, wood and other materials. What makes the structure beautiful is the use of plaited palm leaves that open out to give the travellers uninterrupted views of the backwaters Kerala. The boats are spacious, comfortable and are the best way to navigate through Kerala's 900 kilometres of backwater waterways. Did you know that houseboats can be joined together to form boat trains if you are travelling in a large group? Clearly, you can customize your houseboat experience as you wish 🙂
What is the cost of Kerala Boat House?
There are many options to book boat house Kerala packages. You can book using aggregators like Booking.com or directly with agents. Kerala Tourism also has House Boat pre-paid counters that are managed by District Tourism Promotion Council (DTPC) and KTDC. It is best to get the Allpuzha Houseboat tariffs from KTDC. However, there will be no scope for negotiations.
The typical costs of Kerala Houseboat 2021 are as follows:
Sr No
Number of bedrooms in Kerala Houseboat
Deluxe Kerala Houseboats
Premium Kerala Houseboats
1
1-bedroom houseboat

in Kerala

Rates for these houseboats start from Rs. 8000 typically with all meals included.
Rates for these houseboats start from Rs.10,000 typically, with all meals included.
2
2-bedroom houseboat

in Kerala

Rates for these houseboats start from Rs.10,000 typically with all meals included.
Rates for these houseboats start from Rs 14,000 typically, with all meals included.
3
3-bedroom houseboat

in Kerala

Rates for these houseboats start from Rs. 16,000 typically with all meals included.
Rates for these houseboats start from Rs. 20,000 typically with all meals included.
4
4-bedroom houseboat

in Kerala

Rates for these houseboats start from Rs. 20,000 typically with all meals included.
Rates for these houseboats start from Rs. 25,000 typically with all meals included.
5
5-bedroom houseboat

in Kerala

Rates for these houseboats start from Rs. 25,000 typically with all meals included.
Rates for these houseboats start from Rs. 30,000 typically with all meals included.
Please note that these are tentative prices. You must reach out to your service provider, travel agent of KTDC for the most recent prices. You can send enquiries to dtpcalpy@yahoo.com and they will share further details.
 How long should you stay on a Kerala houseboat?
This honestly depends on your budget and the kind of Kerala houseboat experience you would like to have. It is important to note that the cost of a houseboat in Kerala varies from region to region and of course the kind of experiences you wish to opt for, however, the cost tends to be slightly higher in Alleppey as it is very popular amongst tourists.
The Alleppey Boat House rates depends on the kind of trip you want in a Kerala Houseboats.
Day trip in a Kerala Boat House
A day trip on Kerala Houseboat can be a beautiful experience where you can understand different aspects of rural life in Kerala. It's a relaxing experiencing where you can simply sit out in the sun deck and do nothing if you wish. A day cruise can cost anything between Rs. 1200 to Rs. 1500 an hour with an additional charge for a delicious Kerala lunch.
Overnight stay in a Kerala Boat House
 The cost of a basic boat house Kerala without air-conditioner for an overnight stay is approximately Rs. 6,000 ($85) on weekdays and may increase to Rs. 10,000 ($140) on the weekends. This will include three delicious meals cooked by a chef who travels with you and 6 hours of cruise. This is a broad range and the experience can be customized for you. You can also hire a deluxe airconditioned houseboat for Rs. 10,000 ($140) onwards. The more luxurious your houseboat, the more you will pay. Prices for luxury houseboats range from Rs. 15,000 ($210) to Rs. 20,000 ($280) for an overnight cruise. Keep these prices in mind, if you are dealing with local vendors and be sure to negotiate and ask them to show you the houseboat in Kerala in advance to avoid any surprises during your journey.
Two nights stay in a Kerala Boat House
While most tourists prefer an overnight stay, you can definitely extend your stay in boat house Kerala by a day by paying the extra charges.
Are Houseboats in Kerala safe?
Yes, absolutely! All Kerala Houseboats carry the necessary safety equipment on board in case of unforeseen circumstances. The staff has been well trained and they are available to help you out at any given time. If you have booked a room in a larger houseboat, chances are that you would be sharing the space with other travellers. The staff, however, is attentive and will ensure that you are well taken care of.
Beware of houseboats that are priced very low. If prices sound too good to be true, it is best to avoid it. There are unlicensed operators of Kerala Houseboats that charge low prices but don't offer the same level of safety and comfort.
Crocodiles in Kerala Backwaters
One question that I have come across often is "Are there crocodiles in Kerala backwaters?". It is a legitimate question especially if you are planning to spend a night in the Kerala backwaters. You will be happy to note that there is absolutely no evidence available to believe that crocodiles exist in Kerala's Backwaters. No sightings or crocodile attacks on humans in the area have ever been reported.
Kerala houseboats for women solo travellers
For women solo travellers looking for a Kerala Houseboat experience, it is important that you make a booking through a trusted source like Booking.com, Airbnb or government kiosks.
The best month for a Kerala Houseboat experience in Alleppey
I had my houseboat experience in the month of September and the weather was just perfect. The best time to visit Alleppey is from September to March. September is the time when monsoons are receding and you can enjoy some light downpour and pleasant weather. October onwards, the peak tourist season begins.
April to June are the summer months in Kerala and Alleppey can be quite hot during this time. One advantage is that this is the low tourist season and chances are that you will get a good deal for your Kerala houseboat experience if you don't mind all that heat.
Kerala witnesses heavy monsoons from July to September. I have personally visited Kerala in the monsoons and I loved weather. However, keep in mind that in the last two years Kerala has witnessed devastating floods. It is best advised to travel towards the end or the beginning of monsoons.
Where are the Kerala backwaters in India?
The Vembanad Lake is the largest lake in Kerala and is home to Kerala's backwater tourism. The Kumarakom Bird Sanctuary and Kumarakom Tourist Village are two popular tourist spots and are located on the east coast of the lake. Houseboat cruise through Kerala Backwaters will take you on Lake Vembanad and you can stop by different places during your ride.
What areas or routes do the Kerala houseboats go to?
Interlocking canals and lagoons make up the backwaters of Kerala. Kumarakom and Alleppey are two popular destinations for those looking to experience Kerala's houseboats. Houseboats start from both Alleppey and Kumarakom and can travel a distance of up to 30 kms or more depending on the package you have chosen or the places you want to be. It is important to choose the things you want to do in advance and plan your route before you make your Alleppey houseboat booking.
What are some of the popular routes for the Kerala Houseboat experience?
Some of the popular routes are:
Cruising on Lake Vembanad and going in and around Alleppey
Allepey to Kumarakom and back
For those who prefer longer Kerala houseboat routes, you can:
Start from Alleppey and then travel to Kumarakom, Thottappally, Neudmudi and return to Alleppey the next day.
Another route is Alleppey to Alumkadavu which will require at least two nights and three days of travel.
Aleppey to Kollam cruise is longest houseboat cruise in Kerala and can be great for those who would love to experience the best of backwaters in Kerala
Which place is better between Kumarakom or Alleppey for Alappuzha boathouse experience?
I personally would ask you to pick the Alleppey to Kumarakom route as you will enjoy the best of both places. Alleppey tends to have houseboat traffic (yes, that's a thing) though it has lots to offer. Kumarakom is ideal for an idyllic cruise where you can visit the bird sanctuary and stop by different villages. I say opt for both these places if possible to experience the best of Kerala houseboats
Planning a romantic getaway or honeymoon on a Kerala houseboat?
If you enjoy tranquillity, peace and experiencing the beauty of nature, a traditional Kerala Houseboat experience in Alleppey can be an ideal romantic getaway for you. To make things special, you can opt for the luxury Kerala houseboats that can be decorated specially for you and your partner. You can customize menus, music and even the meals you would like to be served. For the perfect honey experience in a Kerala houseboat, it is best to book the entire houseboat for yourself. For extra charges, houseboat companies in Kerala will also arrange cake, live music and surprises for you and your partner.
Are Kerala houseboats Eco-friendly?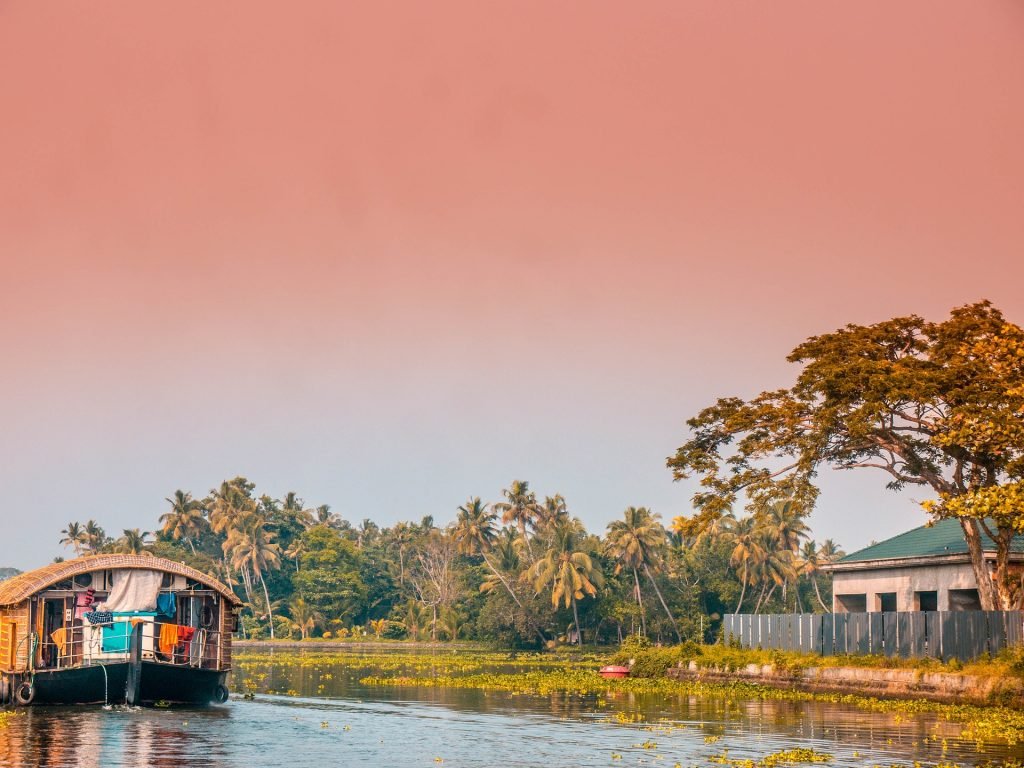 Kerala houseboats have received been criticized for not being environmentally friendly. However, the Kerala Tourism department has taken this issue up seriously by introducing rules that the houseboat owners have to follow. Kerala Tourism Board offers Green Palm certificates to boat owners. The boat owners have started using solar energy and working on better waste management.There is still a long way to go but it heartening to see Kerala Tourism department take up this issue seriously.
What are some cheaper alternatives to Kerala Houseboats?
It is undeniable that the Alappuzha houseboat experience is lovely, however, the costs can be prohibitive. There are three main alternatives that you can opt for:
-Shikara boats in Kerala 
Shikara boats are Kashmir style smaller boats that are best for day trips on Kerala backwaters. These boats cost less as they can accommodate groups of 12 to 15 people on average and you can decide the number of hours you would like to ride on the boat.  You also have the option of booking one exclusively for you. The shikara boats will take you near the villages and even stop by some places so that you can visit the place yourself. I experienced the Shikara houseboat during my stay at Lake Vembanad Lemon Tree Resort and it was a sublime experience. An early morning ride or an evening ride on the shikara boat is something you must not miss when in Kerala.
-Tourist ferries in Kerala 
A cheaper alternative to Shikara boats is the tourist ferry that can accommodate between 48 to 60 people on average. These ferries have a fixed routed and fixed duration and will not make any additional stops. However, they, too are a great way to explore the backwaters of Kerala at an affordable price.
-Canoeing in Kerala 
If you love a good adventure, then riding a canoe is the perfect Kerala backwater experience for you. Canoes are slow-paced and give you the opportunity to enjoy the beauty of Kerala at your own pace. 2 to 3 people can sit in a canoe at a time and this gives you the freedom to stop as many times as you want and go wherever you like. However, be sure to negotiate the price in advance.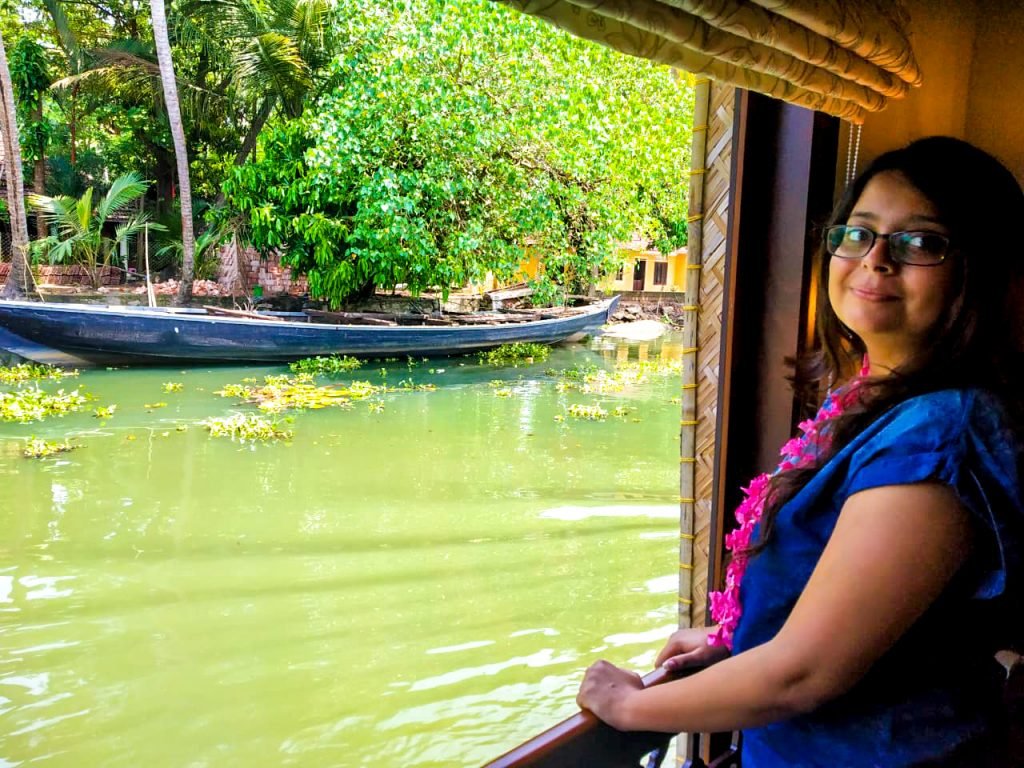 I hope I was able to help you out with all the questions you had about Kerala's houseboats! Let me know if I can help you with any other details in the comments below 🙂