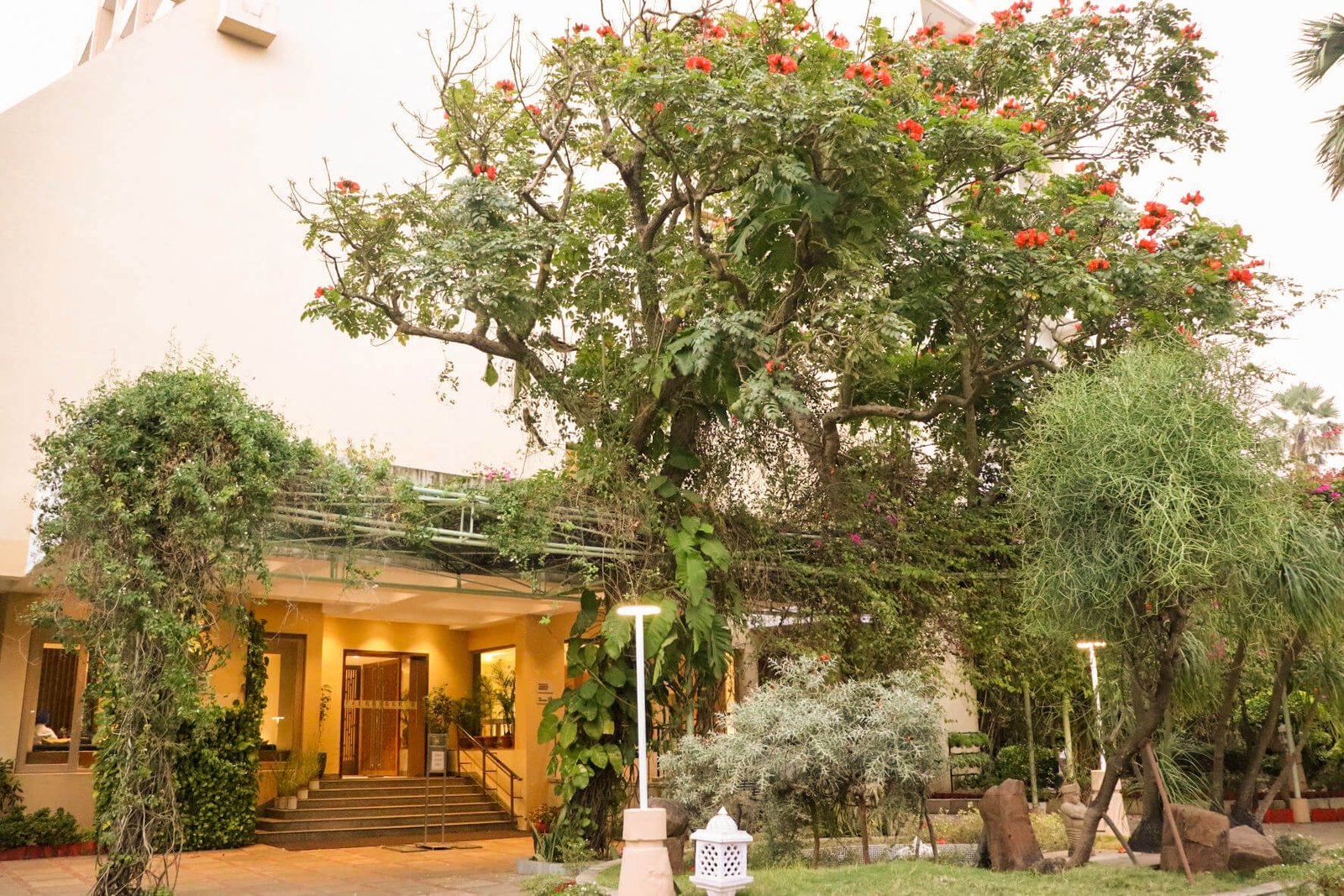 Located by the golden-sand beach and tranquil palms of Aksa, The Resort invites you and your family to bask in a refreshingly magical atmosphere where you can rejuvenate the body, mind and soul. From delicious food and spa treatments to indulgent activities like grape stomping, The Koli Food festival themed brunches, and many others, The Resort has everything you could ever think of for your dream vacation. This makes them one of the most crowd-pleasing weekend getaways from Mumbai. 
Before I tell you all about my experience of staying at The Resort, here's some quick information on their upcoming event this weekend.
Koli Food Fest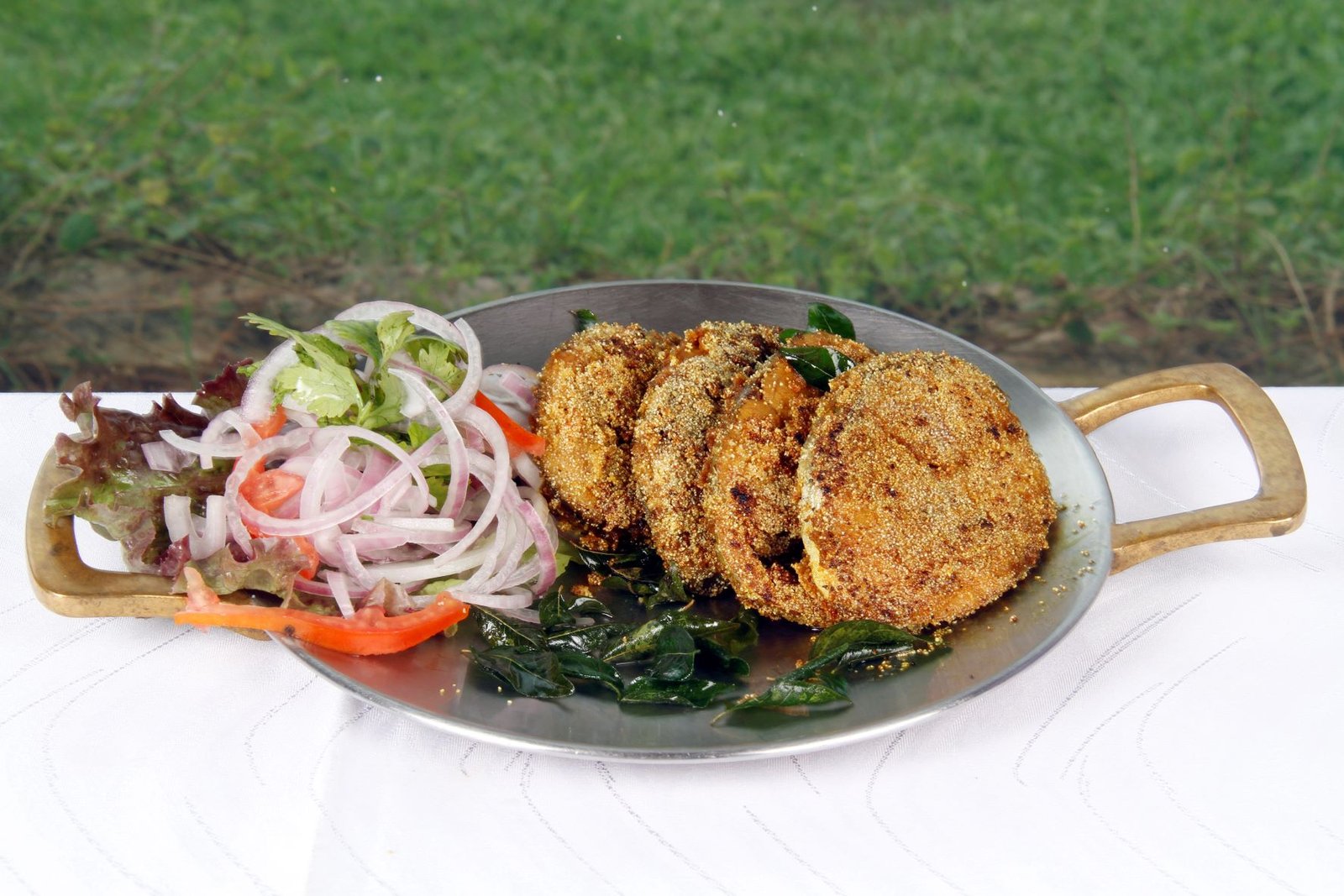 Relish authentic Koli delicacies of Lobster Curry, Bharwa Pomfret, Tawa Fried Surmai, Rawa Fried Prawns served with Sol Kadhi, Bhakri and Steam Rice.Enjoy these delicious dishes with the Koli Fisher Women who will be curating these dishes using old-age traditional masala with secret ingredients. Those of you who love the original and authentic taste of seafood can join in for Koli special dinner at The Resort Mumbai. So if you are looking for a weekend place to visit near Mumbai with great food, then you know where to go. 🙂
Where: The Resort Mumbai
When: Fridays & Saturdays February 2022
Time: 7:00 pm to 10:30 pm
Call: 9819877316
Now back to the review. 
Cast your cares away: You are at The Resort, after all!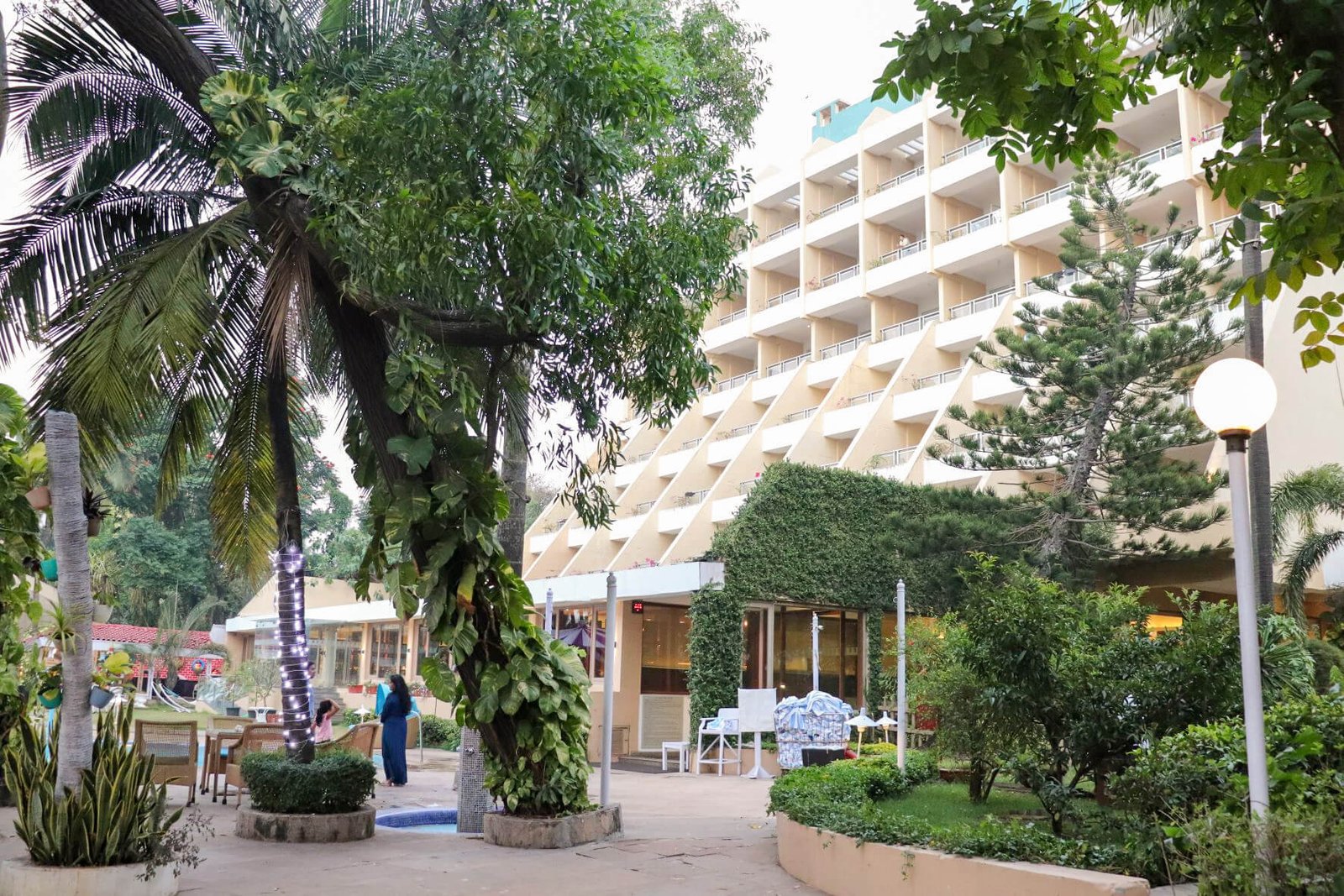 The Resort is wonderfully relaxing, and each view is intoxicating. With its excellent cuisine, indulgent spa treatments and pleasing ambience, it really is the perfect family weekend getaway from Mumbai. The Resort has a renowned reputation for excellence and care, built upon its idyllic setting and modern amenities that will help you have a fabulous time.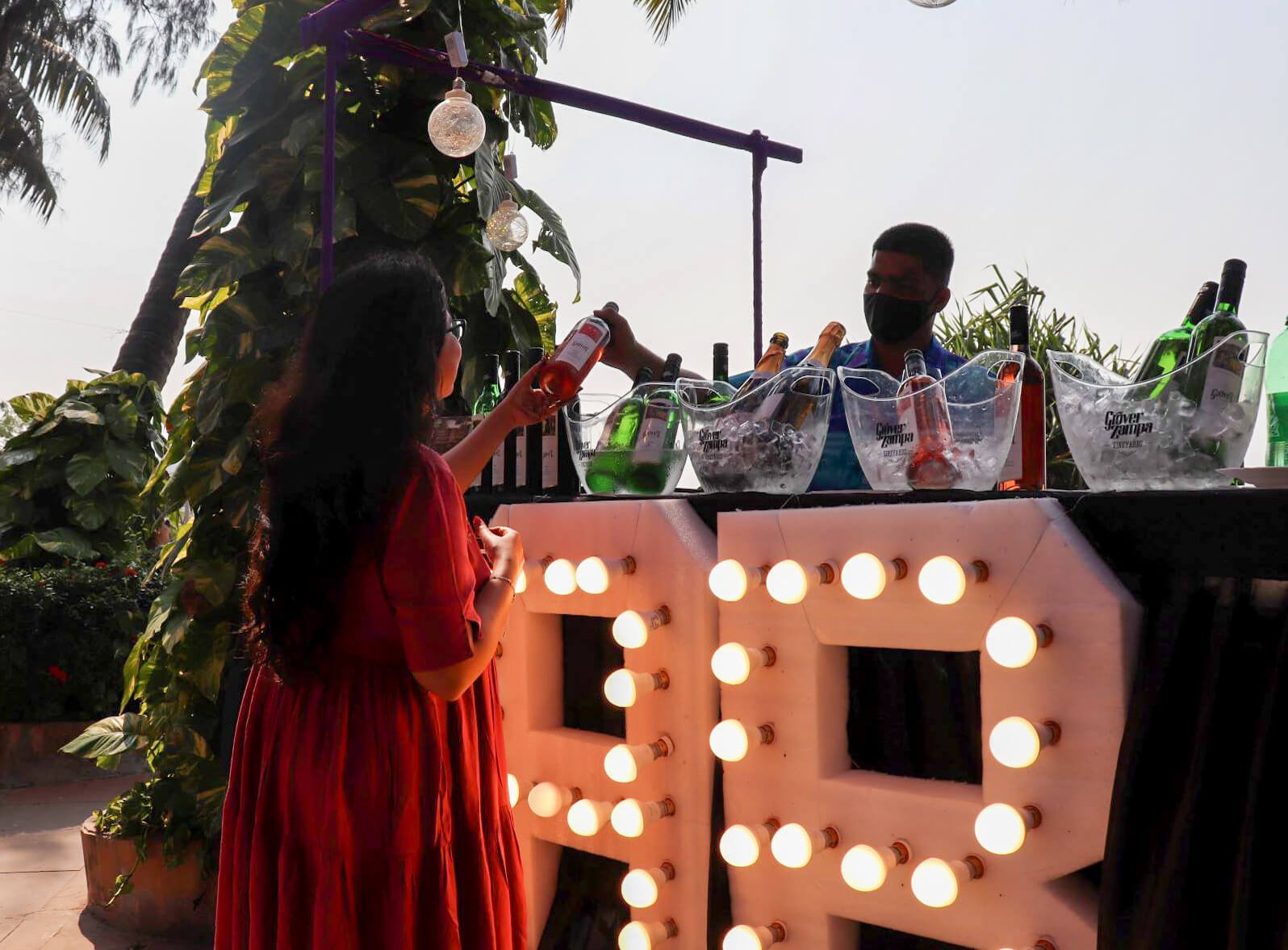 We arrived on a lazy Sunday afternoon just in time for the Grape Stomping and the Wine Tasting Festival. During the check-in, we were happy to see the COVID safety protocols being followed at The Resort. They had sticks one could use to operate the elevator, all the staff members wore masks and they had sanitizer stations located in different places. Definitely makes a safe weekend destination from Mumbai during COVID.
After visiting our rooms briefly, we went to the poolside to enjoy the lovely spread, live music and relaxing ambience. Here are a few glimpses: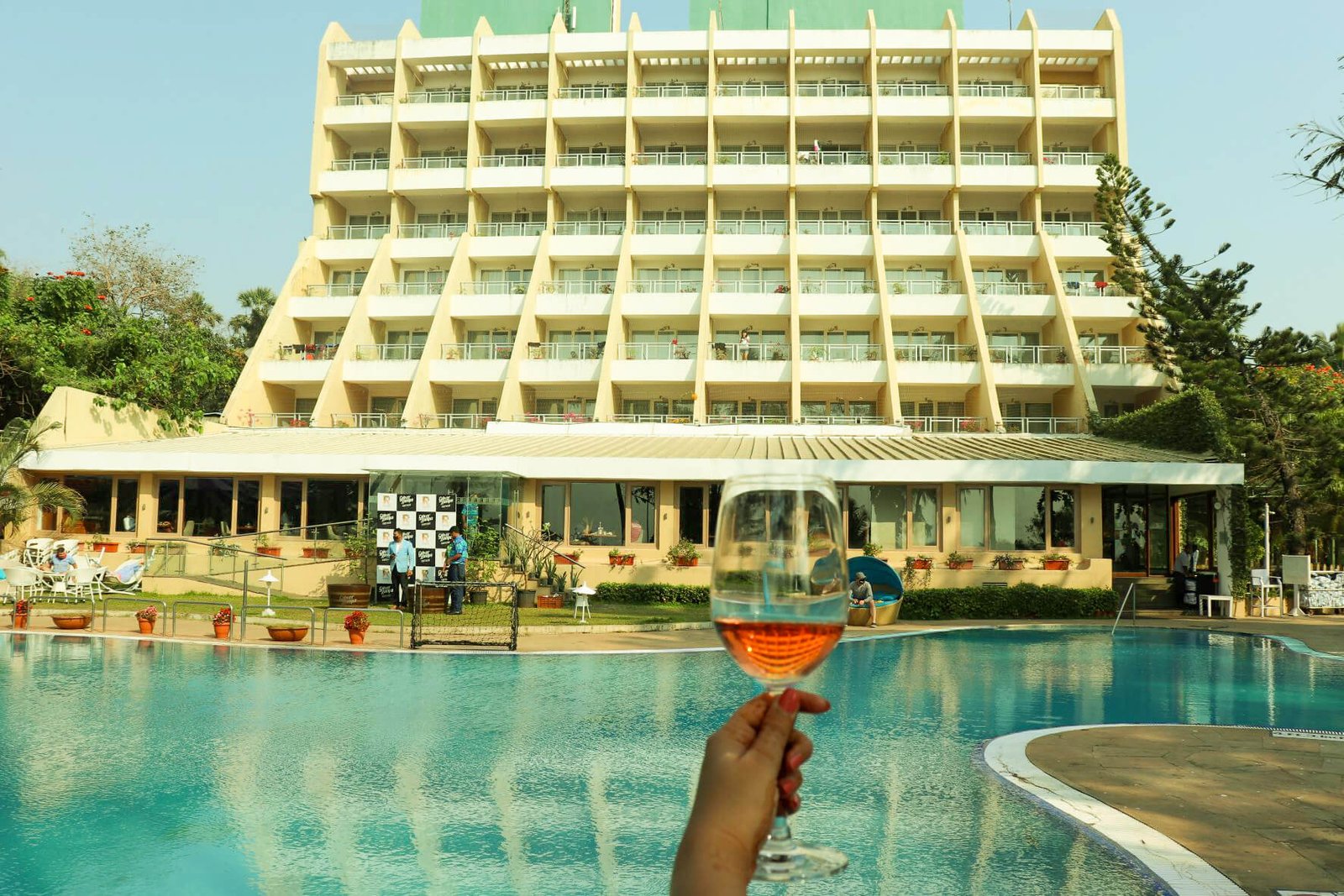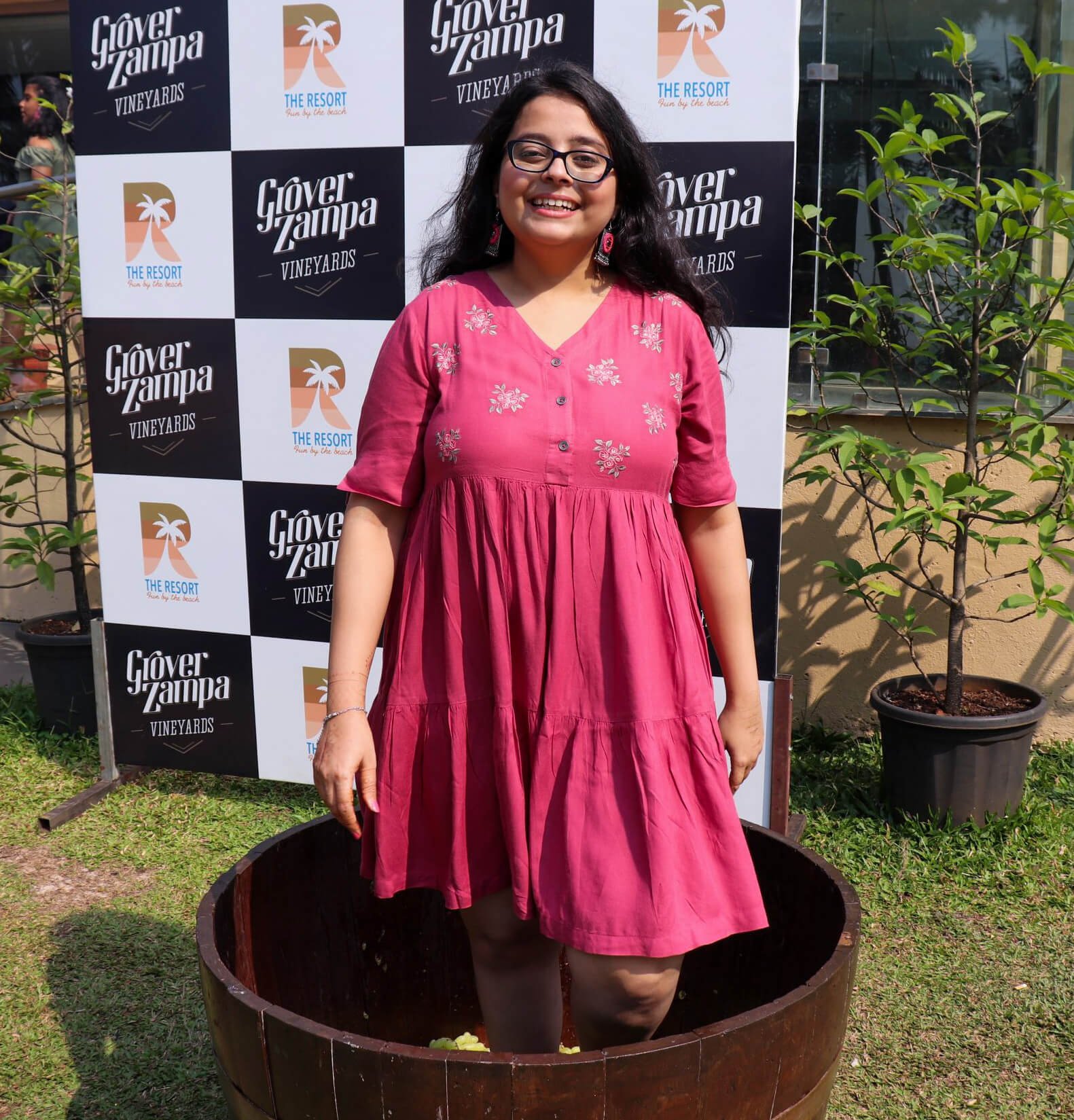 Amenities at The Resort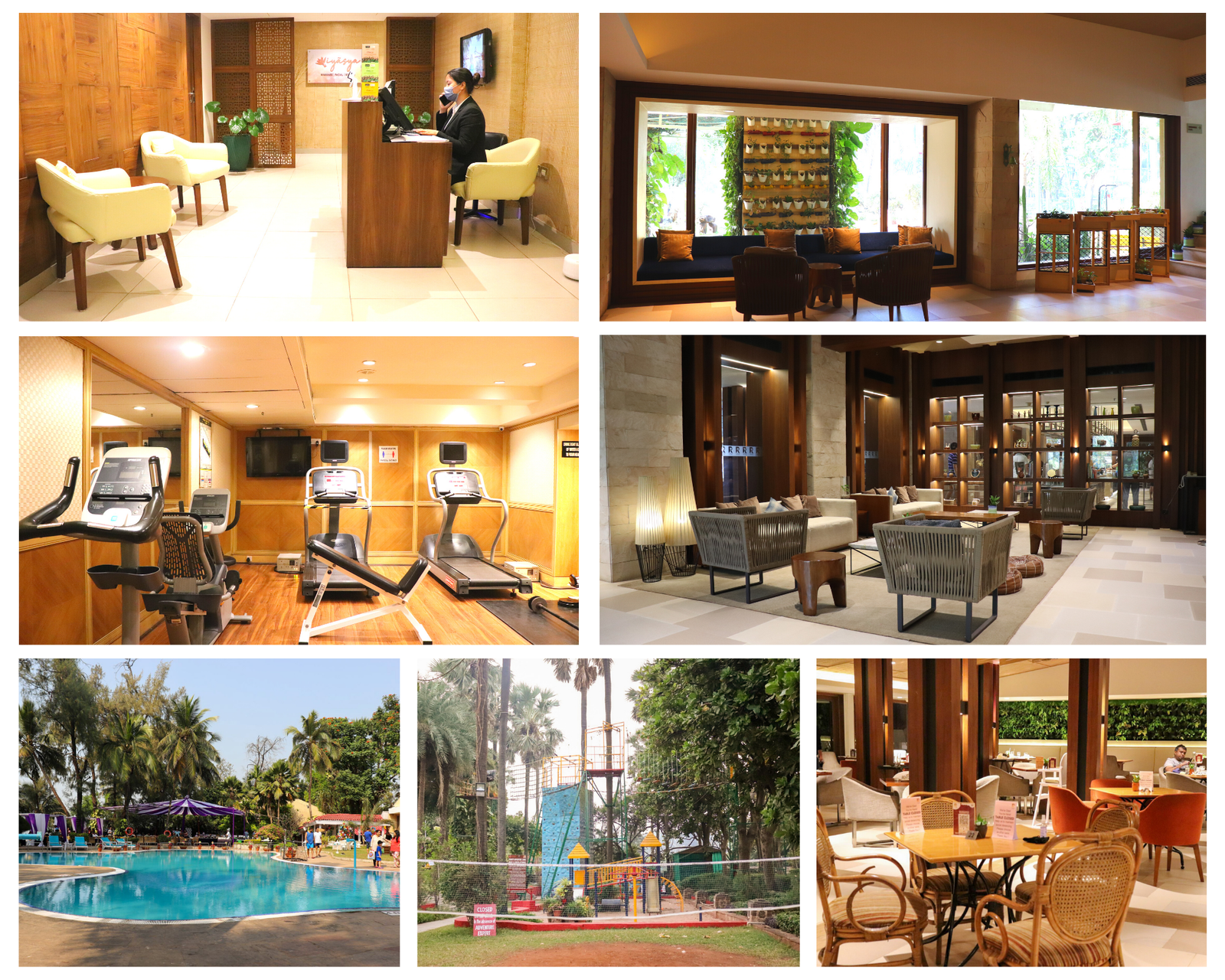 The Resort is the place if you are looking for the best weekend getaway from Mumbai especially if you want to unwind after a hard week at work. Some of their offerings include room babysitting, spa, restaurant and bar, health club, business centre, conference rooms and more. Packed with decadent features including an inviting swimming pool and an adventure zone for some fun activities- there is something to please everyone at The Resort
You can lounge at the outdoor pool for a perfect beginning to your weekend. They have a gym, where you can work off the calories after eating their scrumptious array of treats. Wi-Fi is available throughout the hotel. Ask at reception for more details when checking in.  The hotel has a 24 hours reception and a travel desk. Food can be served at the restaurant or near the pool which is just a short walk away from a beach! It is truly one of the top weekend getaways from Mumbai!
The Resort at Madh Island has a calm, comfortable atmosphere that makes it ideal for your next family staycation near Mumbai.
Accommodation at The Resort
The USP of The Resort lies in the fact that it is located in close proximity to the city but away from the hustle and bustle. It provides accommodation in a serene and tranquil atmosphere, which is a soothing respite to the stress and chaos of city life. This definitely makes an ideal weekend getaway near Mumbai for couples and families.
The air-conditioned rooms offer garden, pool or sea views and are equipped with so many different amenities. The interior is marked by the use of neutral, earthy tones with plants placed all over to create a beautiful atmosphere. The Resort features a beautifully landscaped garden that leads up to the pool. Room amenities offered  were tea/coffee supplies, business stationery, toiletries and amenities on request included slipper, dental kit, shaving kit, comb and loofah
The room categories include a Standard Room facing the Garden, Deluxe Room facing the beach or a pool, Club Room facing the beach or the pool, suites and villas.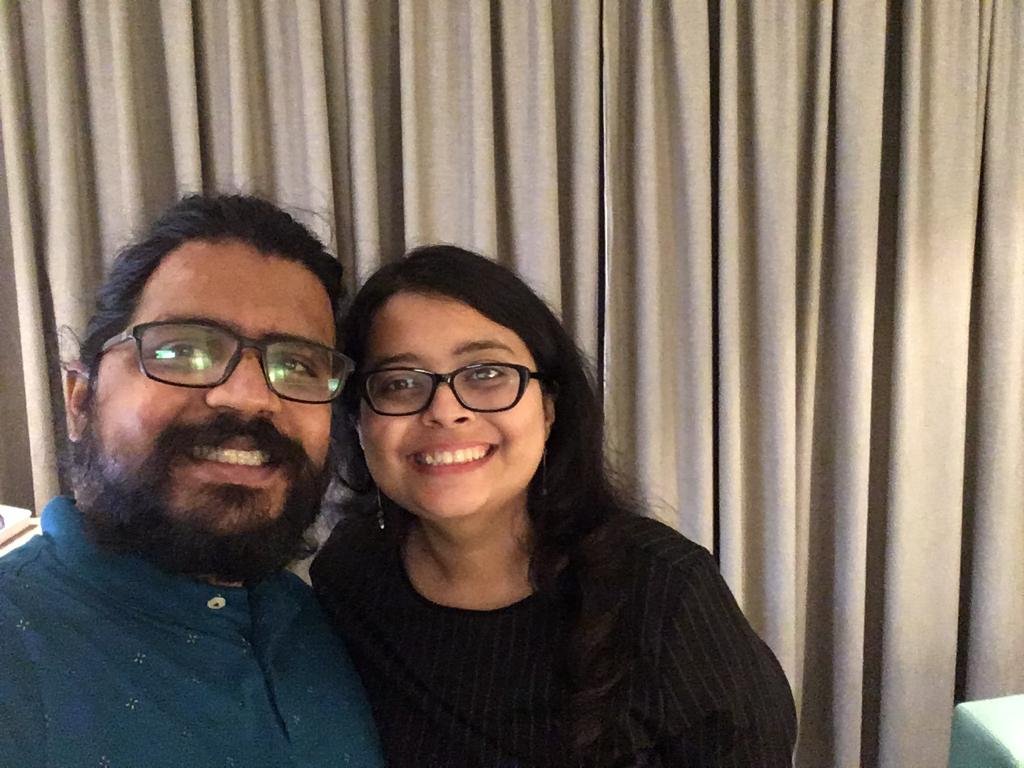 We stayed in a Club Room which was very comfortable and had a spectacular view of the sun setting over the sea. The room was elegant and had a nice sitting area so we could enjoy the view together. The Club Room came with complimentary breakfast which was delicious.
Food at The Resort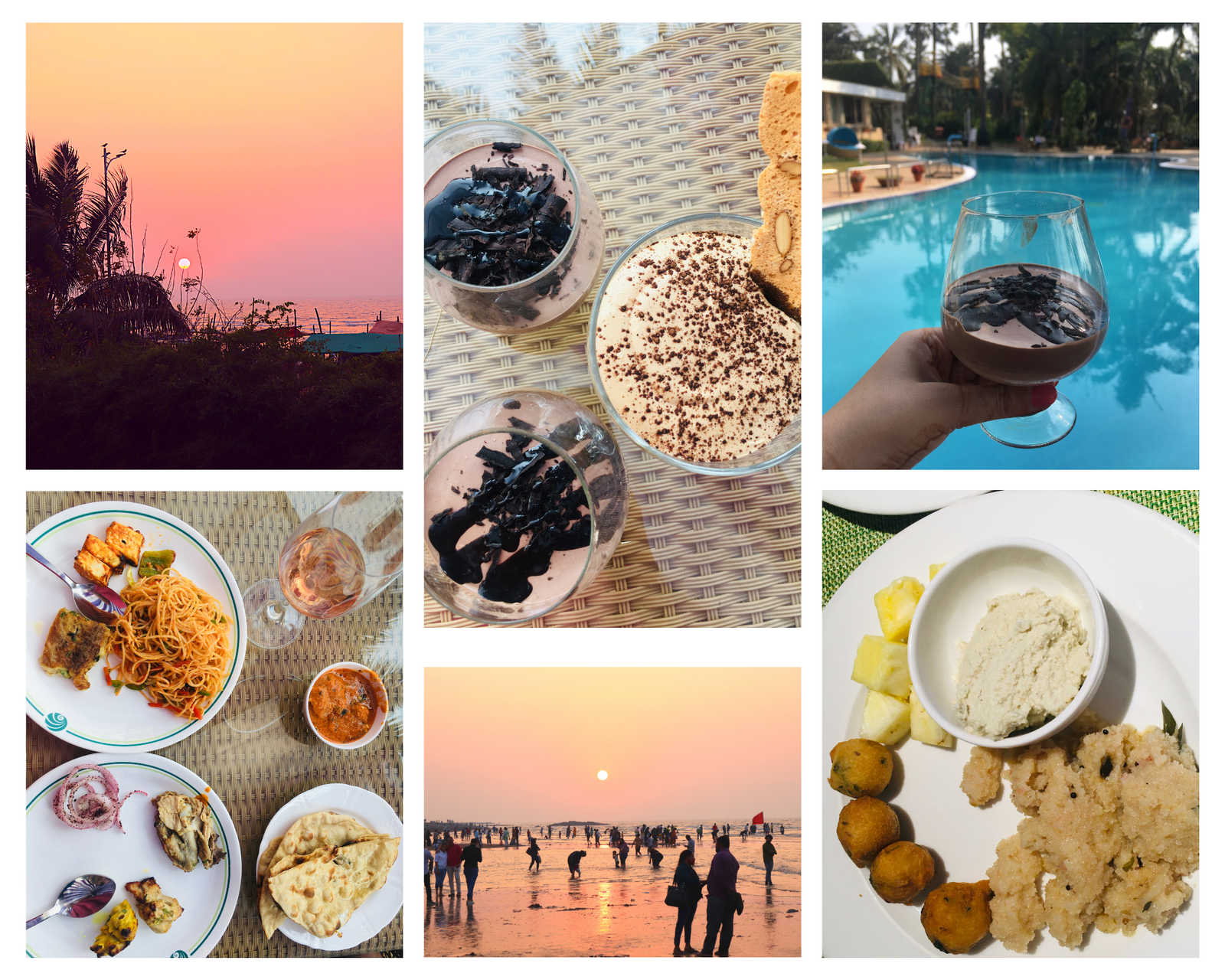 Food at The Resort was irresistible with an array of delectables to choose from. During the Grape Stomping and Wine Tasting fest afternoon, we were shown to the themed cooking area which had separate sections for Indian, Chinese and International cuisine. Among those which I loved were the Indian street food section which included Kathi rolls, chaat and kababs. The array of cheeses and the mezze platter paired beautifully with the wines.  The attendants and chefs at every section were a talented, entertaining and a friendly group who loved to interact with guests. The staff was very helpful, the food was yum and the entire place was a visual feast!
Dinner was a light affair with fresh salads that included vegetarian and non-vegetarian options to choose from. They also have other dishes for those who had an appetite for it. They have a cozy bar, too. Breakfast the next morning included live stations serving pancakes and waffles (my favourite) and also many other options.
The resort hosts Theme Food festivals on a regular with the current one being hosted around Koli food, the traditional fisherfolk of Coastal Maharashtra. The Koli Food Festival is live every weekend this February. It offers a lovely meal with a festive atmosphere that is definitely something for you to look forward to. So keep yourself updated regular basis and remember to enjoy their food festivals.
Instagrammable Spots at The Resort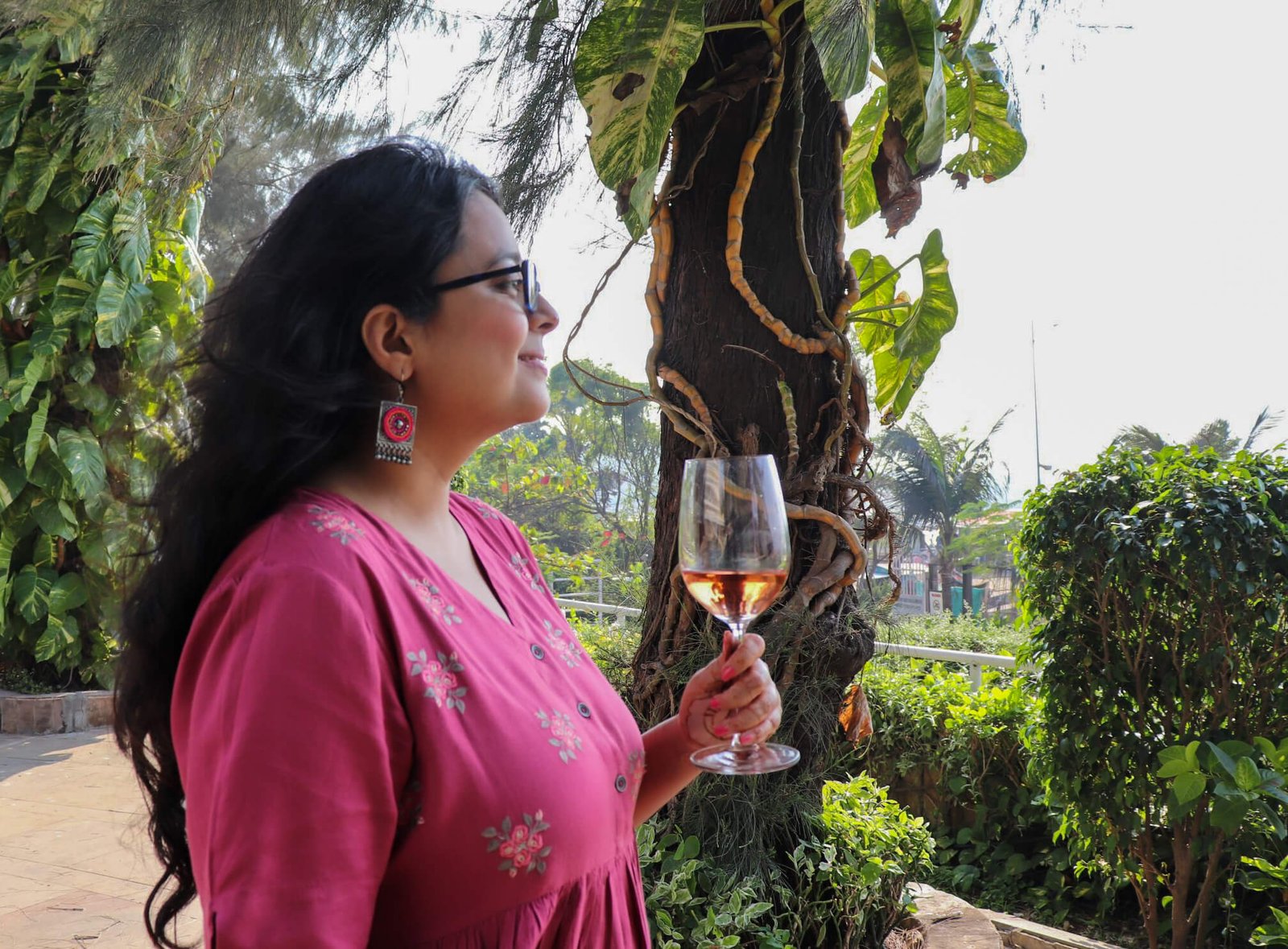 Going the theme #BrokenIsBeautiful, The Resort has created some beautiful corners using recycled materials to create Instagrammable spots. You can click some Insta-worthy pictures of your favourite staycation in Mumbai. Here's my favourite Instagrammable spot!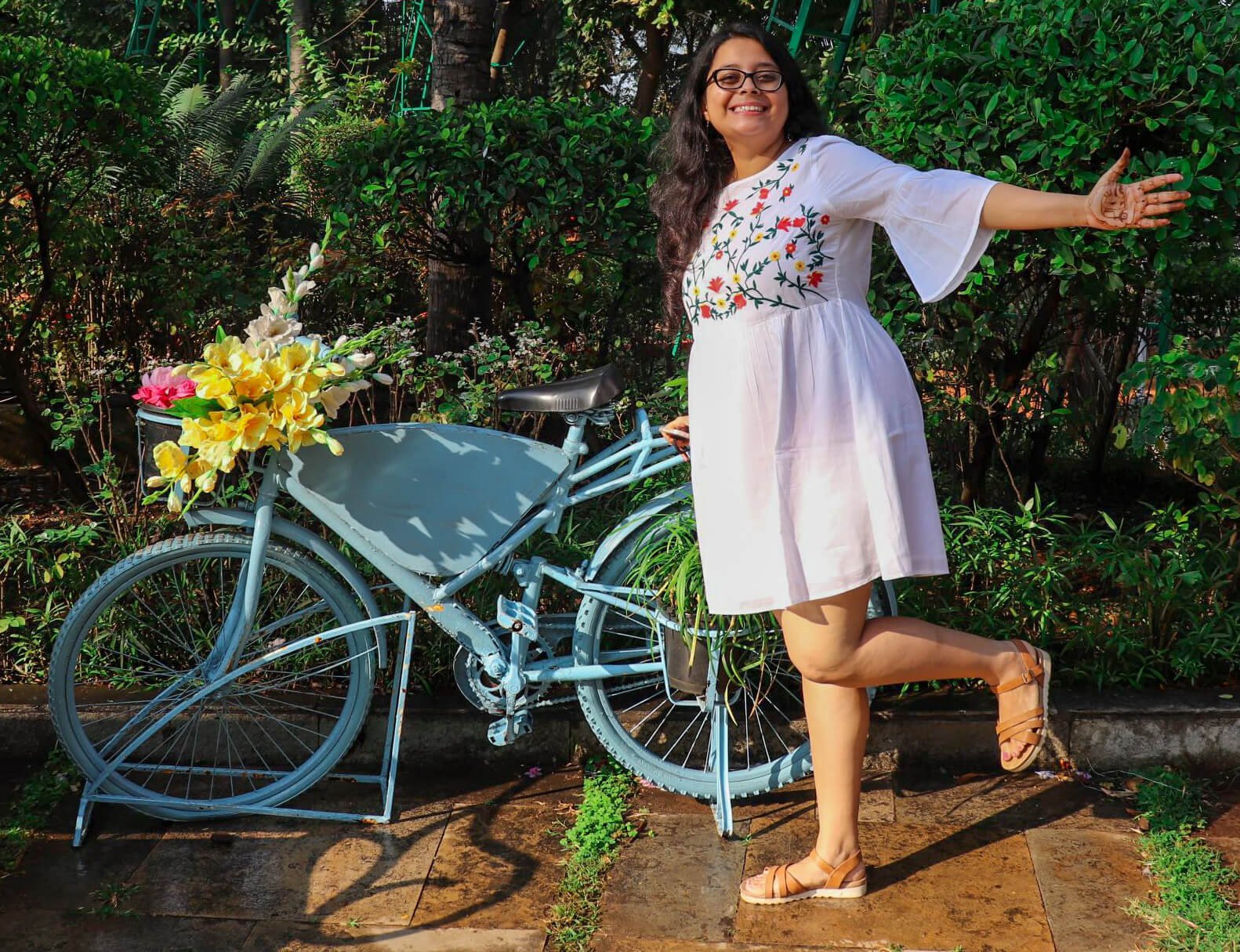 Getting there: How to book the most spectacular weekend getaway for your family
The Resort is a 45 to 60-minute drive from major spots in Mumbai which makes an ideal place for a weekend staycation with your family. It is located hardly a few meters from Aksa Beach which is one of the most popular weekend getaways near Mumbai. 
The Resort, Mumbai
11, Madh-Marve Road, Aksa Beach,
Malad (West), Mumbai – 400 095.
Telephone : 022 28447777 | 022 50555777
Mobile: + 91-9820426153 | + 91-9820918210
Web: www.theresortmumbai.com
Email: rev.mgr@theresortmumbai.com
The tariffs start at approximately Rs. 6000 for a couple. The best way to book the place is directly through their website, which I have shared above. They have some offers going on this month. I encourage you to use them to surprise your family with a lovely Mumbai staycation.
Last Words
The beauty of staying at The Resort is incomparable – and there's lots of fun to be had! You can spend quality time with your family, relax on the beach or enjoy some outdoor activities and to top it all off you can indulge in some delicious food all day long. We loved the warm service and enjoyed the peaceful and serene ambience. The best part? It is a short 45-minute drive from major places in Mumbai. This means you can spend less time travelling and more time having a fabulous time. Isn't that awesome? Have any questions about The Resort? Comment below and I will be happy to help.