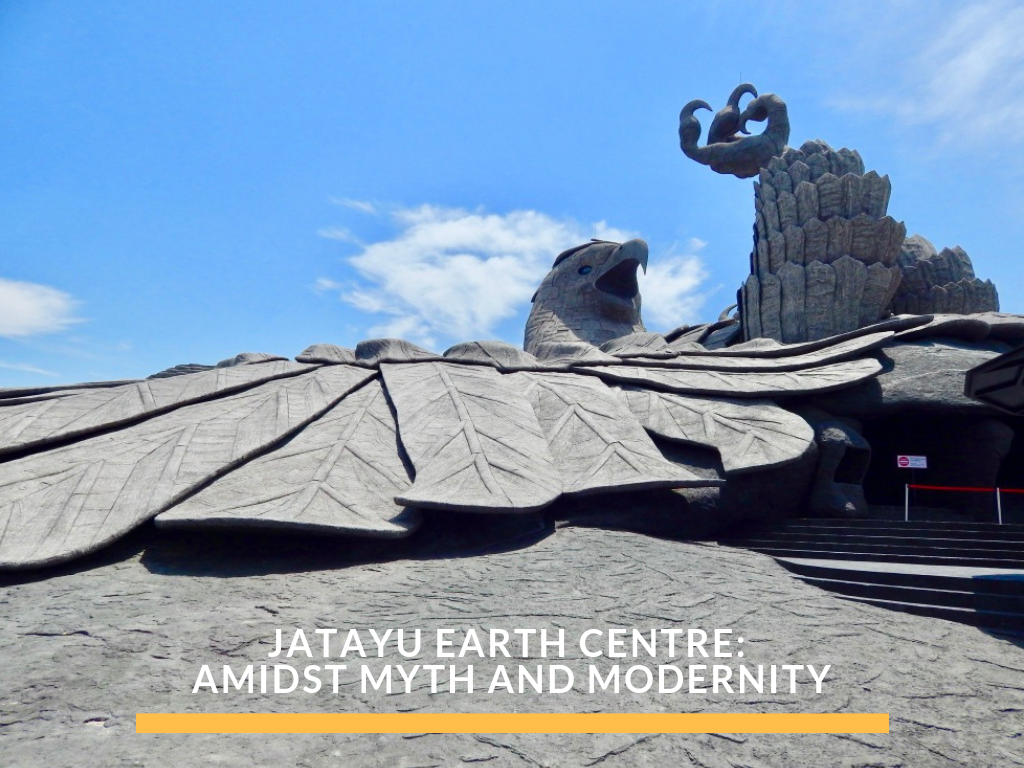 Indian folklore, dance, drama and other art forms are deeply influenced by mythological beliefs and they play an important part in creating India's cultural imagination. The oral tradition of folklore being narrated and local drama troupes enacting stage plays have declined since the 1980s with the advent of television media. As a child of this generation, I religiously watched Indian epics like Ramayana and Mahabharata on TV every weekend. The grandiose settings, flaming arrows and the mighty Hanuman enraptured me. My first glimpse of Jatayu Earth's Centre evoked nostalgia and awe.
Where is the world's largest bird sculpture?
The world's biggest bird sculpture is now in Kerala i.e. God's Own Country and is dedicated to Jatayu who laid down his life trying to save Sita. Here's my complete guide to Jatayu Earth's Centre, one of the premier tourist destinations in Kerala.
What is the story behind the Jatayu Earth's Centre?
Ramayan is an Indian mythology which tells us the story of Ram and Sita, their journey through hardships and their ultimate victory over Ravan. In one part of the tale when Ram and Sita were in exile in a forest, Sita was kidnapped by Ravan. During this time, Jatayu, a vulture tried to rescue Sita from the clutches of Ravan. Despite fighting bravely he was unable to rescue her and was grievously injured during the clash. He fell on the foothills of what became known as Jatayupara. It is said in the Ramayan that Jatayu narrated the event to Ram before breathing his last. Upon seeing Jatayu nearing his end, Ram granted him moksha (emancipation) before resuming his search for Sita. The sculpture at Jatayu Earth's centre made at Jatayupara hills has been inspired by the Jatayu in Ramayana
Jatayu Earth Centre facts
Jatayu Earth Center, or Jatayu Nature Park is home to the largest bird sculpture in the world measuring 200 feet long, 150 feet wide and 70 feet in height. Located in the Chadayamangalam in Kollam district, Jatayu Earth Centre is dedicated to 'Women's Safety and Honour'. It is an eco-friendly, sustainable tourism destination and uses several best practices to ensure the environment around it is preserved.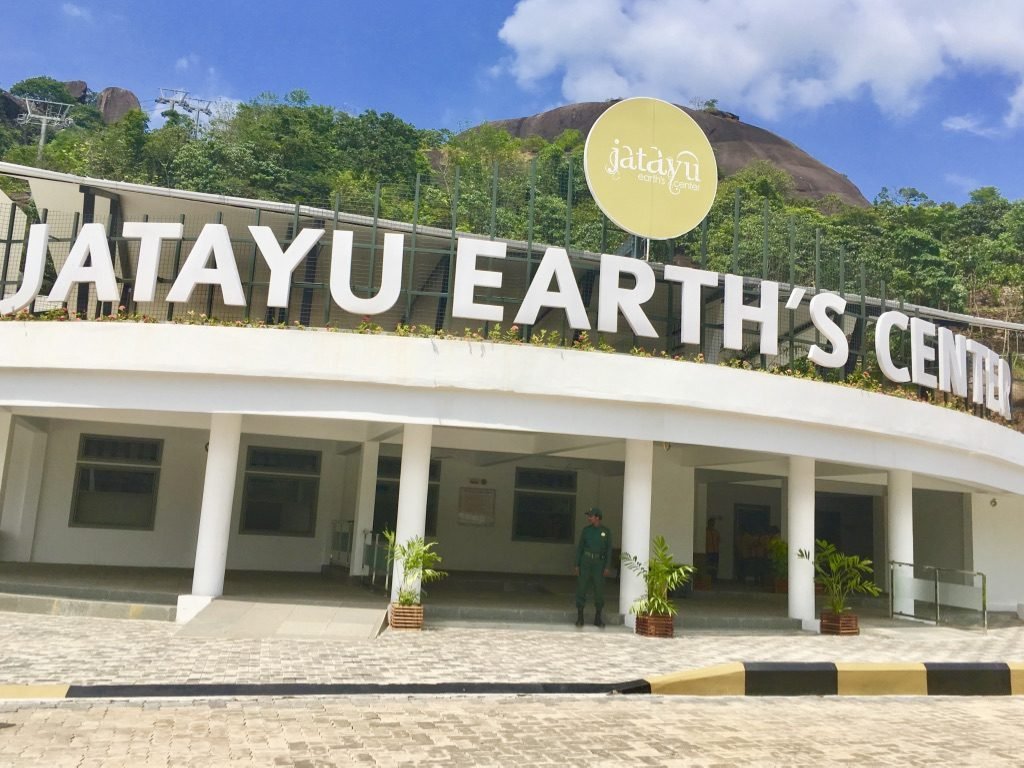 Jatayu Earth's Center: The Experience
On showing your tickets, you will be given a wristband that gives you access to Jatayu Earth's Centre. Now there are two ways to reach the Jatayu Rock:
The Jatayu Earth's Centre walkway: If you are in the mood for some adventure, you can climb 826 steps and enjoy the natural surroundings to reach the sculpture. A word of caution that the area can get very hot in the summer months and it is advisable to carry plenty of water and snacks for this short climb.
The Cable Car: After a quick security check, you can move towards the cable cars that will take you to the sculpture. This is the option that I went for. Since I visited on a weekday, there were very few people around. On weekends, I am told, one has to wait in a queue. To prevent overcrowding, a limited number of people are allowed at a time. This is something that I appreciate as you get a good time to explore the place as well get Instagram worthy pictures!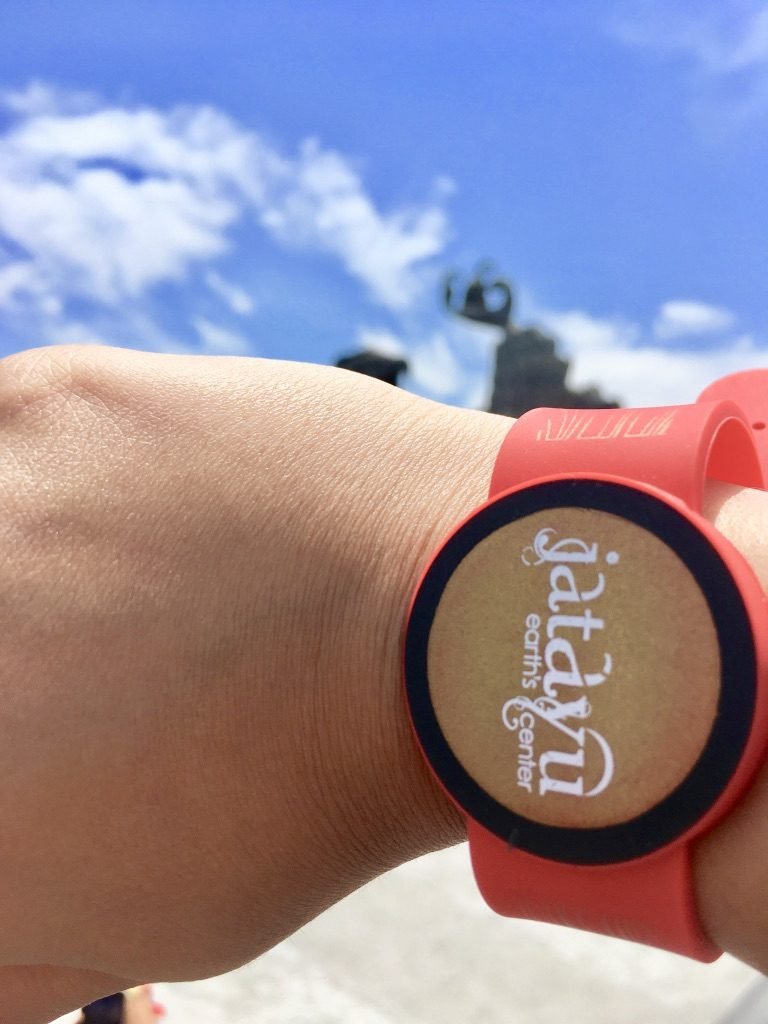 The staff are very efficient and in a span of few short minutes, I was on my way in the cable car.
You will catch the first glimpse of the magnificent Jatayu Bird statue as the cable car slowly climbs up. The view from the cable car is simply incredible. When you step off the cable car it will take you a while to take in the beauty of the place. Step inside and climb the stairs to reach the museum area and eventually you will be able to see a bird eye's view (literally!) from the sculpture.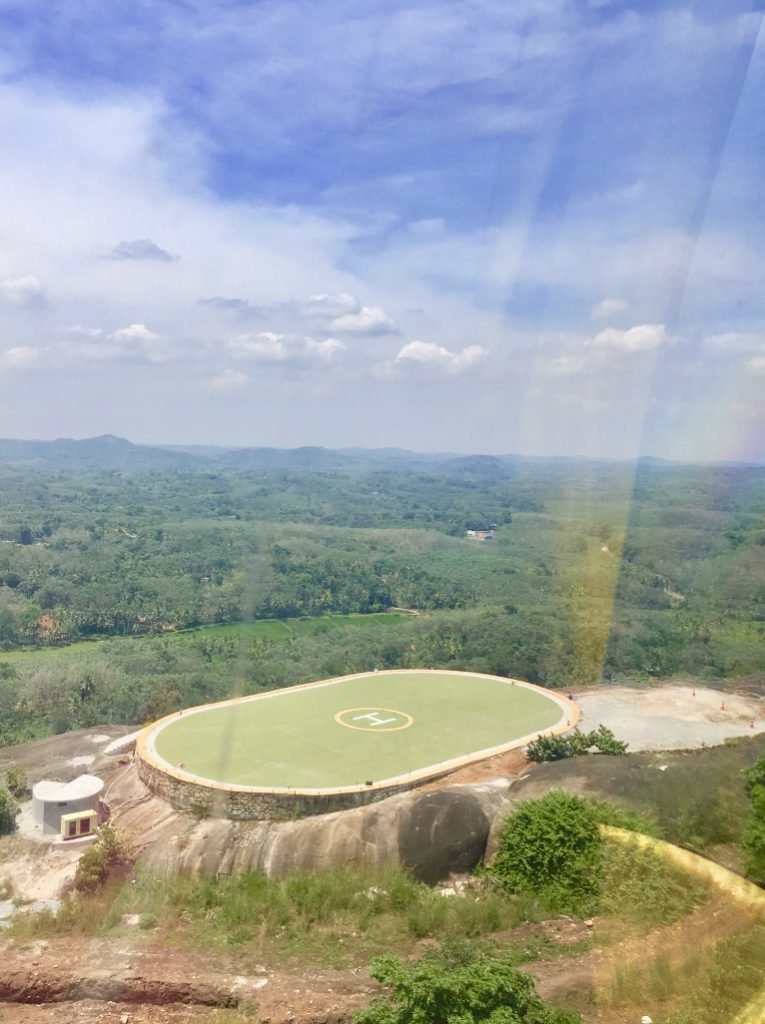 During my visit, I was fortunate to meet Mr Rajiv Achal, the brainchild of this project for a short time. A joint venture by Kerala Tourism and Mr Rajiv Anchal, Jatayu Nature Park is the fruit of decade-long hard work.  "Jatayu may be the first mythical bird who laid down his life to save the honour of a woman.", says Rajiv Anchal.
A beautiful poem on Jatayu's bravery can be read right at the entrance. It is fascinating to listen to Mr Anchal describe his creative process, the challenges he faced in Jatayupara and some of the tough decisions he took during his journey.
I was particularly keen to know why concrete was used for construction. He replied that in the years to come concrete will give the sculpture a unique look. "Besides that, it was the only practical material for sculpture this big.", he added with a smile.
Things to do at Jatayu Park: Key highlights of Jatayu Park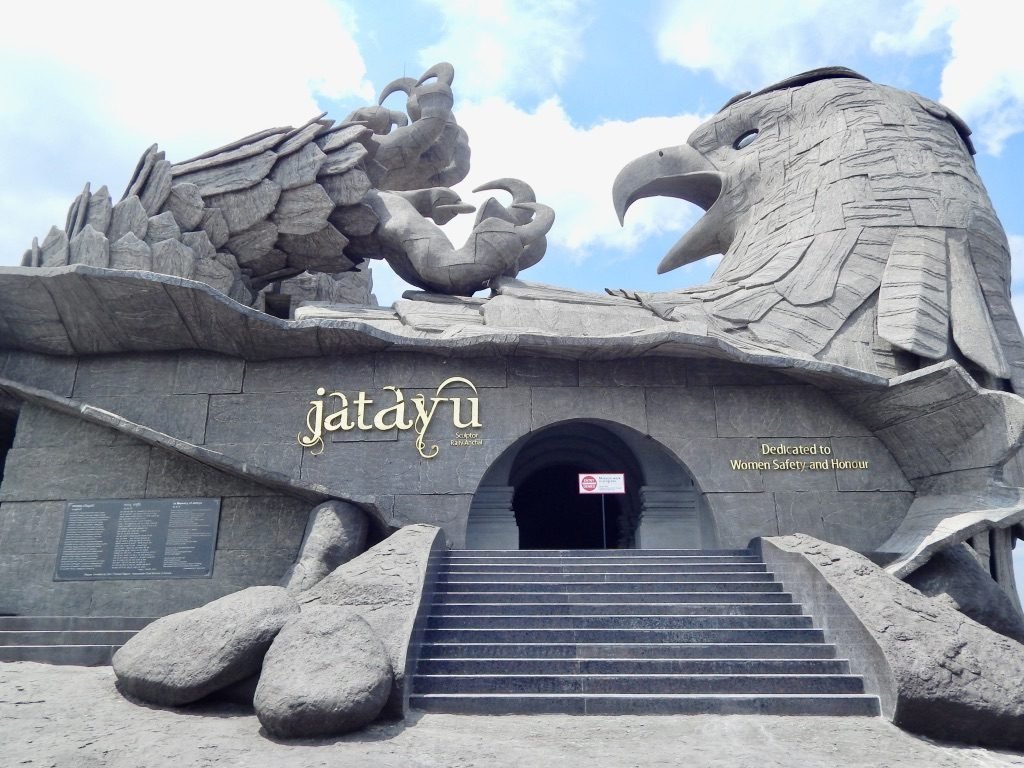 Jatayu Earth's Centre is a sustainable tourism destination that has a range of activities for everybody.
Hill 1 Jatayu Sculpture: This should be your first stop where you can marvel at the Jatayu statue, take a tour of the museum and understand the history and mythological stories.
Hill 2 Adventure Rock Hill: After visiting the sculpture, you can make way to the Adventure Rock Hill that has activities like rappelling, rifle shooting, archery, rappelling, bouldering, vertical ladder, zip-line, and much more. 
Hill 3 Elephant Rock Hill: Sky cycling, campfire, moonlight dinner and sleeping under the stars; the Elephant Rock Hill is the perfect destination to rekindle your romance. This place offers  live music and performances.
 Hill 4 Kitchen Rock Hill: Traditional Siddha in natural caves with luxurious accommodation facilities is what Kitchen Rock Hill has to offer. It also has a heli taxi services where you can enjoy spectacular views of Jatayu sculpture.
How to book tickets for Jatayu National Park or Jatayu Park?
Jatayu Earth Centre timings are 10 am to 8 pm from Sunday to Saturday for the sculpture and 10 am to 6 pm for the Adventure Centre.  The Jatayu Earth Centre entry fee and Jatayu Earth Centre ticket price is as follows:
Jatayu Sculpture Cable ride: The cable car ride and the visit to the sculpture costs about Rs. 450 including taxes.
15 Adventure Activities – Rs.1000/-
Trekking and Paintball – Rs.1300/-
15 Adventures Activities and Trekking – Rs.1500/-
15 Adventures Activities and Paintball – Rs.1800/-
All Activities, Paintball and Trekking  – Rs.2300/-
Full Day Activities  – Rs.3500/-Discounts are available for larger groups.
Jatayu Centre Helicopter ride: Please contact 90720 44444 for further details
Jatayu Park 2021 update: Jatayu Earth Centre online booking is the best way to make your reservations. The Jatayu Earth Centre ticket rates are very affordable and it is an ideal place for a daycation or even a Kerala staycation. However, due to the worldwide pandemic, the operations have been halted. Please check this space in a few months for recent updates.
What are the address and contact number of Jatayu Earth's Centre?
Jatayu Earth Centre address is Jatayu Junction, Jatayu Nature Park Rd, Chadayamangalam, Kerala 691534.
Jatayu Earth Centre contact number is 097784 14178
How to reach Jatayu Earth's Centre?
Located about an hour and a half away from Trivandrum, it is easily accessible by car or state transport buses.
Reach Jatayu Earth's Centre by Train
The nearest Railway Stations are Kollam Junction, about 35 kms and Thiruvananthapuram Central about 55 kms away.
Reach Jatayu Earth's Centr by Air
The nearest airport for Jatayu Nature Park is Trivandrum International Airport and it is about 52 kms away.
Reach Jatayu Earth's Centr by Road
Jatayupara is located approximately 200 meters from Trivandrum – Kochi highway and is easily accessible from Kollam.
Where to stay Jatayu Earth's Centre?
Overnight experience at Jatayu Park
If you enjoy sleeping under the stars; then the Glamping at Jatayu Earth's Centre would be your best option. You can stay overnight to enjoy some delicious food, enjoy some moon light live performances and end the day with a cozy campfire.
7-day Healing package in the Siddha Healing Caves of Jatayu Earth's Centre 
The Siddha Rejeuvanation Therapy at Jatayu Nature Park is perfect for those who are looking to rejuvenate themselves with Ayurveda. The caves have been converted into cottages where you can spend seven perfect days reawakening your body and soul. You can spend some time in the herbal gardens nearby.
Daycation at Jadayupara 
You can stay in the following hotels if you wish to spend a day at Jatayu Nature Park and return.
Luxury: Hilton Garden Inn
Mid Range: Biverah Hotel & Suites
Budget: Hotel Silver Sand
What are some of the attractions near Jatayu Nature Park?
Jatayu Nature Park has several other attractions nearby for those who wish to spend a longer time. You can visit:
Jatayuppara Sree Kodanda Rama Temple
Minerva Cinema
 Kilimanoor Palace
Jatayu Earth's Centre: Final words
Jatayu Earth's Centre is a unique destination that is an amalgamation of myth and modernity. Do you have any questions about this place? Let us know in the comments below 🙂