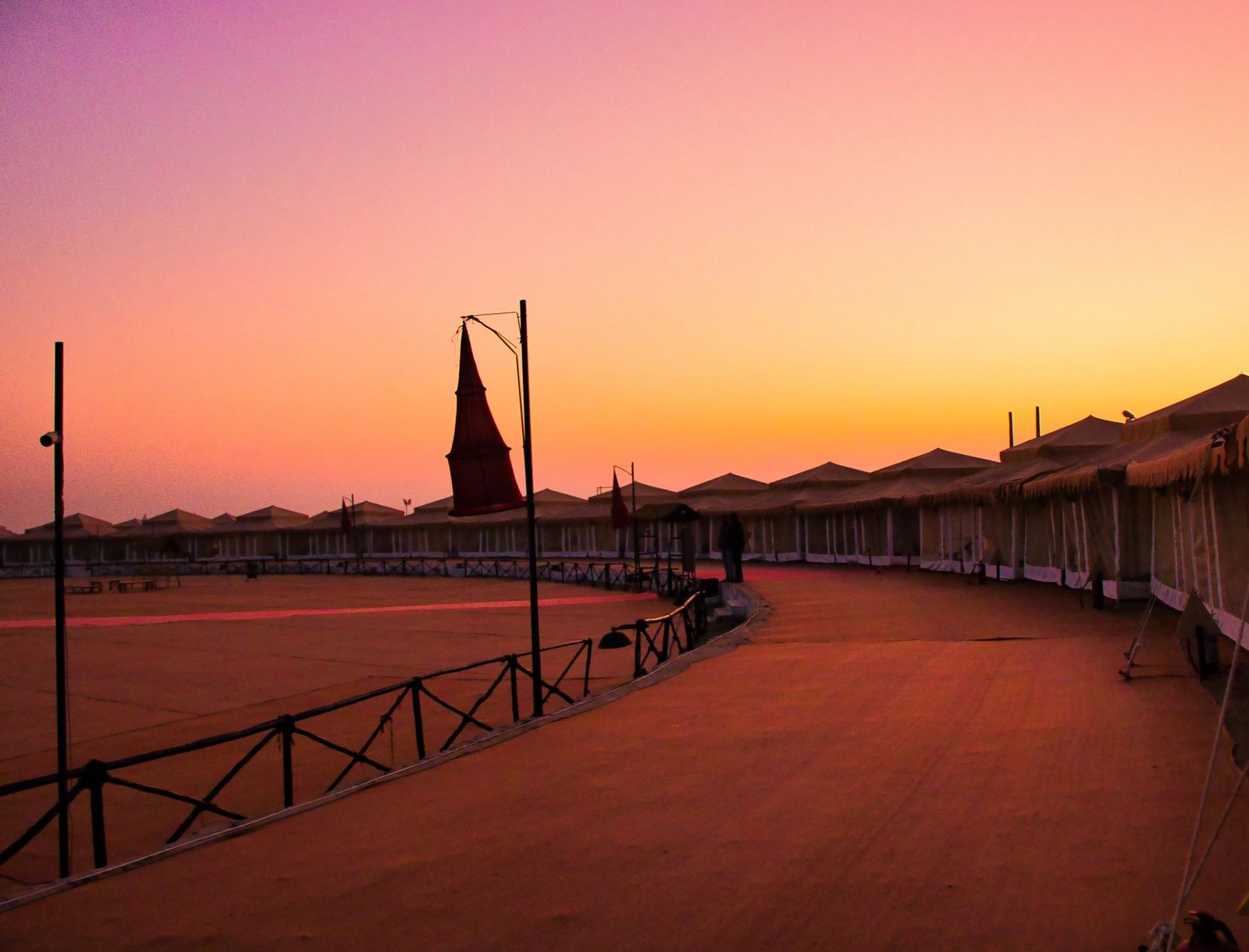 The white sand and rugged terrain of the Kutch Desert provides a beautiful backdrop for the vibrance and colours you see everywhere. The beautiful sunrise that paints the sky in different hues of pink and orange, the gorgeous attire adorned by men and women alike and the different art forms that locals are striving to keep alive are some of the things that make Kutch special. Rann Utsav celebrates the exuberance, charm and beauty of Kutch.  Let's dive into how you have a fabulous time at Rann Utsav
If you are a first-time traveller to Rann, your mind may be abuzz with questions like What is Rann Utsav? How to plan a trip to Rann of Kutch and so on.  This unique Rann Utsav Guide will help you make the most of your time and ensure you experience everything that Rann Utsav has to offer.
What is Rann Utsav?
Rann Utsav is an immersive experience and an extravaganza that highlights the rich culture and heritage of Gujarat. You can relish flavourful food, dance to melodious tunes, enjoy cultural performances, stare in awe at the natural beauty of the white sand or participate in some thrilling adventures at tent city.
For those of you who are curious, 'Rann' means desert and 'Utsav' means festivals and Rann Utsav denotes a festival of the desert. The festival has an interesting origin. After the 2001 earthquake that devastated Kutch, the need for providing new livelihood opportunities emerged. Rann Utsav was modelled as a tourism destination that could showcase the culture of Kutch, provide livelihood opportunities to local communities and promote tourism to a little known region of Gujarat.
It showcases the rebuilt desert region of Kutch by creating a travel story linking Kutch's geographical and cultural distinctions.
From premium tents at Dhordo village which is the heart of the festival, camel rides and daily trips to the Great Rann and to nearby villages rich in craft and folk traditions, old temples and historical landmarks, the Rann Utsav promises a treat for all.
What is unique about Dhordo village?
Dhordo is a village in Western India's Kutch District, and when you are there it's almost like being transported into another world. As part of the Rann Utsav Festival, an entire city is created within Dhordo. Rann Utsav location which is Dhordo makes it a lively hub of activity!
During the four months of the festival, a beautiful albeit temporary city is built up in Dhordo. There are tents for accommodation, decorations, shops and stages for cultural performances. It is like a self-sufficient settlement that is visited by thousands of tourists every year. They have to be dismantled again in February as the climatic conditions make it difficult for the area to be open throughout the year. The desert is flooded with water which dries up every year in time for the festivities to begin.
Where does the Rann Utsav take place?
The Great Rann of Kutch, popularly known as the White Desert of Kutch, lies in western Gujarat. The desert, one of India's hottest locations, is home to the iconic Rann Utsav in Gujarat, which takes place every year from November to February. The magnificent Great Rann of Kutch, located on the Indo-Pak border, is also the world's biggest salt desert. If you want to experience the Rann of Kutch's lively culture, then booking a tour package for the Rann of Kutch, especially during the Rann Festival 2022, is a great choice.
When can one visit Rann Utsav?
The Rann Utsav festival is a four-month-long journey across the largest saltmarsh known as Rann of Kutch. Beginning on November 1st, 2021, the festivities will continue until February 20th, 2022.
The world's largest seasonal salt marshland has inspired many travellers from different parts of the country over the past few years creating a buzz amongst people who now eagerly await when the next Rann Utsav will happen and where they can be there to experience its beauty once again.
Do you require a permit for entering the Salt Desert of Kutch
The Salt Dessert or the White Rann is considered to be a sensitive region owing to its proximity to the India-Pakistan border. You have to apply for a permit which is easily available on the way at the Bhirandiyara village checkpoint or from the Gujarat Police office, Bhuj located near Jubilee Ground. To avoid being fined, be sure to bring a photocopy of your ID card and leave both it and the original copy at your hotel while on tour in the desert.
If you do visit Bhirandiyara village, don't forget to sample their famous mawa mithai made of buffalo milk. It is lip-smackingly delicious.
Rann Utsav Guide for Sightseeing
There are all sorts of interesting attractions at the Rann Utsav in Bhuj, Kutch and Mandvi. There are a number of packages to choose from for those looking to explore Kutch. Some places that you can visit include Vijay Vilas Palace and Shyamji Krishna Memorial in Mandvi, Handicraft Village, Gandhi Nu Gaam on the way to Kala Dungar, Shri Swami Narayan Temple and Kutch Museum in Bhuj. I have shared the details below.
Unique experiences at Rann Utsav
The White Rann of Kutch
The White Rann is a spectacular geographical wonder with what seems like an infinite stretch of glittering white sand. There is an interesting natural phenomenon that makes Rann so unique. The region, which lies encapsulated in layers of water for the better part of the year slowly emerges as white salt flats just in time to start getting things set up for the Rann Utsav festivities. It looks more like a special place where time froze mid-motion.
Thousands of people come together to celebrate Rann Utsav where richness and diversity of culture, art and heritage make the place truly special.
The White Rann of Kutch is perfect for morning, evening and nightly excursions. There is something unique and interesting that you will experience every time you go. From a spectacular sunrise that paints the skies pink in the morning, to a deeply orange sky as the sun bids goodbye to silvery full moon nights.
You can experience a camel cart ride, go paramotoring or simply enjoy local dance and music performances as you take in the beauty of the place.
It is also an 'instagrammable' spot, so don't forget to click some truly beautiful pictures to remember the place.
Experience the tent city
Looking for an adventurous holiday or a completely relaxed one? Maybe you would like a perfect balance of the two. At Rann Utsav, you can experience everything from adventure sports, cultural events, live music, comedy shows, a relaxing spa and well anything else your heart desires. Walk around the place and you will find something exciting in every corner. Some experiences I recommend are:
Visit the haat to purchase and see live demos of local handicrafts printing, beaded jewellery and wood carving.
Spend the evening watching Kutchi folk songs and dances as you enjoy mouth-watering delicacies.
Opt for camel safaris, camel cart rides, bungee jumping ATV rides and even stargazing.
Gandhi Nu Gam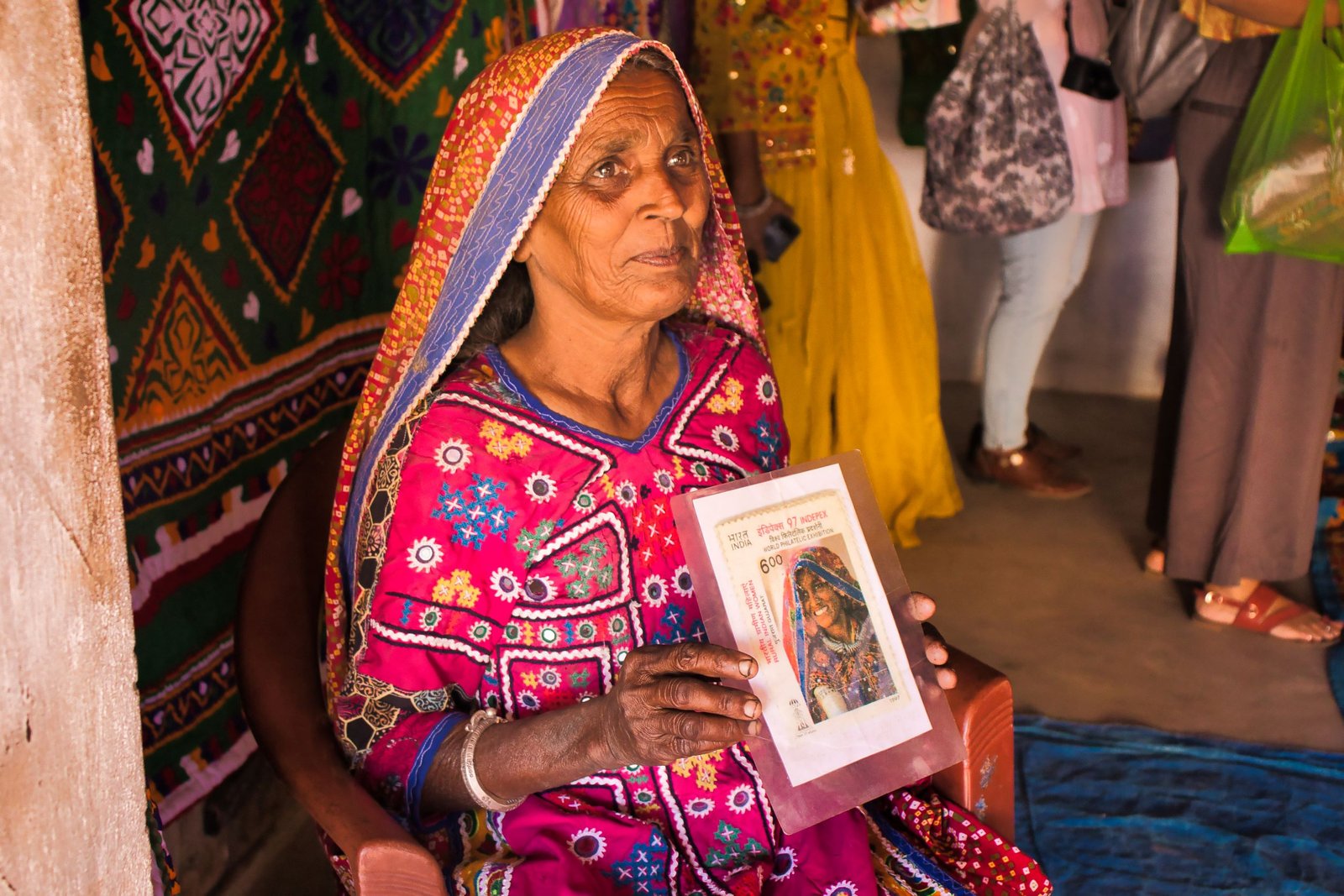 In 2001, a massive earthquake rocked the state of Gujarat and one of the worst affected regions was Kutch. The country was numbed with shock as the earthquake left thousands dead and millions homeless. Once the tremors had subsided, reconstruction efforts in right earnest began to help people return to their daily. Various stakeholders including local communities and non-profit organizations such as Vastu Shilpa foundation were involved in rebuilding 16 villages of Kutch's regions, including Gandhi Nu Gam.
To ensure that the local communities would thrive, every aspect of infrastructure needed for sustaining a healthy lifestyle was addressed and taken care of. Homes called as 'Bhungas' were built taking into account the tradition of construction in the local area to the use of natural building materials for interiors and exteriors.
Bhungas are circular in shape to them and are earthquake resistant. The design ensures that the interior remains cooler than outside in the summers and warmer during winters.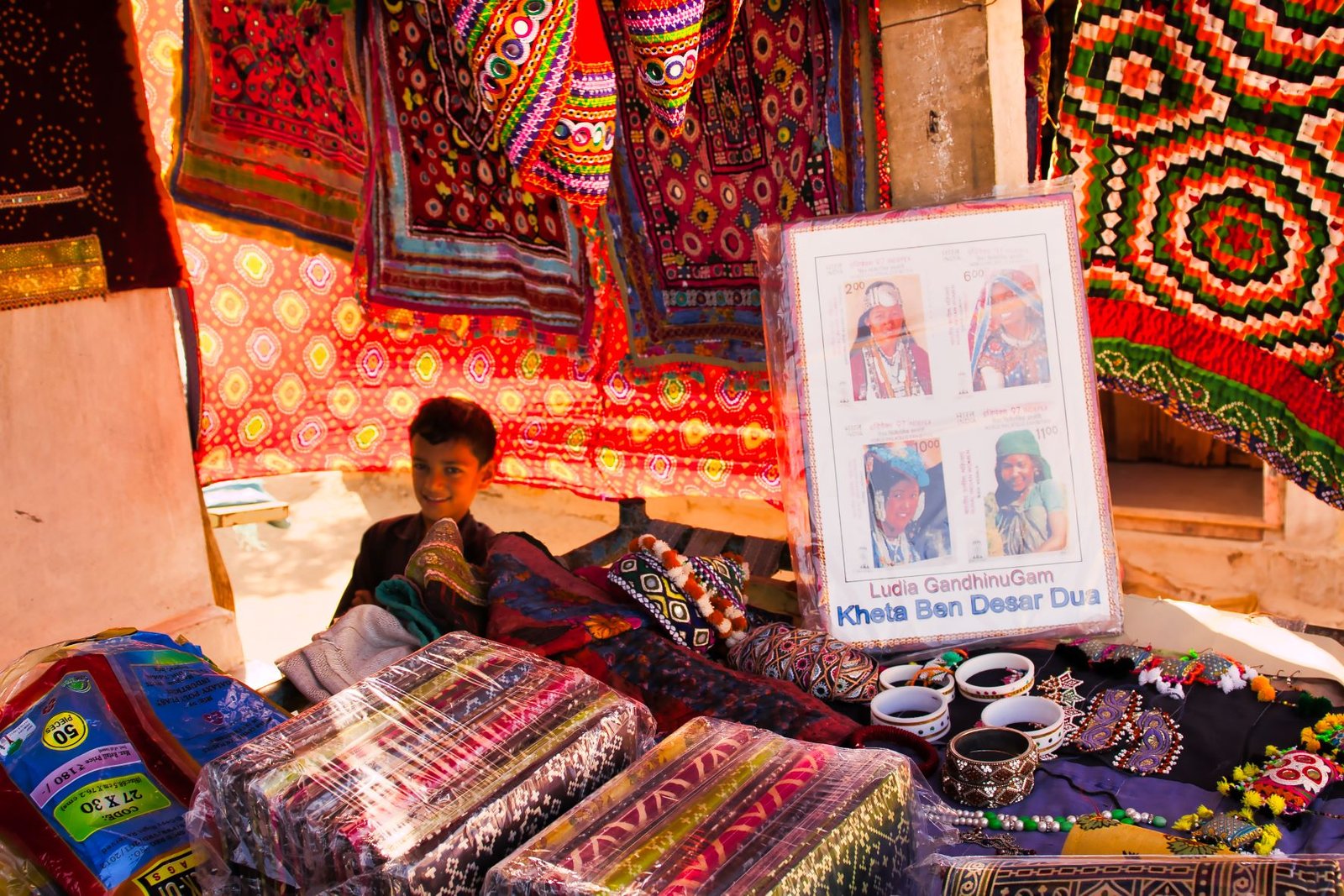 When at Gandhi Nu Gam do take time to meet Kheta Ben. In 1997, the India Postal Department published stamps of four rural Indian women dressed in their traditional costumes from the four corners of the country. Kheta Ben was one of them. You can visit her house, view these stamps or purchase handmade goods directly from her home and help support her family.
The local artisan make beautifully embroidered clothes, intricately woven bead jewellery and many other handicrafts A visit to Gandhi Nu Gam should definitely be a part of your Rann Utsav itinerary.
Dholavira
Dholavira is one of UNESCO's World Heritage Sites in India. It is located at the Great Rann of Kutch, Dholavira is one of the most remarkable excavations of Harappan Civilisation or Indus Valley Civilisation, dating back to 4500 years ago. This rich site offers an insight into the pioneering Harappan mind with its unparalleled water conservation system and signboards that provide a significant lead as to what might be world's first written language.
The site was found by the Archeological Survey of India (ASI) in 1967 but has been systematically excavated only since 1990. Artefacts include terracotta pottery, beads, gold and copper ornaments, seals, fish hooks, animal figurines, tools, urns and some imported vessels in addition to 10 large stone inscriptions which are called early forms of writing. The script is largely undeciphered to date. Dholavira is a great place for history buffs and a great addition to your Rann Utsav itinerary.
Kalo Dungar
The highest mountain in Gujarat's Kutch district is Kalo Dungar, popularly known as a black hill. It is the best place for a panoramic view of the Rann of Kutch, as it is located at a height of 462 meters. Kalo Dungar is around 90 kilometres from Bhuj and is readily accessible through the GJ SH 45/NH341 route.
At the 400-year-old Dattatreya temple in Kalo Dungar, you are sure to enjoy an incredible experience. It provides excellent lodging and dining. People living in rural villages near Kalo Dungar hold this temple in high regard and have long worshipped Dattatreya bhagwan.
Nirona Crafts Village
Nirona village is around 40 kilometres away from Bhuj . It is from here that the centuries-old Rogan art form arose. At present, only two families pursue the technique of painting on cloth. Castor oil and natural colours are used to make the paint. It rose to prominence after Prime Minister Narendra Modi presented former US President Barack Obama with a Rogan art piece during his visit to India.
The paintings can be purchased for use as wall hangings or clothing. It's a classic work of art, and its complex nature is breathtaking.  In addition, the family does a live demonstration of how the art is created. Copper handicraft, particularly bells with diverse tones, is also sold in this area.
Mandvi Beach
The Mandvi beach is a golden-brown sand stretch that runs along the southern point of Gujarat's Kutch region. It is located south of Bhuj, which is the key junction. The beach is located near the town, which was formerly a bustling Indian port. The historic section of town still has the fort wall of the once-bustling commercial centre. The quiet beach is a welcome addition to the town for visitors. With the sunset and the bustle of food vendors and balloon sellers, the evenings are especially enjoyable.
Ekal ka Rann
For any travellers and locals interested in taking some time off and experiencing a unique place, definitely check out the Ekal Village Rann of Kutch. It is a peaceful and serene experience for those looking to get away from all the hustle and bustle of the tent city. Located nearly 100 km from Bhuj, I recommend that you visit this place if you have your own transport.
Bhuj
On the last day of your stay, you should definitely spend some time exploring Bhuj city. Some famous places where you can spend some time are Shri Swami Narayan Temple, The Kutch Museum and the Hiralaxmi Craft Park, Bhujodi.
How to reach Rann of Kutch or Rann Utsav?
Reaching Bhuj by flight
All major cities are well connected to Bhuj airport however the number of flights available daily are few and far between. You must book your flights to Bhuj two months in advance as the flights tend to be on the pricier side.
Reaching Bhuj by Train
Bhuj railway station is well connected to Mumbai but if you are travelling from other cities, you might have to change your means of transport or your train.
Reaching Bhuj by Bus
Buses from Ahmedabad and other cities ply daily to Bhuj and this is the cheapest mode of transport. The journey can be quite long with only a couple of breaks in between but this is a great option if you are planning a budget trip to Rann Utsav.
When should you visit Rann Utsav?
Full moon days are spectacular and are considered to be the best time to visit Rann Utsav.  The full moon adds to that gorgeous gleam as you engage in cultural events and local traditions.
However, staying in Rann Utsav during full moon days is more expensive. If you are on a budget Rann Utsav trip, looking on weekdays is a great way to save some money.
For complete details on tariffs, please visit the Rann Utsav official website which can be found here.
Where should one stay during Rann Utsav?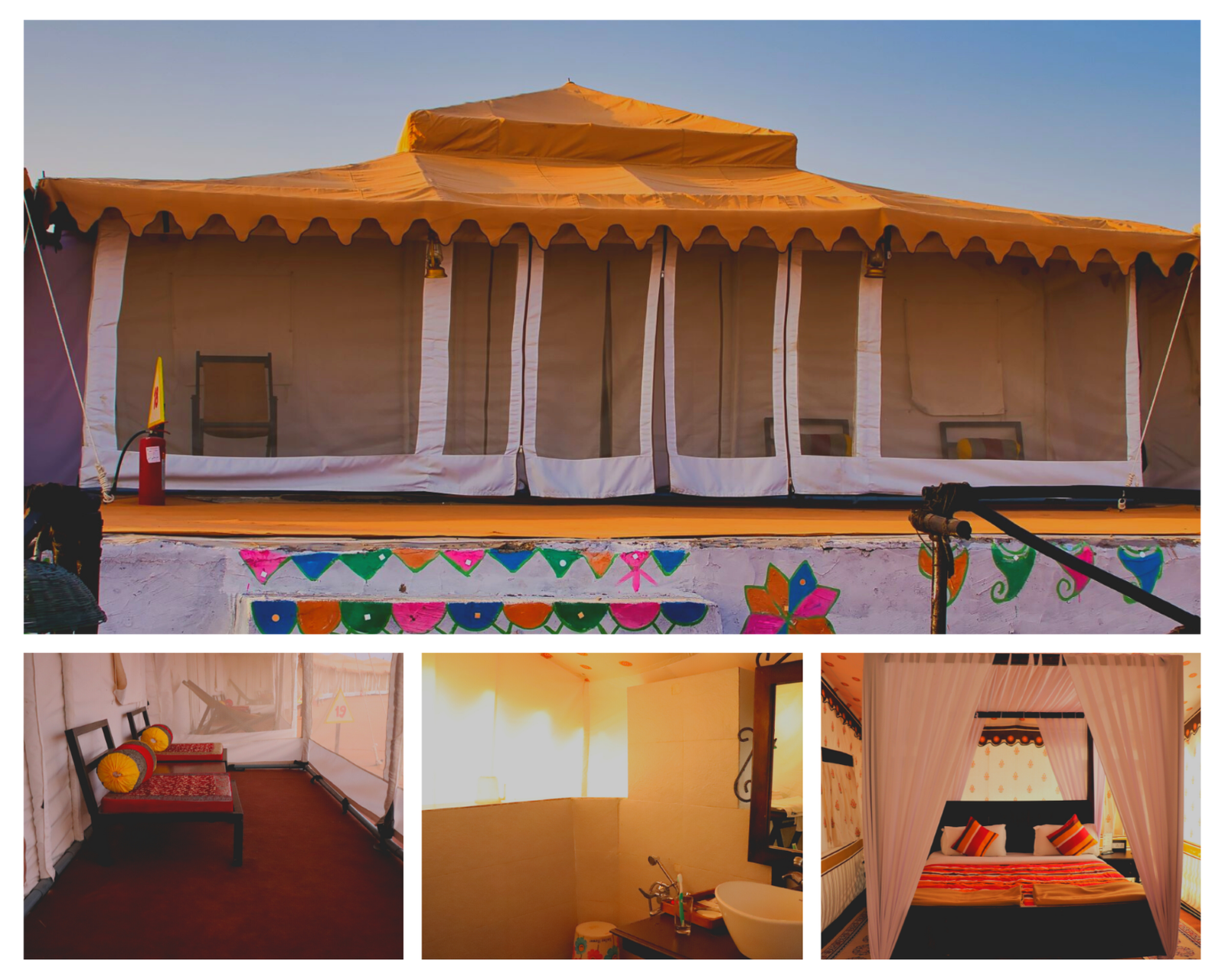 The Rann Utsav complex has several categories of well-appointed tents. You can sit back, relax and enjoy a unique experience of luxurious comfort fare amidst majestic interiors, elegant furnishings and lovely amenities. The accommodation charges include all meals. So get ready for a treasure trove of delectable food options which are sure to leave your taste buds wanting a little more! The tent categories are as follows:
Non-AC Swiss tents
These affordable tents are ideal for the budget traveller, will appeal to your sense of style and won't cost you the world. While the weather in the mornings and evenings is quite pleasant, even chilly on some nights, the afternoons can get hot. It is the perfect choice for budget travellers to Rann Utsav.
Deluxe AC Swiss Cottages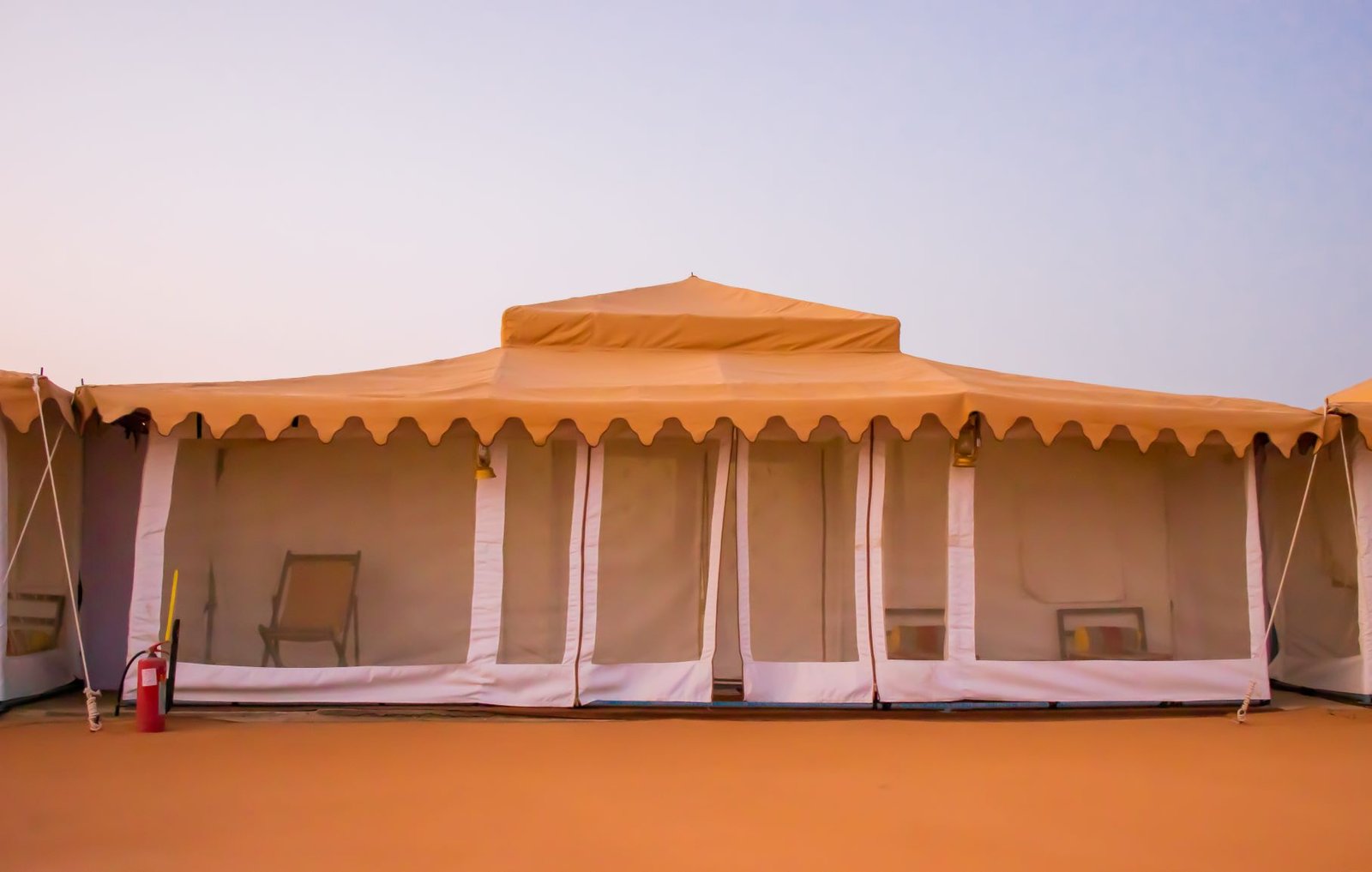 An immaculate setup of all that you need with a touch of elegance defines the Deluxe AC Swiss Cottage which despite its simple layout offers one the luxuries of a warm stay. This is a great choice for mid-range travellers to Rann Utsav. This is where I personally stayed and I would highly recommend it.
The Premium Tents
The premium tent covers all the important things you will need to ensure you have a great time during your stay. It is an ideal choice for those looking for a luxurious Rann Utsav trip.
The Rajwadi Suite
The tasteful design and setting in the Rajwadi Suite is all that you need for an indulgent experience An ultra-luxury suite, I would recommend this for special occasions.
The Darbari Suite
The spacious rooms at the Darbari Suite with its royal interiors have been designed to give you that regal luxury that befits royalty. This is also known as the PM's suite as this is the place they stay if they visit Rann Utsav.
What budget does one need for Rann Utsav?
Stay: Rann Utsav can be as expensive or as cheap as you want it to be. It all depends on the accommodation you choose. You can find the tent city tariffs here. You can also find several homestays that offer cheaper accommodation starting at Rs. 1000 per night. However, you cannot enter certain sections of the tent area if you are not staying in their accommodation.
Reaching Rann Utsav: Bhuj is the nearest airport and railway station. Flight tickets from major metros cost around Rs. 4,000 on an average. It will be cheaper and more expensive depending on the booking dates. 3 tier AC train tickets on average should cost you Rs. 2000 one way.
If you are staying at Rann Utsav tent city, they will offer you complimentary pickup and drop from the railway station and the airport. Your homestay owners will also be able to help you
Exploring Kutch: One of the advantages of staying at the Rann Utsav tent city is that they organize complimentary tours to different places every day.
Food: If you are living in the tent city, all your meals are covered. So you need not save on food. Otherwise, food is fairly inexpensive in Gujarat and a daily food budget of Rs. 400 to 500 per person should suffice.
Shopping: You will be exposed to so many different art forms in Kutch that you will definitely be tempted to take home many souvenirs. I would say factor in a budget of Rs. 2500 at least.
Miscellaneous: Rs. 2500 for miscellaneous expenses should suffice.
Overall, while travelling to Rann Utsav an average budget of Rs. 30,000 including all costs and travel expenses
Frequently Asked Questions (FAQs) of Rann Utsav
What to eat at Rann Utsav, Kutch?
Your Rann Utsav package includes delicious meals included. At the dining hall, you can sample a wide variety of vegetarian Gujarati food. They also have North Indian options available. The food stalls outside are a great place to sample some delicious snacks. Do try out Khaman, Fafda and Jalebi, different types of chaats and other delicacies.
How is the overall climate in Rann of Kutch for travellers?
The best time to visit Rann of Kutch is November to February as the climate is cool and pleasant.
How is the overall experience at Rann Utsav Tent city?
To truly experience the Rann Utsav, the tent city is an ideal place to stay as you get to experience the full range of festivities. With round-the-clock water access, air conditioning units and plush interiors, it's quite easy to forget that you are actually living in a tent! The overall experience at Rann Utsav Tent City in one simple word is fabulous.
Is the Rann Utsav Safe for Women Travelers and solo travellers?
Yes, Rann Utsav and Gujarat are very safe for solo travellers and women travellers. Like any other place, do take basic precautions but overall the people are quite helpful and respectful. Public transport is easily available in all major tourist spots.
Important tips for planning your Rann Utsav Trip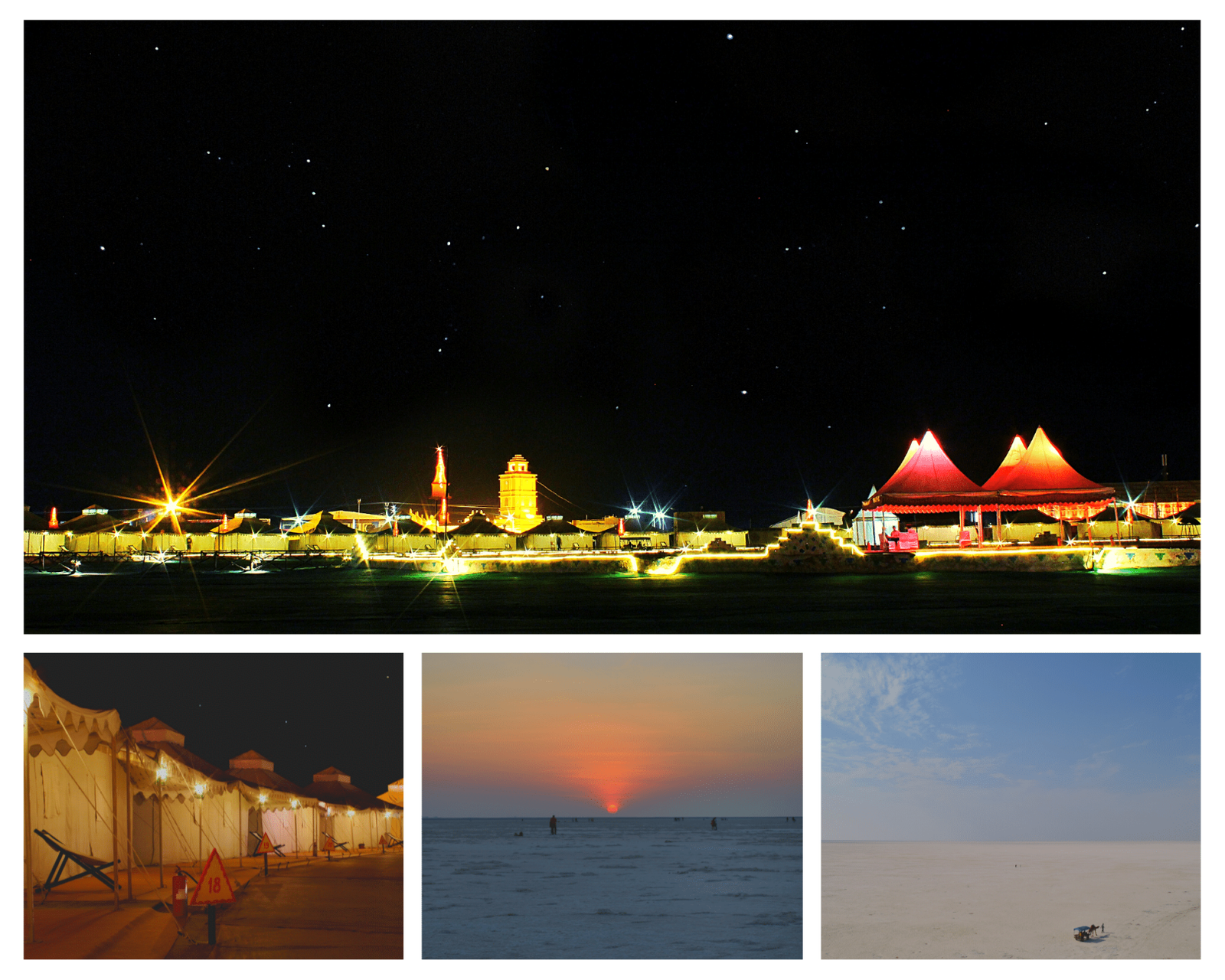 Booking your stay in advance will be cost-effective. Full moon nights while expensive, are worth it.
Rann Utsav offers special packages for birthdays, special occasions and even weddings! It is a great place to celebrate a special event with your friends and family.
To save some money, you can opt for non-AC tents as the weather is pleasant.
Make time to attend the cultural performances at night. The weekly schedule is available on the website as well as on the social media accounts of Rann Utsav.
Pack warm and light cotton clothes. The weather tends to get a bit hot during the day but it can get freezing during the night
I hope you enjoyed this detailed Rann Utsav itinerary. Do you have any questions on the Rann Utsav? Let me know in the comments below.