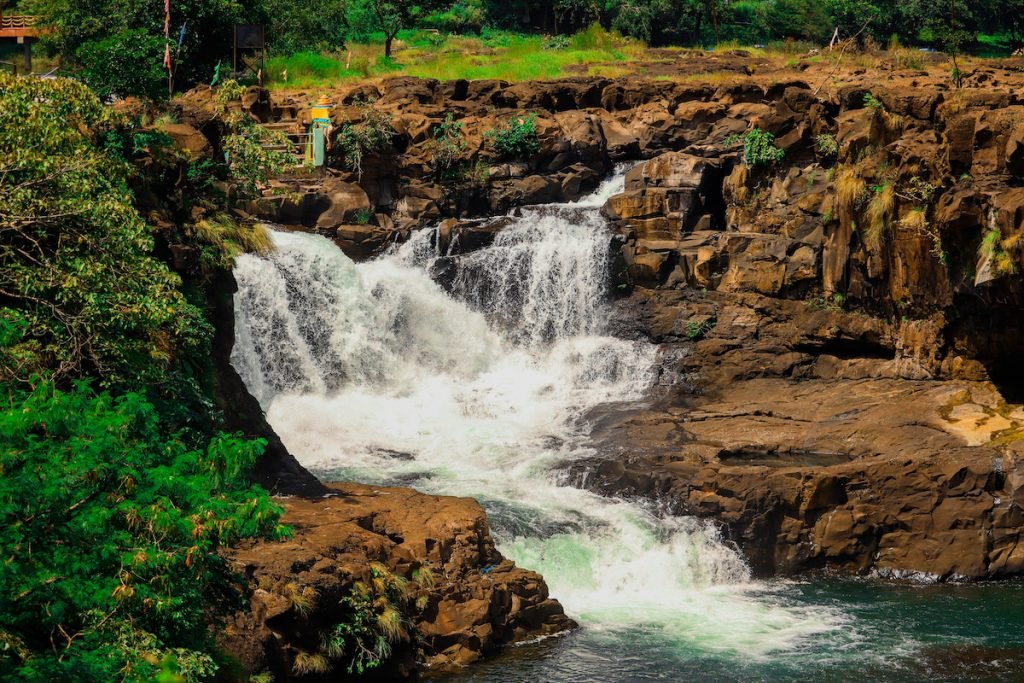 Monsoons make Maharashtra magical! It is the best time to plan a long road trip from Mumbai and visit Bhandardara, one of the best monsoon tourist destinations. If you are planning a trip to this picturesque town in the Sahaydris, read on for a detailed 2 night 3-day itinerary for  Bhandardara. 
Bhandardara: One of the best weekend getaways near Mumbai  
Bhandardara is a small town in Maharashtra, located at an elevation of about 740 metres. It has been named after the lake Bhandar (lake) and Dhara (flow). It is situated at a height of around 2000 feet above sea level, which makes it cooler than its neighbouring locations. 
A brief history of Bhandardara
Located in the Akole tehsil of Ahmednagar district of Maharashtra, Bhandardara is a gorgeous town that attracts tourists from all over Maharashtra. The Wilson Dam, built during the British regime was responsible for the prosperity of Bhandardara.
Unique places to visit in Bhandardara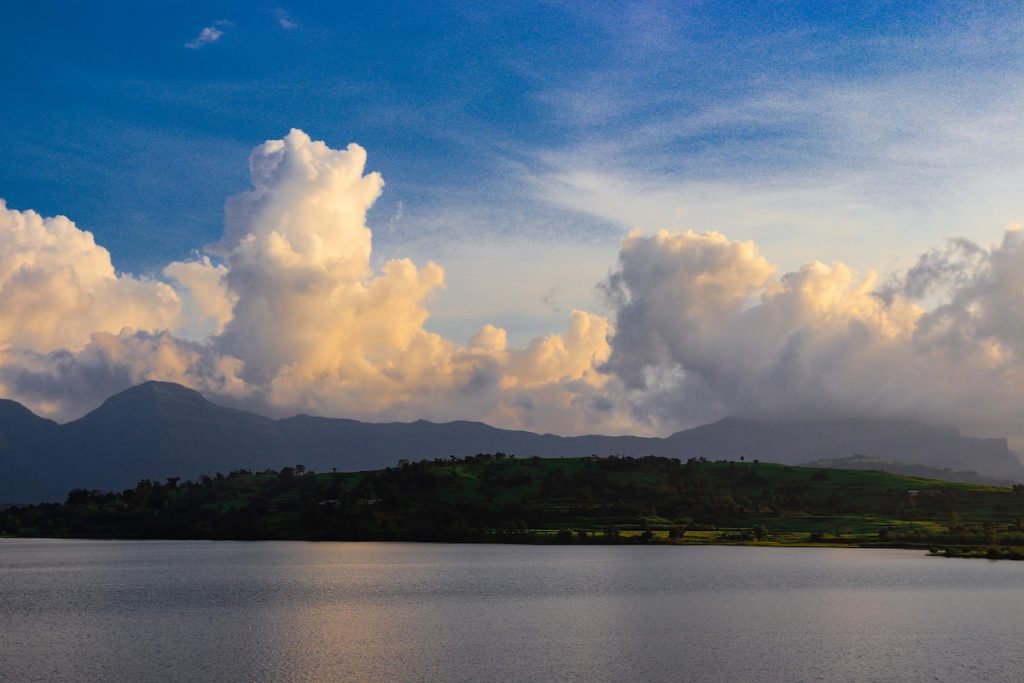 "Why is Bhandardara famous you ask?". The simple answer is that is a gorgeous weekend destination which delight you in every way possible. Located near the Pravara River, Bhandardara has several historical places that one can visit. These include the Wilson Dam, Ratangad Fort,  Alang Fort, Harishchandragad fort Madangad fort and Kulanggad fort. It is home to some of the best waterfalls in Maharashtra, temples and also has great camping sites. If you are looking for some places to visit near Bhandardara, then this list is for you!
Popular Lake at Bhandardara 
Arthur Lake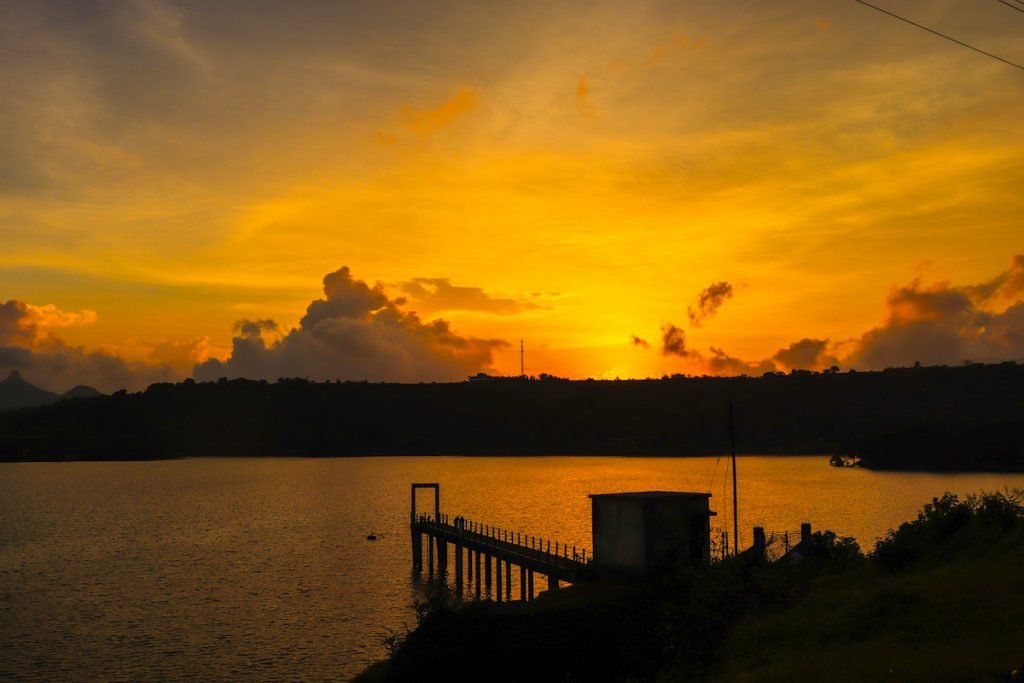 Arthur Lake lies in the heart of Bhandardara. You can camp near this Bhandardara lake and go boating if you like. There are several benches dotted around the lakeside which make it a perfect place for a lovely picnic. Interestingly, Arthur Lake is within walking distance of most resorts. After a long day of adventure, it is a lovely place to spend the evening in. If you make it in time for the sunrise, you can capture some Instagram worthy shots of Arthur Lake to commemorate your lovely weekend trip near Mumbai. Please note: Arthur Lake also had a viewing deck however it has fallen into disrepair. You might find some people trying to enter it despite the warnings posted, however, it is advisable to refrain from entering the area.  
Famous temples in Bhandardara
If you are someone who loves exploring temples while travelling, then Bhandardara is the perfect destination for you. You can take a day trip to these places from your resort in Bhandardara:
Amruteshwar Temple 
This beautiful temple is just 6 km away from Bhandardara. Located in Ratanwadi, this 1200-year-old Shiva temple was built by the rulers of Shilahara dynasty in the 9th Century. Amruteshwar temple is surrounded by green fields and Mount Kalsubai. It acts as a great pitstop for those going for the Ratangad Fort Trek. You can also access this temple through an 8 km boat ride on Arthur Lake. 
Ghoparpada Devi Temple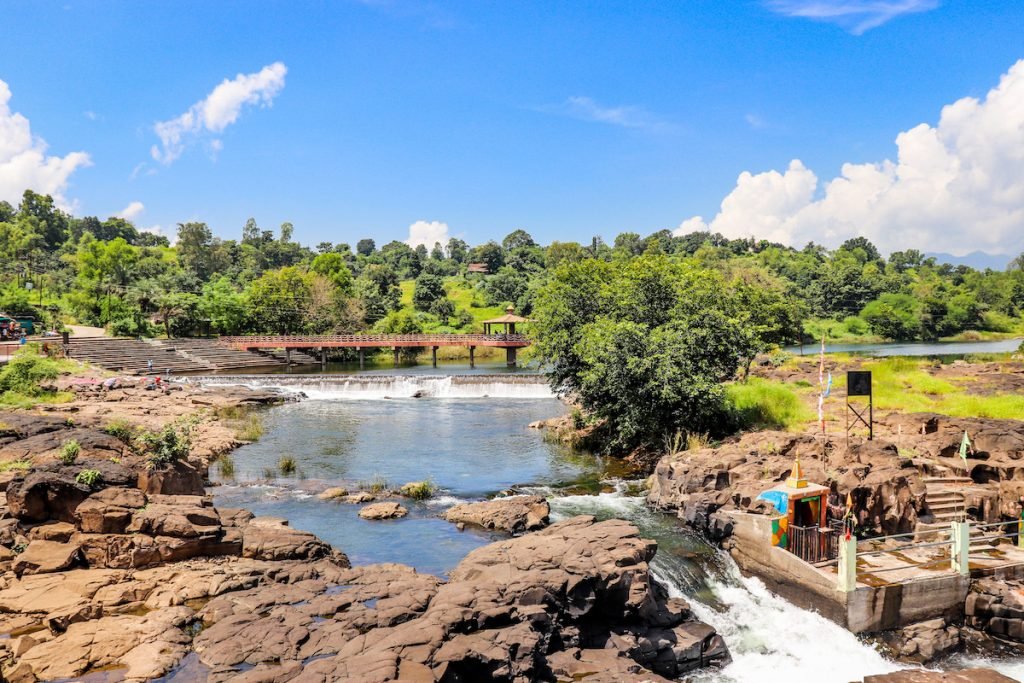 Not much is known about the history of Ghorpada Temple. It is famous locally and you will spot it right before the viewpoint of Randha Falls. You will also find several shops and shacks selling some hot chai and snacks around the temple area.
Famous Dams: Bhandardara things to do
Despite such a quaint little place, what makes Bhandardara one of the best getaways near Mumbai is the fact that you have so much to do. You can choose to laze around or if you are up for an adventure, you can visit some of the beautiful Bhandardara dams which are just a short drive away from the town.
Wilson Dam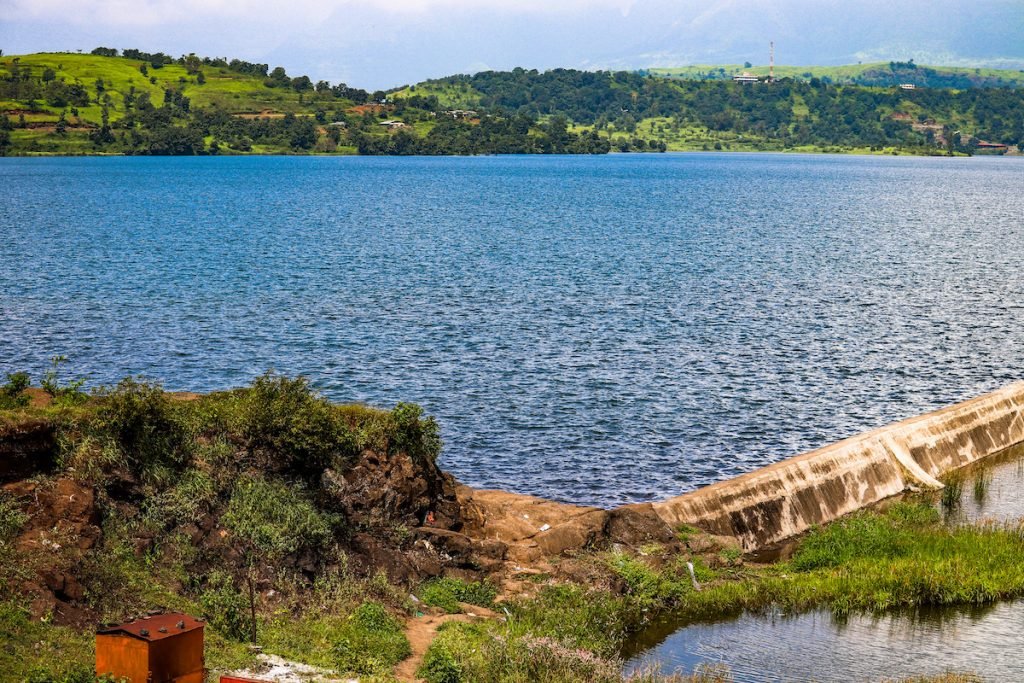 The Wilson Dam was built by British engineers at a height of 150 meters above sea level. It has been recognized as one of the oldest dams in India, with its opening control sluice gates creating 60-80 foot cascades for tourists to enjoy every day, especially during the monsoons. 
Ghatghar Dam
Ghatghar Dam is situated in a beautiful hilly region that can offer views of the Sahyadri ranges. It's not so famous, but it has scenic scenes during rainy seasons and waterfalls all over. There are no restaurants around, so you need to carry your own food items as well as water because there are no shops nearby. This dam provides an excellent camping spot for those who like going on hikes or backpacking trips through hillsides with friends!
Famous Bhandardara waterfalls
The best time to take in the beauty of Bhandardara waterfalls is the monsoons. They are truly stunning and must try to visit all of them during your trip. I am repeating this again but the blend of nature and luxury makes Bhandardara one of the ideal places near Mumbai for weekend
Randha waterfalls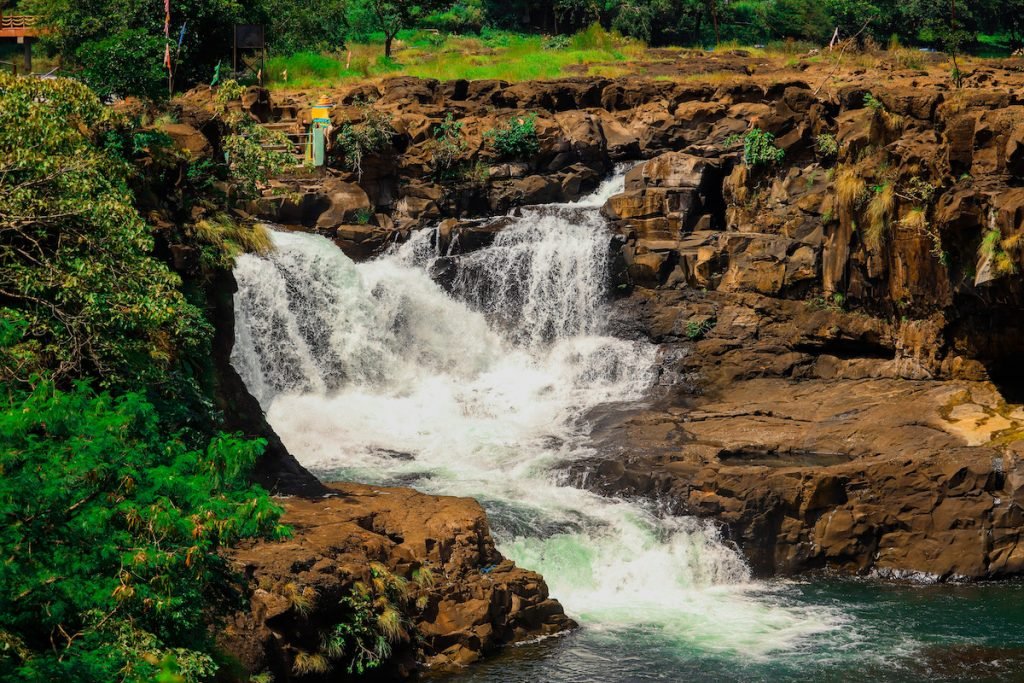 Randha Waterfalls is unlike any other waterfalls you might see in Maharashtra. Formed over Pravara River, Randha waterfalls cascade from a height of 170 feet into the gorge below.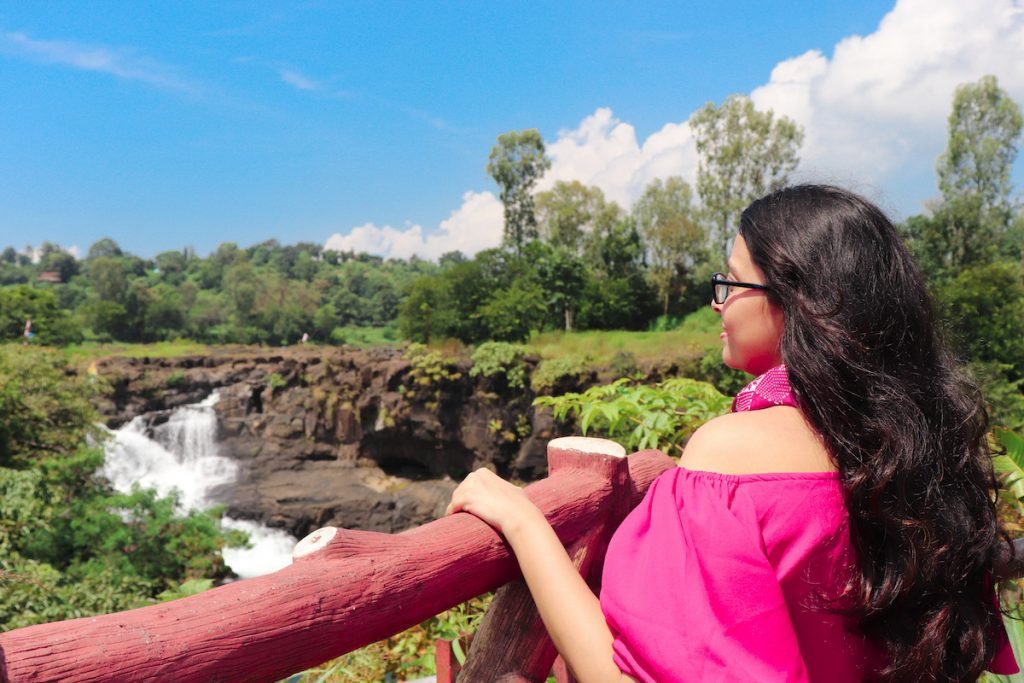 It has a large viewing deck open to the public from where you can watch it in its full glory. The place is dotted with benches and shaded alcoves from where you can admire the stunning  Randha Falls. The best part is that despite such lovely infrastructure, there are no entrance fees charged. If you feel a bit peckish, you will find local Self Help Groups and small shops selling snacks and chai.
Umbrella Waterfalls in Bhandardara
Another waterfall to add to your list of places to visit in Bhandardara is the Umbrella waterfalls.  Located at the Wilson Dam in Bhadardara, Umbrella Fall is a beautiful tourist spot.  The best time to visit this waterfall is during the monsoon between July and October when the level of water in the Pravara River are the highest. A scenic place for locals as well as tourists, this place will offer you an experience of relaxation.
Bhandardara Necklace falls near Koltembe village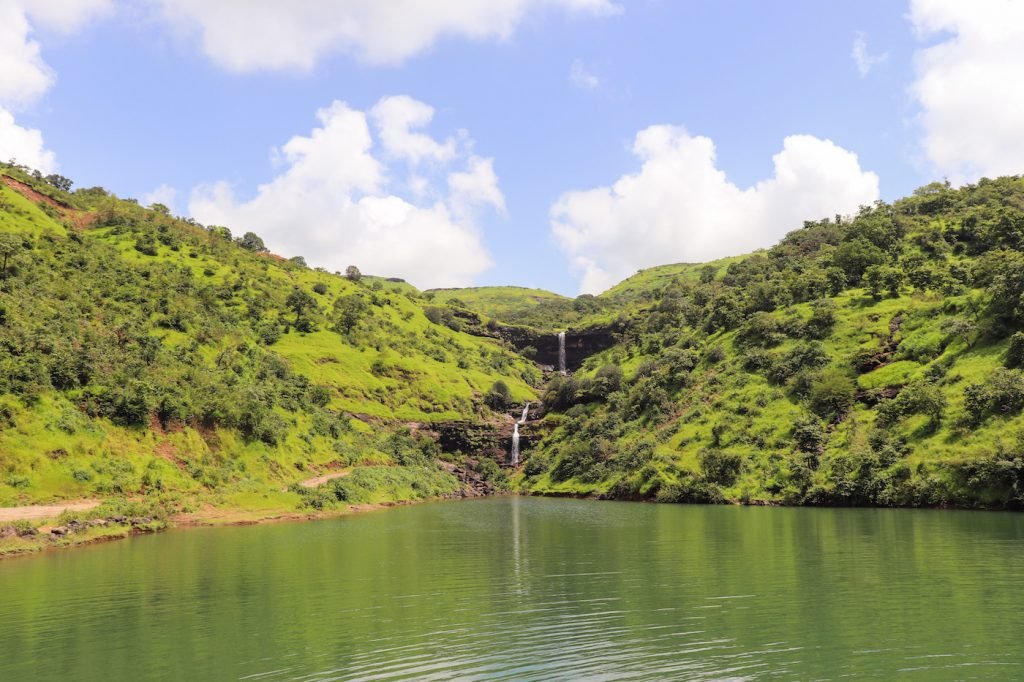 This fall looks like a necklace when falling down the rocks outside of Koltembe village. The small beads can be found all along with this gorgeous, scenic location which is an important landmark for locals and tourists in the area alike!
Reverse Waterfalls
The Reverse Waterfall, Sandhan Valley is a sight to behold! Strong wind pushes the gushing water upwards creating a reverse waterfall. The best viewpoint is the rim of this hill where you might get wet if you're in an area that has been spritzed by water from one of these falls.
How to reach the waterfalls in Bhandardara?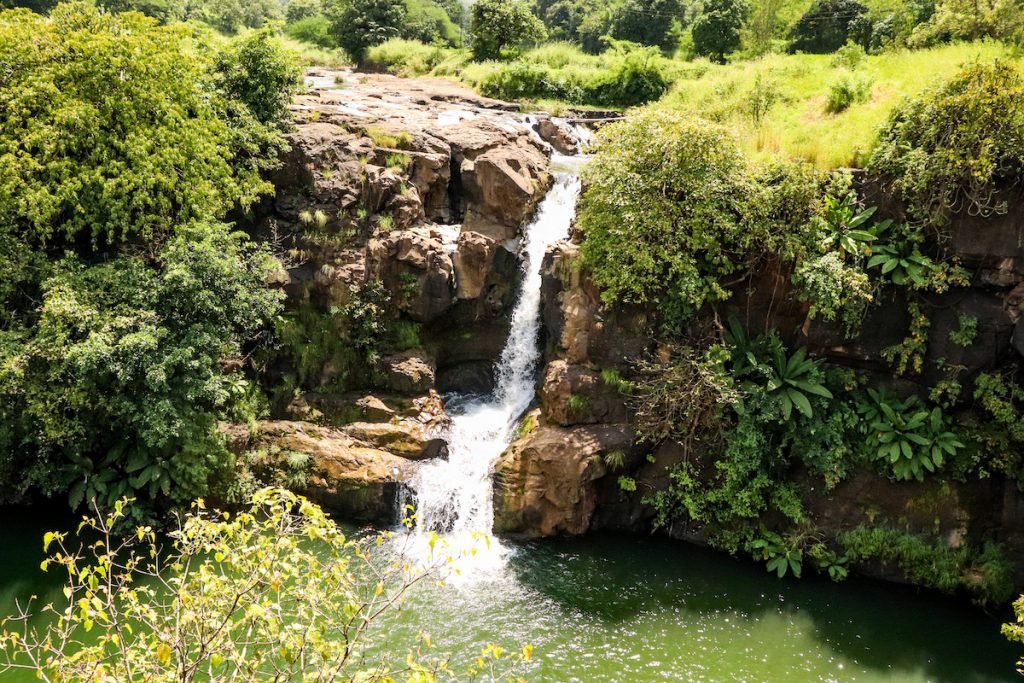 If you are staying near Shende village, most waterfalls are easily within the 10 km radius with the exception being the Reverse Waterfalls. I would suggest that you take a bike or a private vehicle to reach it. While coming back, if you manage to negotiate a price for a bike, it will be more economical than taking an auto or cab. Ask your place of stay about the prices of these two modes.
Famous treks around Bhandardara
Bhandardara is conveniently located close to some of the most famous treks of Maharashtra. Read on for more Bhandardara hill station information.
Sandhan Valley Trek  
One of the most challenging and enjoyable treks in Sahyadri, Sandhan Valley or the Valley of Shadows offers an adventure experience like no other. You don't just trek – you rappel, rock climb, enjoy bonfires and camp under the starry sky. The natural gorge of Sandhan is between AMK forts – Alang, Madan and Kulang; thus its name: AMK (Alang-Madhyan-Kalas). This 'offbeat' trail that winds through lush forests has great photo ops with unexplored areas to explore too!
Kalsubai trek 
Kalsubai Peak is a very popular trek in the Sahyadri region. It offers views of many famous forts such as Alang, Madan, Kulang. On clear days you can spot Harihargad, Harishchandragad, and Ratangad forts, too. The Kalsabai trek also provides breathtaking combination scenery like waterfalls, forests and grasslands with night treks being particularly special because you can see the spectacular sunrise from here!
1) Sunset point – Enjoy the sunset with your family or friends while sitting around bonfires and drinking hot tea.
2) Bonfire – Hang out with your friends and family around bonfires, eat hot snacks while drinking tea. 
Ratangad Fort Trek
Ratangad Fort is a part of the Kalsubai range, which gives you unparalleled views all around. The sheer cliffs just unfold one after another right before your eyes! One thing that will really leave you spellbound is "Eye Of Needle"s  or Nedhe which is a popular spot for many trekkers.
Bhandardara Lakeside camping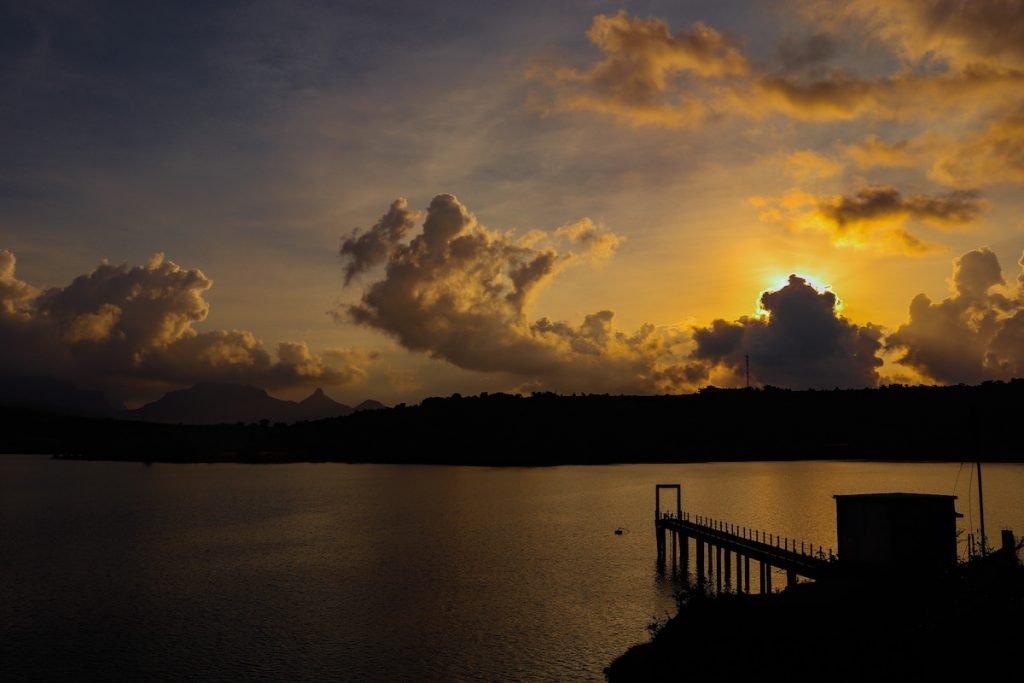 The unique experience of lakeside camping in Bhandardara blends the essence of a rustic village and fairly modern amenities. This magical place is the lap of mother nature so all you will see around are mountains and greenery. If you would like to spend your weekend getaways near Mumbai for family surrounded by nature, then the camping experience will be perfect for you.
 Some fun things to do during your family camping trip to Bhandardara
Village Trekking at Shende village – Get acquainted with how locals live their lives and learn about the things they do.

Boat ride at Arthur Lake- Enjoy this water sport with your friends and family while enjoying nature's beauty around you. 

Kalsubai trek – A hiking experience to one of the highest viewpoints in Bhandardara 

Campfire – Hang out with your friends and family around bonfires, eat hot vadas, some chai and end the night with barbequing in Bhandardara.

Randha Waterfall Trek – A simple yet adventurous trek from the campsite to a nearby waterfall.

Forest Walk- Sit back, relax and take in all the greenery around you by walking through the forest. 
Detailed travel itinerary for Bhandardara
If your question is 'how many days are required to visit Bhandardara?", you have come to the right place! A 2 night 3-day stay is the perfect for a short weekend trip to Bhandardara.
Day 1:
6:30 am: Start from Mumbai/Nashik/Pune/Sangamer for your weekend trip to Bhandardara.  Stop on the way for snacks. You will spot the famous Necklace Falls near Kotembe village en route to Bhandardara.
9:30 to 10:00 am: Reach your resort and check-in
10:30 am: After freshening up, grab a quick bite
11:30 am: Visit Arthur Lake and enjoy its beauty
2:00 pm: Back to the hotel for a delicious lunch
3:00 pm: Take a quick nap
4:00 pm: Set out for evening boating at Arthur Lake. You can also visit the Amruteshwar temple. Enjoy the sunset at Arthur Lake.
8:00 pm: Enjoy your barbeque at Bhandardara and play some fabulous games
Day: 2
8:00 am: Start your day with a quick breakfast and pack a picnic lunch. Drive to the Wilson dam. If the dam gates are open, you will get the opportunity to see the Umbrella Falls. Alternatively, you can begin a bit earlier and embark on a trek to any one of the forts near Bhandardara.
10:00 am: Head to Randha Falls and Ghorpada temple. Enjoy a quick snack from the little joints dotted around the place.
12:00 am: Head for an afternoon trek to a fort. It is advisable that you travel with a local guide.
7:00 am: Return from your adventure and chill at your hotel with a barbeque. If you decided to skip the afternoon trek, you can opt for a late-night trek to Kalsubai to witness the marvellous sunrise in the morning. Again, it is advisable that you travel with a local guide.
Day 3
It is time to bid Bhandardara adieu. Have an early breakfast and start driving towards home.
If you are in the mood for an adventure, you can plan an early morning trek to one of the lovely places we have listed in this article above.
Can we visit Bhandardara now in 2021?
Yes, you can visit Bhandardara in 2021 provided you have followed all the safety precautions. Please reach out to the hotel or campsite in Bhandardara for a complete list of guidelines that they expect travellers to follow. The locals are a little apprehensive, which is understandable. As long as you wear a mask, sanitize regularly and maintain social distancing, you can visit Bhandardara in 2021.
How to reach Bhandardara hill station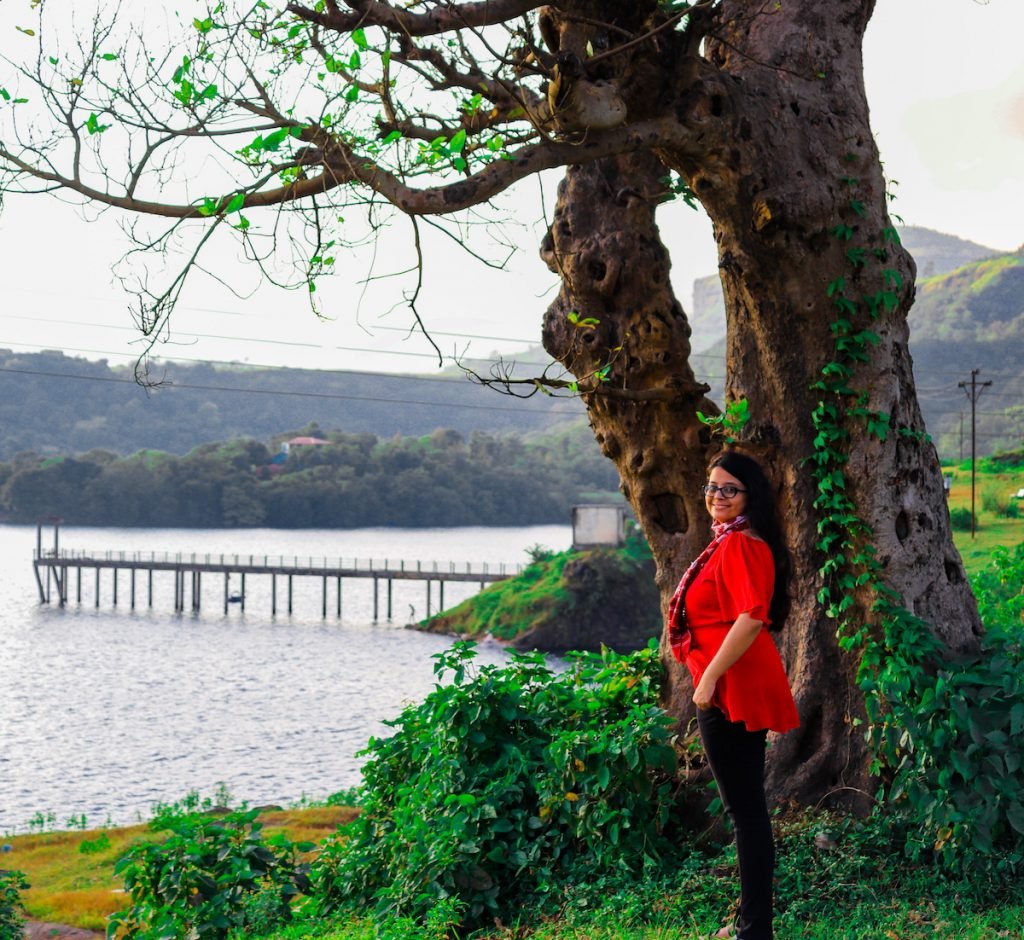 Bhandardara is well connected by road and by train. I personally prefer going on a road trip as the view along the way is quite scenic. 
How to reach Bhandardara by train?
Igatpuri, which is about 45 km away from Bhandardara is the nearest railway station. On reaching Igatpuri, one can take the state transport bus or the ST bus or hire a private taxi to reach Bhandardara. 
Due to COVID-19, the ST buses are not as frequent as they used to be. Private taxi trips to Bhandardara are recommended. 
P.S. If you enjoyed this article, please do consider sharing it on Facebook, Instagram or Twitter! 🙂
How to reach Bhandardara by road?
One of the best things about a road trip to Bhandardara is that it is easily accessible from different parts of Maharashtra as the State Highway 44 (SH# 44) goes through the town. 
Mumbai to Bhandardara road trip
Bhandardara is about 165 km from Mumbai. On reaching national highway 3 (NH# 3), you must right turn after passing the Ghoti toll post. The distance from Ghoti to Bhandardara is 30 km or so. It is difficult to find any eating joints after the toll, so I recommend that you carry snacks or have some food prior. The road is a bit bumpy and if you have motion sickness, do carry sour candies or anything that helps you. 
Nashik to Bhandardara road trip
From Nashik, take NH# 3 towards south up to Ghoti and take left. From here continue on Ghoti-Bhandardara road for around 23 km and then take slight left onto SH# 44 and you will reach Bhandardara.
Pune to Bhandardara road trip 
If you are travelling from Pune to Bhandardara, you have a long drive of 175 km ahead of you. Take Pune-Nashik road (NH# 50) up to Ghargaon and then take left on SH# 21. You will reach Kotul at which point SH# 21 turns slightly left and becomes SH# 44. This route will directly take you to your resort in Bhandardara. 
Sangamner to Bhandardara road trip 
Bhandardara is about 63 kms from Sangamner. SH# 44 will help you reach in no time. 
Using GPS during your road trip to Bhandardara 
The route to Bhandardara has very poor connectivity. We constantly lost our signals and had to rely on helpful locals to find our way. It is advisable to save your map offline or take note of the directions to avoid losing your way. The last stretch of the journey 
Are there provisions for public transport in Bhandardara?
There are no public transport options in Bhandardara. If you are staying near Shende village, Arthur Lake is at walking distance. However, to visit other places of interest in Bhandardara, it is recommended that you use your own vehicle or rent one for a day. 
Where to stay in Bhandardara?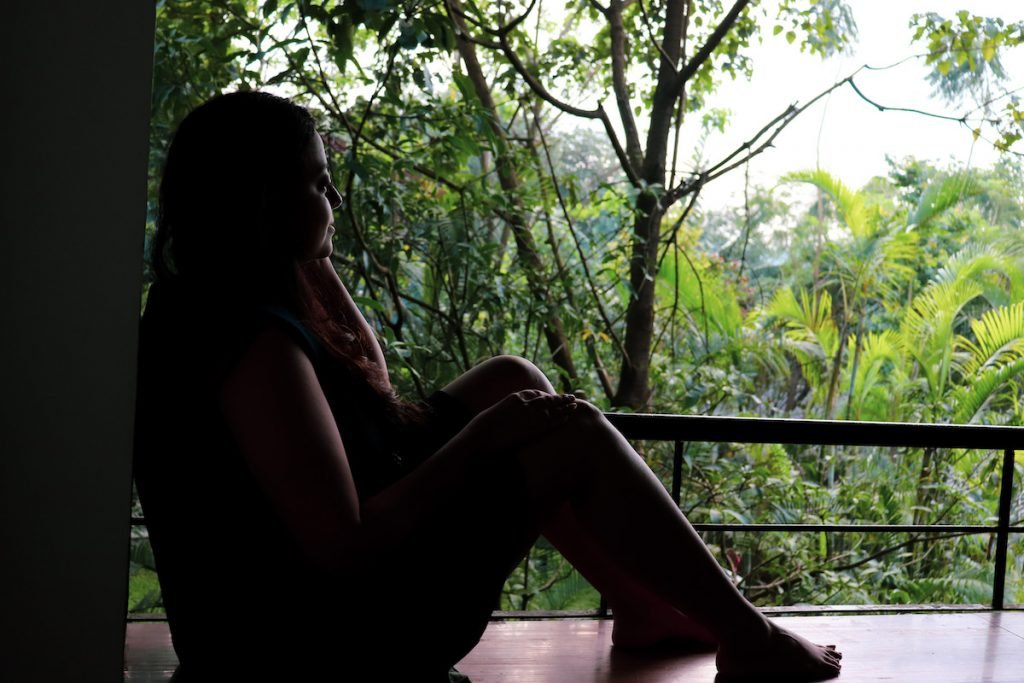 There are several excellent Bhandardara places to stay including hotels, resorts and even villas which will ensure that you enjoy a weekend getaway from Mumbai to the fullest. Our Bhandardara accommodation was the Yash Resort which is being managed by The Land Of Wanderlust. The resort followed all COVID-19 protocols, the place was clean and well maintained and they served delicious food. They also have good Wi-Fi connectivity, a lovely pool and a cute café for those evening hunger pangs. If you are looking for Bhandardara villas, you can stay at Anandvan Resort. For budget stay options in Bhandardara, the MTDC Lakeside Holiday Resort is a great choice. The best part of staying at this MTDC property is that it is less than 100 meters away from Arthur Lake.
Bhandardara trip cost: How to plan your Bhandardara travel budget 
Our Bhandardara stay budget was Rs 6,000 for two people for a 2 Night/3 Day stay at the Yash Resort inclusive of all three meals. We additionally paid Rs. 8,000 for our Bhandardara road trip. This cost included the driver fee, pick up and drop from our home, driver allowance, fuel and sightseeing. We tipped our driver separately for his exemplary service. With the pandemic affecting the tourism industry, we try to include a decent tip for the people who make our trips beautiful in our travel budget. 
Bhandardara Weather: What to expect? 
Bhandardara has three distinct seasons: summer, monsoon & winter. Summers start from the month of March and lasts till June. During summers, the temperature at Bhandardara is between 30 to 35 degrees Celsius. However, if you are planning to visit any time between July and September, it is advisable that you carry light summer clothes with you as the temperature can go up to 40 degrees Celsius during this time. The best time to visit Bhandardara is from October to February as winters are quite pleasant in this area. In December and January, temperatures go down to 20 degrees Celsius. 
Mobile connectivity in Bhandardara
There is no 3G or 4G connectivity in Bhandardara. So if you wish to connect to the world from your resort, you will have to rely on Wi-Fi. 
Why I love Bhandardara: Is Bhandardara worth visiting?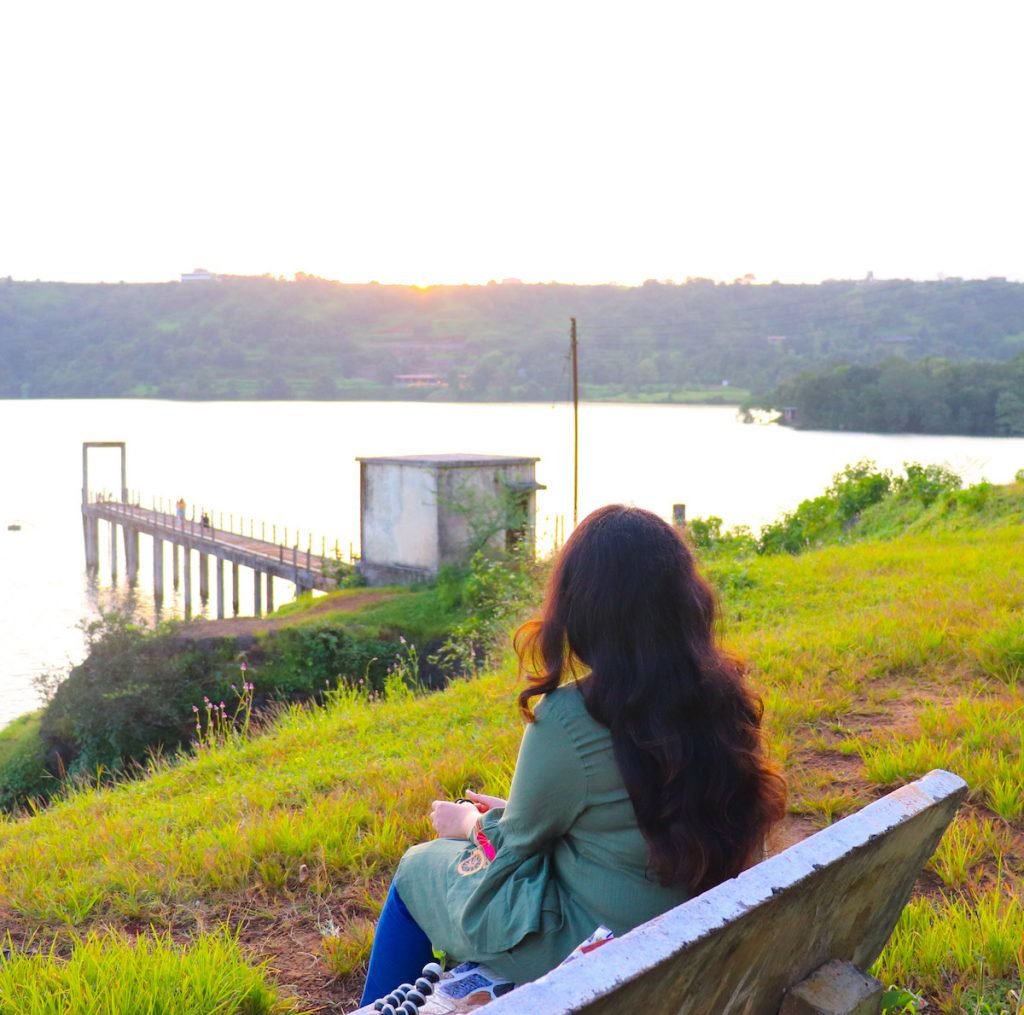 There are several attractions in Bhandardara, but what keeps me coming back here is the serenity and lush green landscape. If you're looking for an adventure, I suggest that you do try trekking in Bhandardara but if not then just take a boat ride or a short trek to get a glimpse of the beauty which Bhandardara has to offer. It is one of my favourite places for its scenic beauty, the wilderness, the lakes and waterfalls. So is Bhandardara worth visiting? The answer is simply yes!
So when are you planning a weekend getaway to Bhandardara? If you have any questions about your upcoming Bhandardara road trip, do comment below and I will be happy to help you. 
P.S. If you would like to know more about yet another awesome organic farm getaway near Mumbai do check my review of the Roots Farm Panvel. Roots Farm Panvel.