I firmly believe that we are never too old to play games. Team me up with my cousins and the child in me emerges. I love taking my family for fun outings, and last weekend, we zeroed down on Time Zone at Inorbit, Malad. And oh boy, did we have fun! Raman, Jassu, Manu, mom and I spent our Sunday and had the most fabulous time ever.
Timezone Malad with its brand new games, the fun music, and smiling staff is a perfect place for families. While kids can go bonkers over the wide variety of choices available, parents can relax on the massage chairs. That's exactly what my mom did as my cousins and I headed to play.
With the newly added bowling alley, we just couldn't contain our excitement. The kiddos whooped with joy when I took them to Krazee whirl cars, a new addition at Timezone Malad. For someone who has been a huge fan of Charlie and the Chocolate Factory, the Willy Wonka Chocolate Factory had me glued to it for as long as I did not get something out of it, and guess what? I did!
The malls in Mumbai have all these toy cars and toy trains running around on the floors, but in Timezone my cousins discovered the Virtual Rabbids and in one of the other firsts, none of them let us leave until they had two rounds each. Raman was so scared in the first round that he wouldn't let go of his sister's hand! The second time around he definitely enjoyed himself much more.
The Camel Racer was one of the most thoroughly enjoyed game as all of us could play it and play it together, so whoever won, we'd all be happy anyway! Turns out we were creating the most noise in there, but for as long as we had fun, nobody cared!
Sweetland 5 was the most popular game; I saw several children queued up excited to try and win some 'gems'. I loved shooting zombies and winning tickets. Raman, on the other hand, rode a horse while Manu decided to ride a bike. In three hours, we played every single game in the entire space.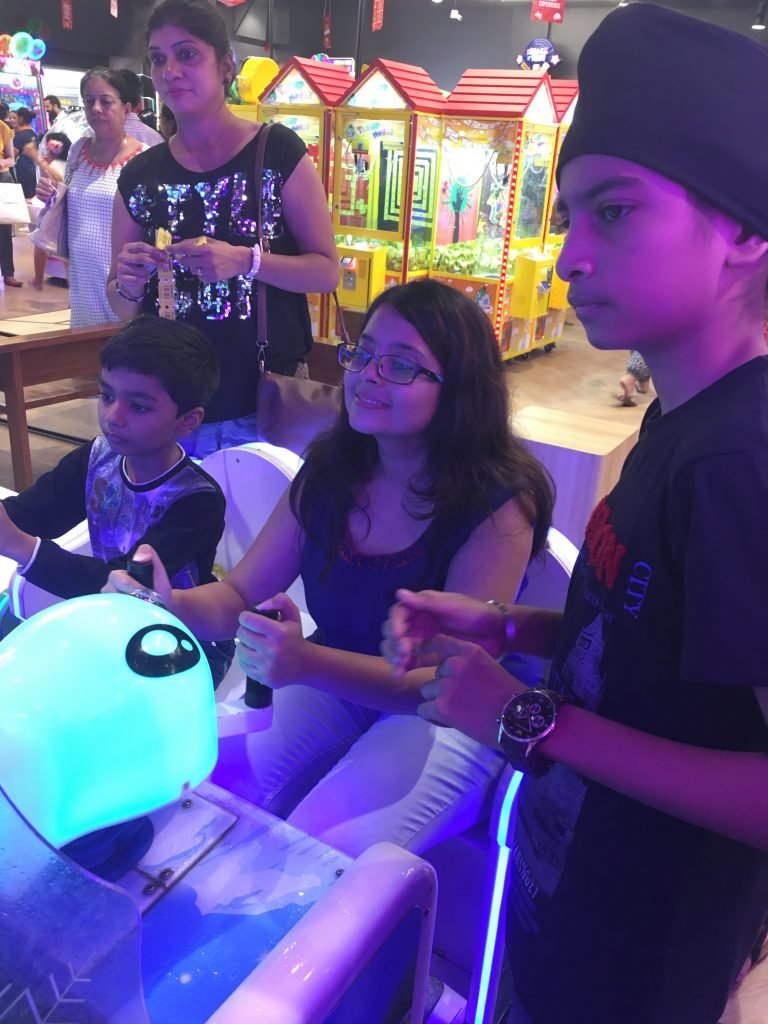 A big part of the excitement for my cousins was to collect those coveted tickets. After all, you never know what kind of an achievement you just had until you can count those tickets and trade them for all those gifts on the shelves, isn't it? We queued up to convert our tickets into points to redeem our gift.
Since we were so many of us, going to the prize shop and deciding what everyone wanted out of those tickets turned out to be yet another fun task, because there were so many gifts at the counter. We were, however, a little disappointed as for 712 points all we could purchase were some candies and a pencil. Would recommend Timezone Malad to be a little more generous with their gifts 🙂 I have made a short video of my experience with them. Have a look 🙂
Have you ever been to Timezone? How was your experience?
I've shared my experience at the revamped Timezone  Inorbit Malad  in association with BlogAdda