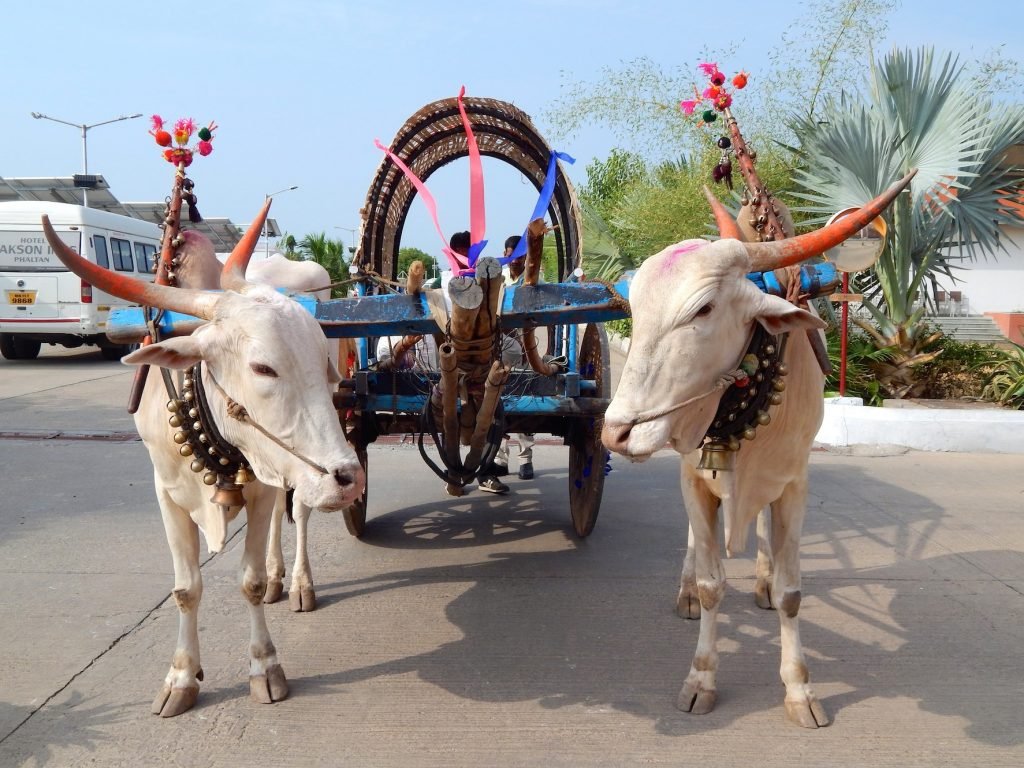 Nearly 5 hours from Mumbai there lies Phaltan, an erstwhile Maratha princely state. Phaltan is a unique blend of tradition and modernity. Once home to Sai Bai, Shivaji Maharaj's first wife, the stately Rajwada Palace is currently a private residence showcasing Maratha splendour. The grand Jabreshwar temple is another symbol, marking the historical importance of Phaltan. It has a complex history filled with myths and folklore. The glorious windmills of Pusegaon provide Phaltan with its power supply and additionally make it a perfect setting to spend a romantic evening. In short, Phaltan offers you a warm, historical, rustic environment coupled with the modern luxuries of life we are so addicted to. Indeed, a juxtaposition of two worlds. Here, I present a detailed itinerary of Phaltan.
Day 1 at Phaltan: The windmills at Pusegaon
I started out early in the morning from Mumbai around 6:30 and stopped by at Lonavala for some breakfast. After receiving a warm welcome at Jakson Inns and sipping on a refreshing glass of sugarcane juice, I checked into my room. A delicious buffet lunch at the Green Bean Café and a quick nap later, I was raring to see windmills for the first time in my life.
"Did you see that!" is something I exclaimed every few minutes as the windmills came in sight.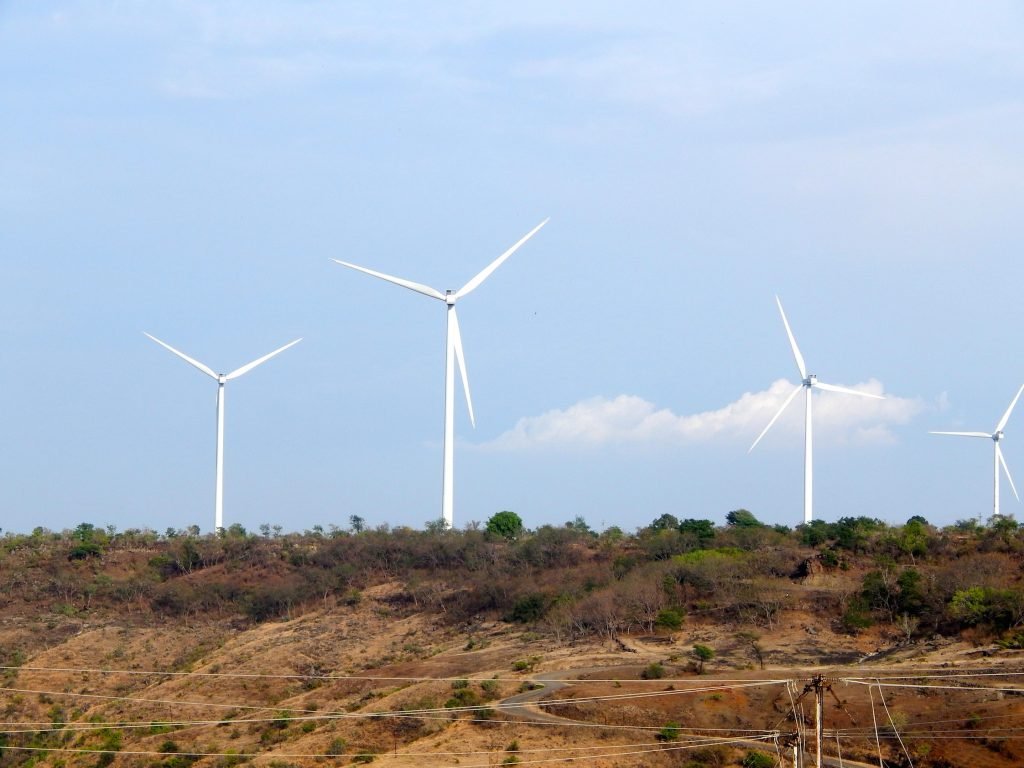 Pusegaon, which is nearly 20 kilometers away from Jakson Inns, is home to these whooshing, rumbling windmills that will take your breath away.
For someone who never had seen a windmill before, the experience was mesmerizing. The place is quiet except for a few birds chirping and the gentle rumble of the windmills. It will take you a few minutes to soak in the atmosphere and revel in the silence. The windmills are hypnotic and all you would want to do is laze around, snacking on some delicious sandwiches and Frooti.
Day 2 at Phaltan: Rajwada Palace and Jabreshwar Temple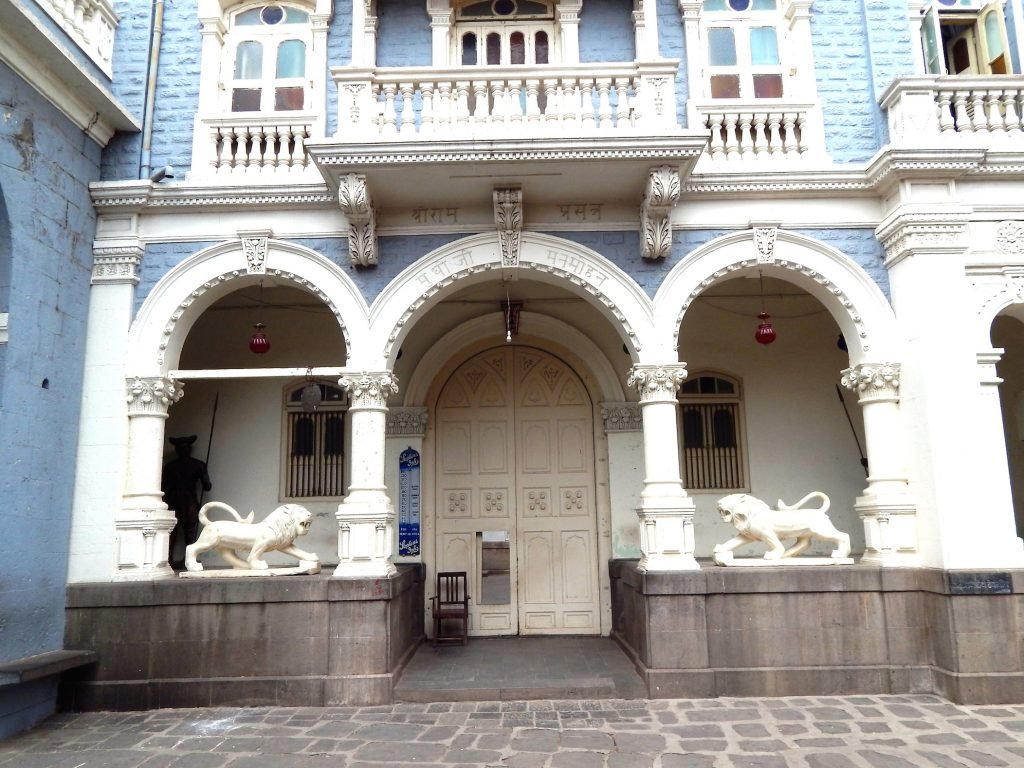 The Rajwada Palace, home to Shivaji's first wife SaiBai is a two-storied structure reminiscent of an era gone by. The opulence of the Darbar Hall with its beautifully carved furniture, grand paintings and chandeliers will make you stop and look in wonder.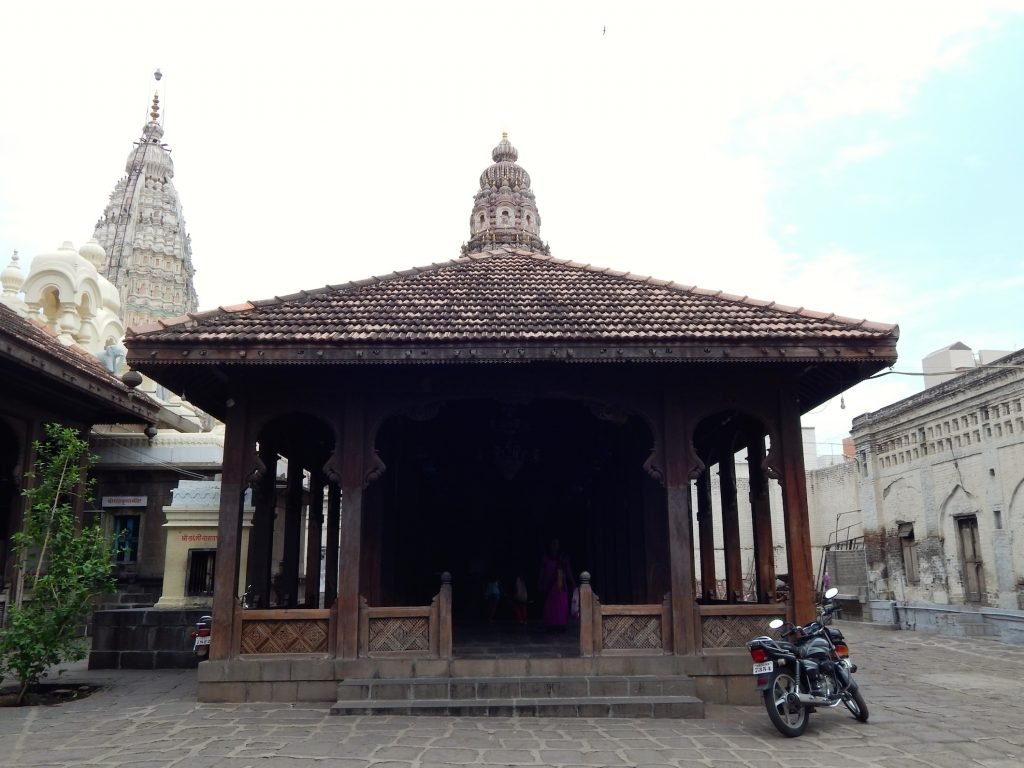 The Rajwada has six chowks with a temple located next to it. The temple is maintained by a trust and is open to visitors throughout the day. The Rajwada Palace is a private property and visits can be arranged on special request. While photography is not permitted in the palace, we were lucky to be hosted by Jakson Inns Phaltan whose staff went out of their way to ensure we got the best experience possible. Not only were we allowed to click photographs, we had a guide who took us through the entire palace revealing the little nuggets of the history of the Nimbhalkars.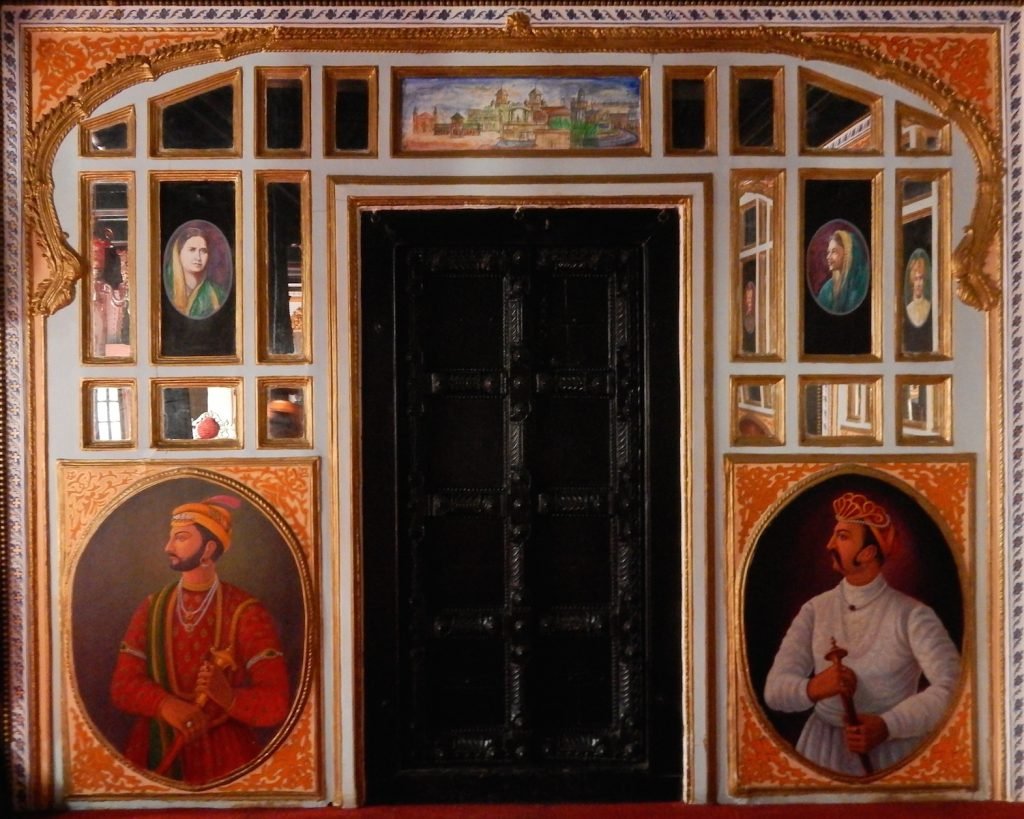 The Rajwada Palce, which was constructed by 1875, uses no electricity. It has been designed in a way that air circulates throughout the place without it getting too stuffy. Intricate carvings of animals and birds adorn the walls, doors and the ceiling of the palace. The interiors are luxurious and the architectural style replete with the arches, the columns, the photographs, the paintings and the weapons displayed throughout the palace make it a must visit. Along with the Durbar Hall, do spend some time at Suruch Hall, Hirva Hall, Badami Hall, Saatkhani Laxmi Terrace and Gulabi Hall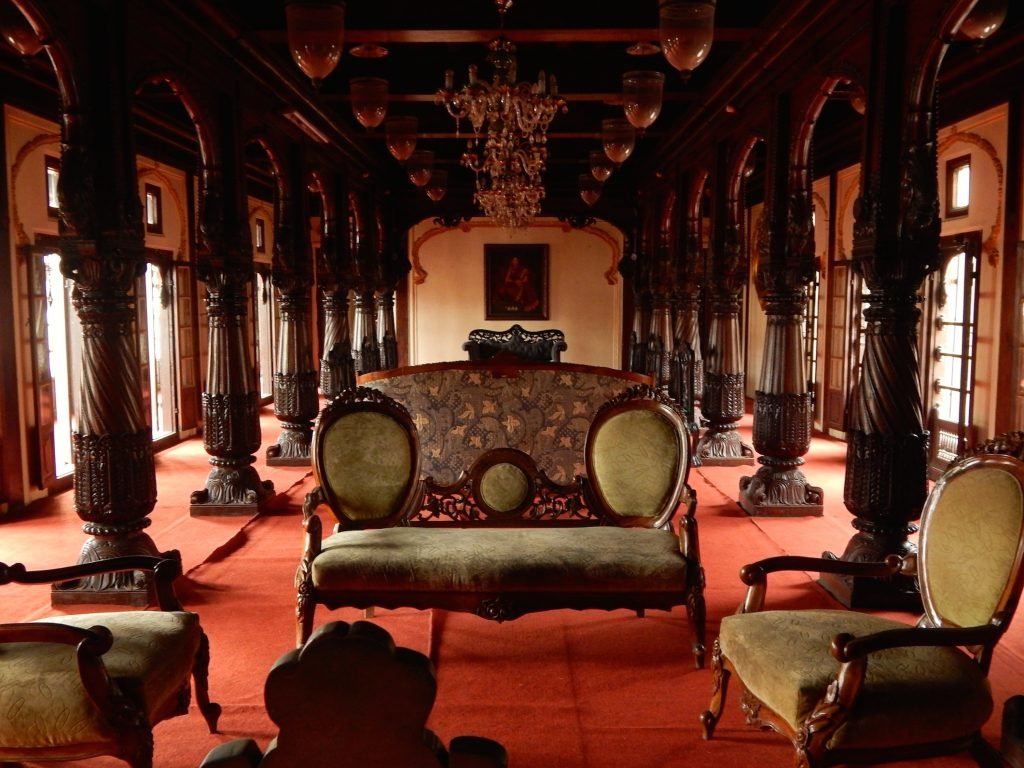 What makes the Rajwada Palace magical are its ornate chandeliers, the plush sofas and the animal trophies that are a mix of Maratha and British styles.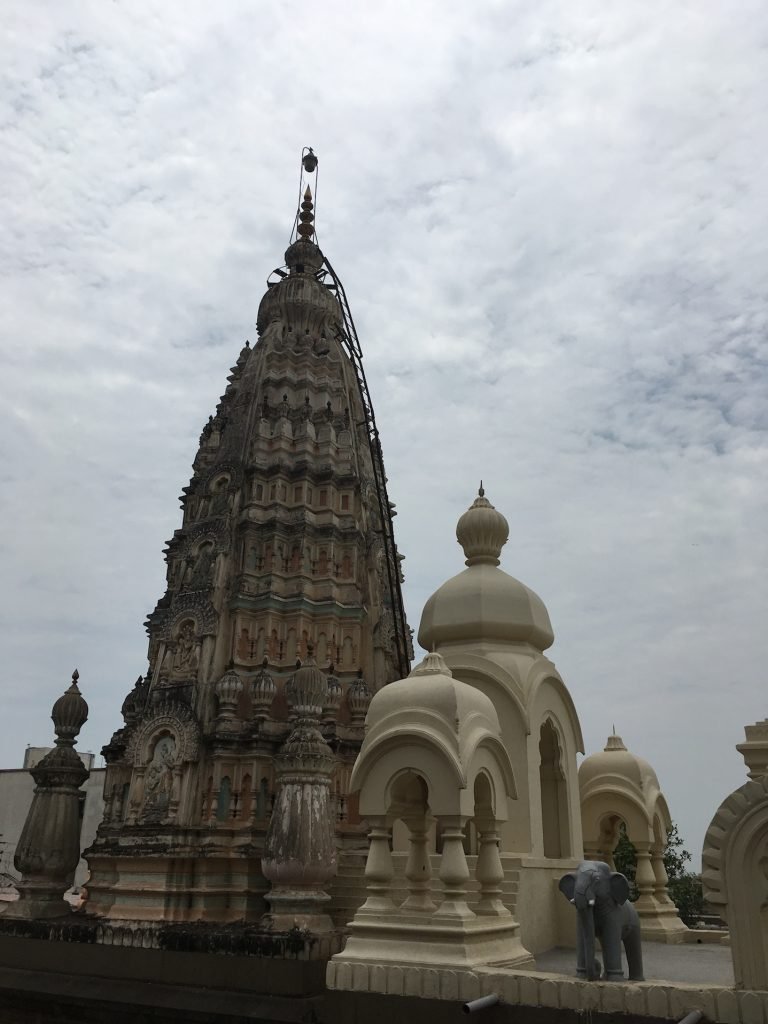 You can spend several hours admiring the different aspects of the Rajwada Palace. Let your imagination run wild as you wonder about the people who resided there and the things the walls have seen and heard.
Right next to the Palace is the Jabreshwar Mandir, a temple carved out of a single stone with intricate design. As we went crazy clicking several photographs, an old man sitting next to the temple asked me "Are you a journalist?"
Before we could answer, he started picking up a towel and a few clothes that he had hung to dry around the temple. "Now click photographs", he smiled as he bundled up his clothes and kept them aside.
There is very little known about the history of the Jabreshwar temple that houses three gods. Lord Ganesha, Shiva and the Jain Tirthankar Vardhaman Mahavir. A few locals mentioned that Phaltan was once invaded by a Jain king who placed Mahavir's statue in the temple. There are several folk tales about the 700 year old Jabreshwar Temple which seems to have no recorded history.
With our memory cards full and stomachs empty, we headed to the Green Bean restaurant to enjoy a traditional Maharashtrian thali. Pitla, Kothambir Wadi, Curry, Bharli Wangi, Thalipeeth, Bhakhri, masala rice, dal, ghee-laden puran polis and utter bliss. Have a look at the thali.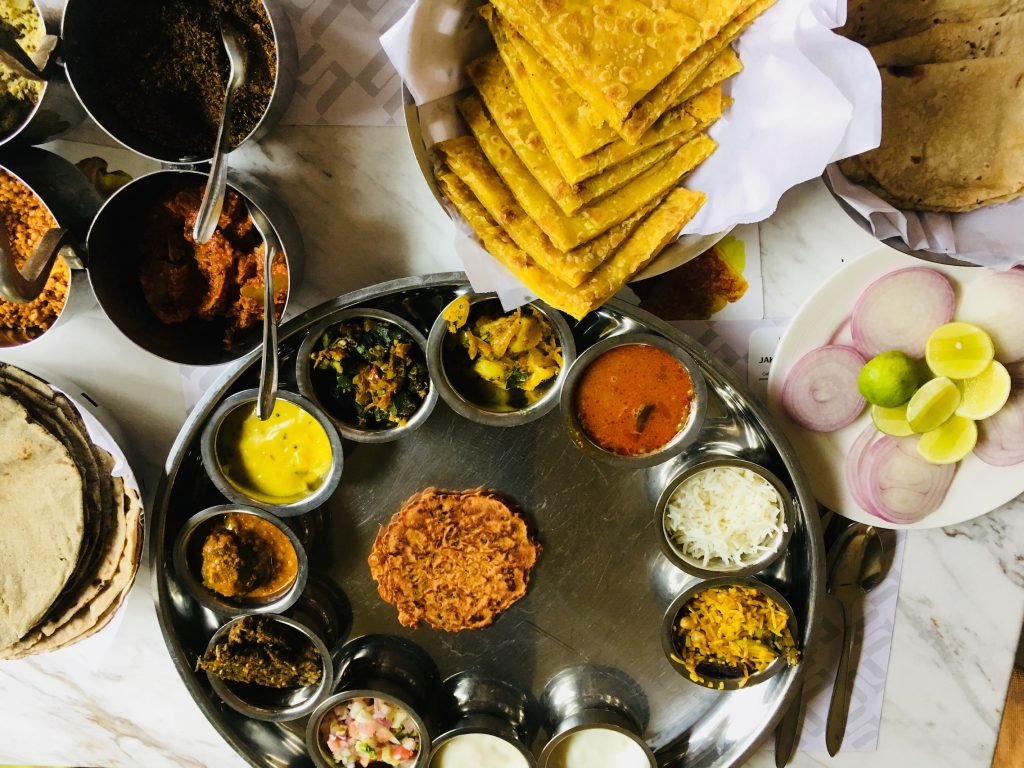 We spent the evening lazing around and getting a fabulous foot massage.
Day 3 at Phaltan:
It was time to tick off two more items off my bucket list:
i) Riding a bullock cart
ii) Riding a tractor.
I met Mr. Patil bullock cart owner and a local farmer who was used to mad city dwellers who exclaimed loudly every single time the bullocks would flick their tails or shake their heads. He very patiently allowed me to pose and click photographs even giving some valuable suggestions on how to look as "authentic" as a farmer.
After a short ride in the bullock cart with Sajja, Raja and Mr. Patil, we waited for our majestic cherry red tractor to come in!A tractor ride can be very bumpy and I decided to take a short round around the property.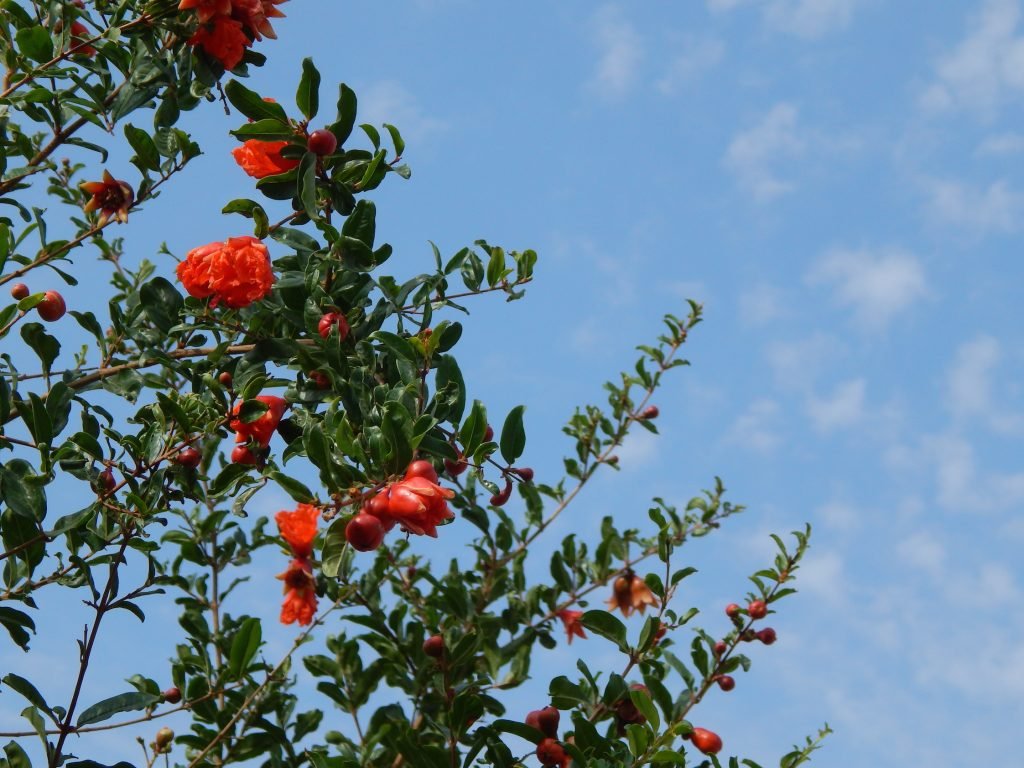 I spent the next few hours around pomegranate trees where the blossoms were turning to mini pomegranates.
Final verdict
Phaltan does not feature in your regular "top getaways from Mumbai" lists scattered across the Internet. Slowly, it is getting the recognition it is due. I think a lot of credit goes to Jakson Inns, Phaltan. Satara is a region that is prone to drought and being a small town employment is always a problem for the locals. Jakson Inns has taken care of both these things. Their green initiatives from requesting guests to reuse towels, to generating electricity through solar panels and having their farms that produce fresh vegetables have helped them earn the highest honour, a platinum rating LEED (Leadership In Energy and Environmental Design). The staff employed are locals mainly who have training sponsored by the management. The spa in charge, Mr. Dheeraj, a warm and engaging man and also somebody who is visually impaired speaks highly of his experience of working at the Jakson Inns. It is experiences like these, the impeccable hospitality, the tongue in cheek humour adorning the walls, the delicious food and the wonderful initiatives for the employees that make Jakson Inns what it truly is; a hotel with a heart and personality.
Phaltan will warm your heart and please your soul; it's an experience so different from the regular city life and will leave you with the happy memories. I hope you enjoyed reading the detailed itinerary of Phaltan. 🙂