Geometric patterns interspersed with ikat dyeing which is handcrafted by weavers who can take up to 10 days to weave a sari, Poochampally Sarees have a long and interesting story. Did you know that these sarees are the official uniform for the cabin crew of Air India? I have lots of interesting facts about Poochampally sarees and I am sure you would love to know more.
Origin and History
The name Pochampally silk originates from the small town of Pochampally from Chirala. The weavers of this town followed their traditional weaving methods which gave the garment an unrivalled quality, giving the early saree an exotic look with unmatched beauty. With time, the Pochampally silk sarees have gained popularity and the industry has grown. Which is why; it was adopted as a full-time business by almost a thousand families present in the town. As modernization came in, these sarees were produced much faster and in a more precise manner without any errors, eventually increasing the demand in the market.
Weaving and Design Process of Pochampally sarees
the biggest selling point of this saree is its amazing smoothness and precise designer finish which makes it so attractive. There are different types of fabrics which are used to make this saree and later on infused with beautiful designs, patterns, and colours to give it a great look. Another reason because of which people spend so much money to buy this saree is its exemplary perfection of designs and colour combinations. Even though machines are used to produce these sarees nowadays, it still requires a manual labour force to make sure they have been produced in the best way possible. Each saree takes almost 10 days to make.
Why every woman should own a Pochampally saree
They are extremely light and very comfortable to wear. Since many women wear sarees on a regular basis, these can be a perfect choice for any occasion. During the summer it is a very hectic and stressful task to manage a day in saree because they are covering and makes a woman feel really hot and uncomfortable. But Pochampally silk sarees are very soothing to wear and easy to manage during the summers as well. The beautiful designs and enigmatic look makes it a perfect wear for any kind of special occasion as well. Thus it is a saree for every occasion you go to.
My favourite Pochampally Sarees
There are several Pochampally sarees to choose from but here are the top 3 choices that you can make from Bharatsthali.
Aishani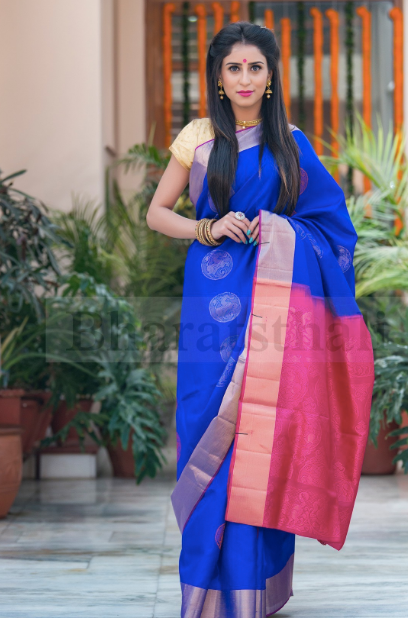 made with amazing traditional design styles and infused with beautiful colour coding making a perfect choice when you want to wear something sober but colourful at the same time.
Amodini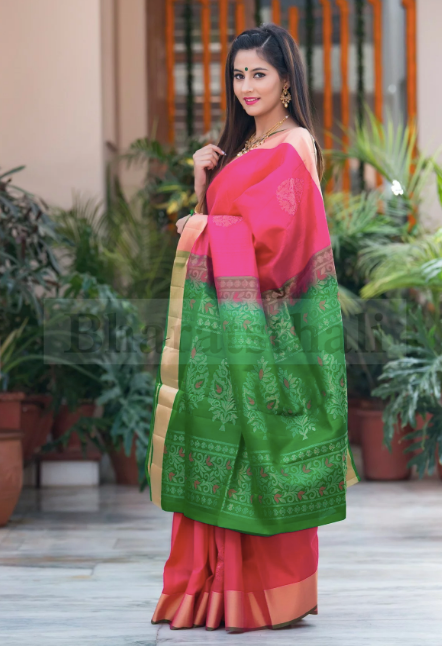 if you love pink and green, then this saree has both the colours mixed in a beautiful pattern. Its large booti pallu makes it a perfect wear for a special event.
Dhuni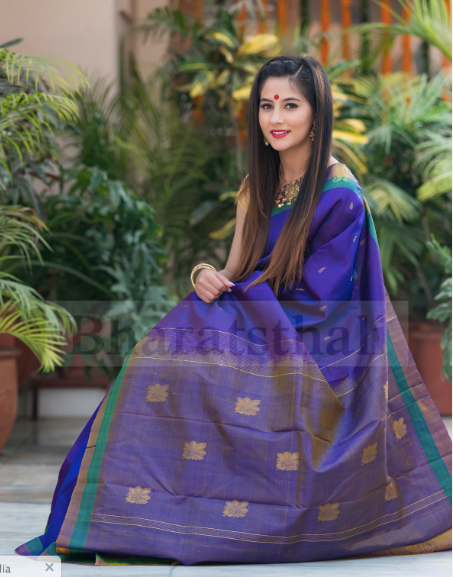 covered with a royal colour i.e. Royal blue, this saree is perfect for those who want a bold but vibrant look as well. Being a perfect formal wear it maintains the beautiful Pochampally design on it as well.