Who loves to go trekking and is always inadequately prepared?
Me!
Who does not the bare minimum amount of water required for human survival?
Me!
Who then searched high and low and found the perfect solution to her problems?
Me!
What was my solution?
Tadaaaa……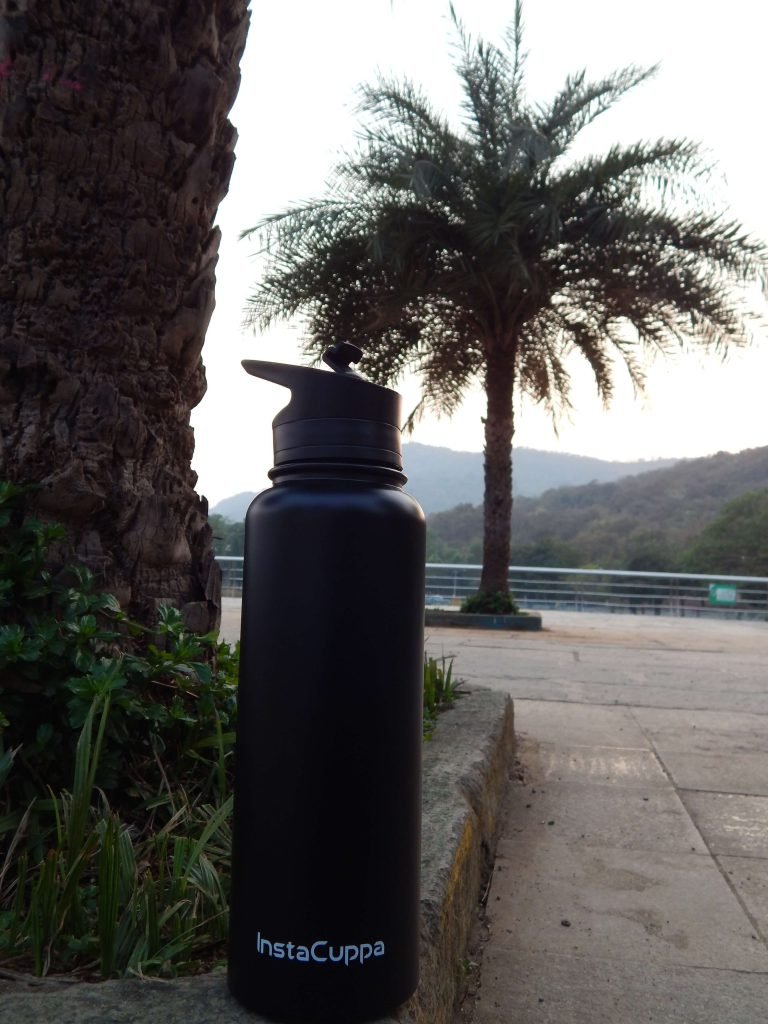 Come, meet the InstaCuppa Thermosteel Bottle cum Thermos Flask which can carry 1200 ml of water and keep it hot for 12 hours and cold for 24 hours! She's a beauty, isn't she?
I received my bottle nearly a month ago and was extremely excited when I opened the package for the first time. It had a fruit infuser (YAY) and 2 types of lids too!
I have been dying to try out this recipe I have for watermelon and basil-infused water and this bottle was the perfect excuse to do so. Before I ramble on about all that I did with the bottle, let's get to know it better first.
About InstaCuppa Thermosteel Bottle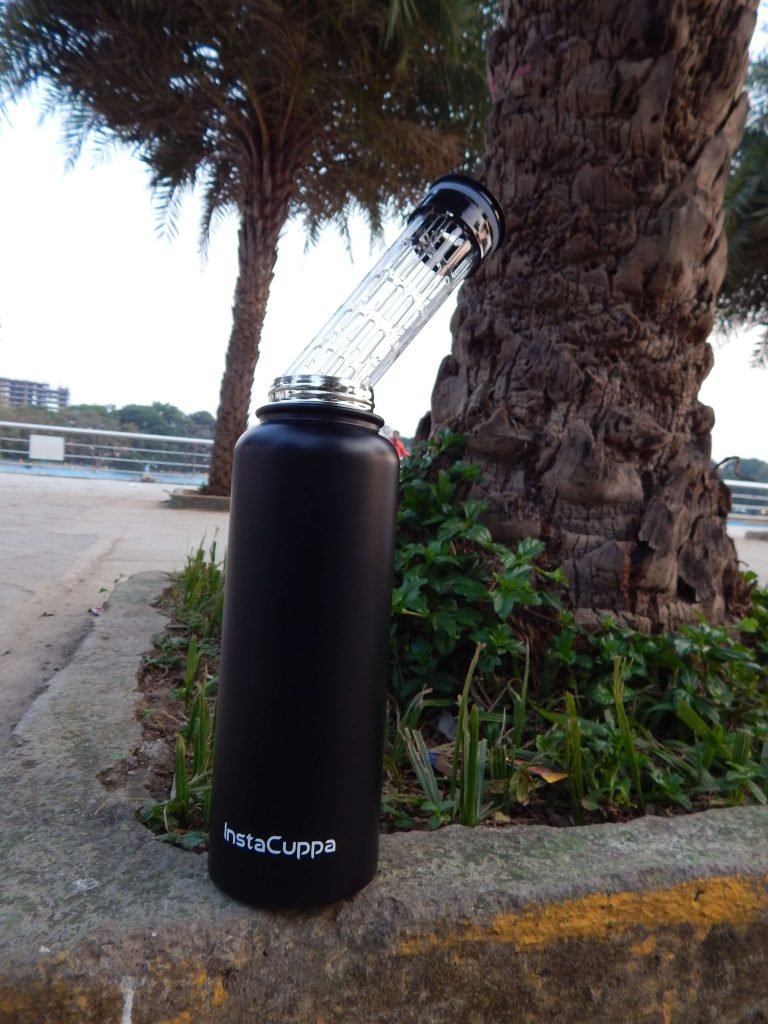 The InstaCuppa Thermosteel Bottle/ Thermos Flask 1200ml with Fruit Infuser and 2 Lids has a wide mouth double walled vacuum insulated stainless steel water bottle. The bottle has a powder coated matte finish and uses food grade 18/8 stainless steel walls. It has a full-length Tritan fruit infusion rod as well and it is described as the Jack of all Trades!
Price: It costs Rs. 1999 but the bottle is on sale and is currently priced at Rs. 1499
Key Features
A free digital eBook with 100 fruit infuser recipes.
 Dishwasher safe and easy to clean
1-year full replacement warranty
My review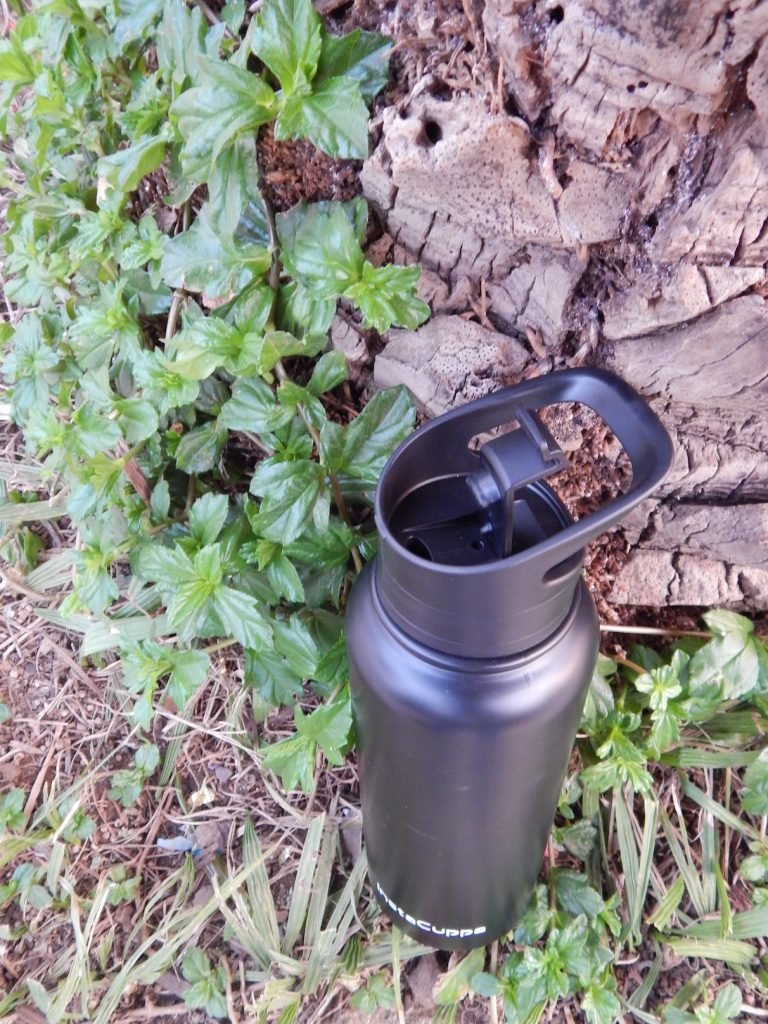 In the past few months, I had a minor kidney stone and the main reason for that was the fact that I did not drink enough water. Imagine going through excruciating pain and endless tests at the hospital just because you ignored the most basic of human necessities.
I work in rural India where bottled water is not available all the time and the regular tapped water contains contaminants, which make me sick. I try to carry water every now and then but most of the times don't because my bottle does not have the features that are important to me.
 So what are the important features of a bottle?
i) It should not 'sweat'
ii) It should be leak-proof
iii) It should keep the water cold because summers can be terrible without cold water
I took the bottle with me to my recent trip and the verdict is……
InstaCuppa Thermosteel Bottle cum Thermos Flask ticks all the boxes. I carried it around throughout my sightseeing trip and it did not disappoint. I drank cold water while walking in the intense heat, which was such a relief to my body.
What I love about this bottle is that it has multiple uses. When I am at the office and have some time to spare for my taste buds, I can easily use the fruit infuser. Or I can carry homemade chai for me and all of my colleagues when required.
Versatility is truly the most important feature of this bottle for me. The fact that it looks so stylish also adds to its overall appeal. Wouldn't you agree, too? 🙂
Now because I love all of you so much and because InstaCuppa is an awesome and generous sponsor, 3 of my readers are going to win this bottle by participating in this giveaway.
Here are the rules:
Follow https://www.instagram.com/instacuppa/
Like https://www.facebook.com/instacuppastore/
Tag 3 friends on Facebook, Twitter or Instagram to participate in this giveaway. Please don't forget to tag the sponsors and munniofalltrades on the platforms so that we can track your entries.
Use the Hashtag: InstaCuppaStore #InstaCuppaLove and
#MunniOfAllTrades
Please leave the links to your entries in the comments below 🙂
Prizes:
3 InstaCuppa Thermosteel Bottles for the winners!
Please note:
The contest begins today i.e. 20th March and will end on 31st March 2018.
The brand will dispatch the hampers directly to the three winners.
The contest is open to residents of India only
If you would like to buy the bottle yourself, just click here
All the best guys! Have fun participating in the contest and don't forget to shower love on our sponsors!