Travel is all about going on an adventure, coming out of your comfort zone and experiencing something unique. While we all MUST stay at home and follow social distancing, there is nothing that stops us from embarking on a culinary journey to various countries; from snacking on the delicious hummus to making authentic Spanish paella. These 12 recipes tried and tested by travel and food bloggers will take you on a delicious, virtual trip around the world!
Pssst… click on the link to try the recipe at home!
Chanko Nabe or the Sumo Soup  from Japan by  Joe Ankenbauer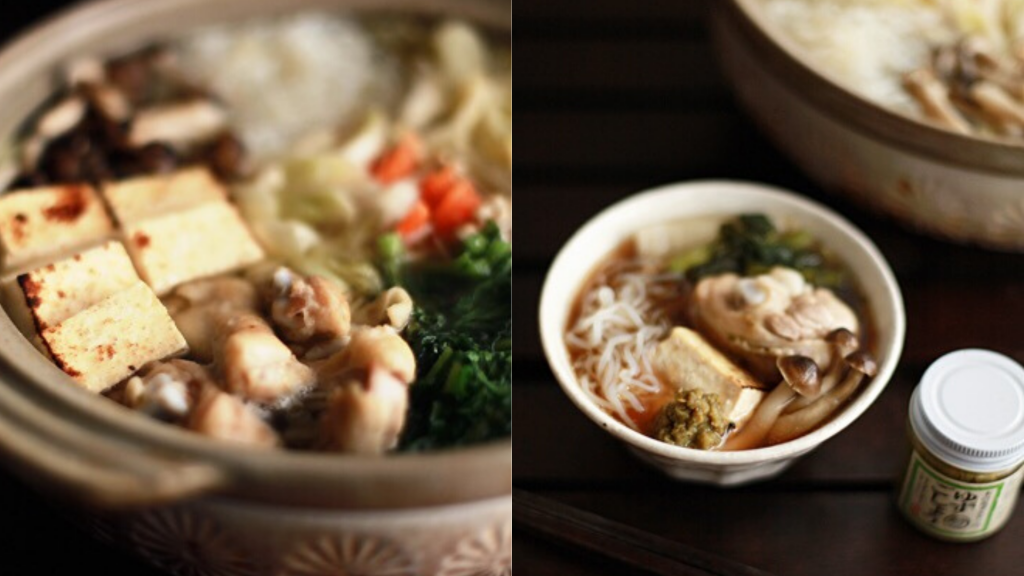 One of my favourite things to do while travelling is eating. Being a foodie, it's something that I always plan for and look forward to. It's also something I love bringing home with me. While it's nearly impossible to sneak home a plate of Sambal Kang Kong from Singapore, or Souvlaki from Athens, I go for the next best thing, the recipe! Sometimes I've been successful, sometimes not so much. I've struck out many times. I thought this was the case with the recipe for Chanko Nabe. Prepared by the junior wrestlers, Chanko Nabe is famed for fattening up sumo wrestlers after practice. I stumbled upon this delicious stew while exploring the Ryogoku District within Tokyo, or as it's commonly referred to as 'Sumo Town.' Traditional Chanko Nabe is made exclusively with chicken, the idea being that a rikishi(sumo) wrestler should always be on two legs like a chicken, not on all fours like a pig. While there is nothing like having this dish in the middle of 'Sumo Town', surrounded by rikishi and the training stables, you can enjoy this wonderful spoonful of Japanese culinary history without leaving your own home! You can even turn on a sumo match on TV!
Hummus from Israel by Nava
Hummus has been a favourite food for me since coming to Israel. I thought I enjoyed it beforehand, but you don't know hummus until you have a fresh homemade batch made by people who have been doing it for a lifetime!
Every block in Israel has restaurants dedicated solely to hummus. You can order it with a variety of toppings, from meat to chickpeas to mushrooms, but it's essential you eat it by the bowl by dunking warm pita into it.
While I've yet to try hummus as amazing as the one I ate in a tiny shop in Jerusalem, you can absolutely recreate hummus at home. In fact, it's much cheaper to make your own than to buy premade, store-bought versions. It's also fun to make your own because you can play with add-ins and ingredients until you fall in love with it! My number one tip for making your own would be to find good quality tahini, so you end up with a tasty, and smooth hummus.
Supplì al telefono from Rome by Claudia Tavani  
One of the best food to have in Rome is supplì al telefono. Commonly called supplì, these fried cones of goodness are made with a very plain but thicker than usual tomato risotto. Once the risotto is cold, add whole eggs and grated parmesan cheese and mix. Take a handful of the rice mix and flatten it in your hands, and place a strip of fresh mozzarella in the center. Close it to form a cone and then pass it in eggs which you have previously whisked and breadcrumbs. Deep fry in sunflower oil until brown and crispy. Serve piping hot: when you break a supplì in two, the mozzarella comes out melting and if you pull the two pieces it looks like a phone cord (hence why they are called "supplì al telefono).
Shahi Tukra from India by Sarah Sarvath 
Shahi Tukra in itself is quite a rich and decadent dessert but we kind of experimented a bit with the original recipe and it turned out amazing!
This dessert is one of our most loved recipes as we have quite a few memories attached to it. One of them being, our paternal grandma waiting for our arrival with a box of it made especially for us. She did it the traditional way by collecting clotted cream that would come out of boiling milk. We, however, use a simpler method that makes preparation easier.
To make the dish more exciting, we stuffed the bread with some homemade khoya and topped it with a deliciously rich rabdi. This is a recipe that should rank number one on the must-try lists of Indian desserts. See how to make Shahi Tukda here.
Brigadeiro from Brazil by Bruna
Brigadeiro is essentially a chocolate fudge truffle that melts in your mouth and brings lots of joy to your day. Speaking from personal experience.
This Brazilian dessert was created to support the presidential campaign of a brigadier in the period after the war. And because there was rationing of milk back then, a woman from Rio de Janeiro invented a sweet with condensed milk instead.
For the record, brigadeiro is Portuguese for a brigadier. The candidate didn't win the election, but Brazil won a delicious recipe. Oh, and it is VERY easy to make brigadeiro at home—no reason not to try it
Paella from Spain by
Paella is probably Spain's most famous dish. It originally comes from Valencia where many families still get together every Sunday to enjoy a home-cooked paella. And although I am sure you've heard of paella before, you've probably seen seafood in it. But that is not what a traditional Valencian paella looks like. The oldest, most traditional paella is made with chicken, rabbit, snails and a few vegetables. After I moved to Valencia I quickly learned how proud the Valencians are of their paella. I took a cooking class to learn how to make a traditional paella and now, more than two years after moving here, I enjoy this little Sunday tradition almost as much as the Spanish do. Oh and one final thing you probably didn't know: paella is a lunch dish! You'll never see a Spanish person eat paella for dinner. Instead, they prepare a huge feast for lunch which can last for hours and is the perfect way to catch up with friends and family.
You can find the recipe for a traditional Paella Valenciana here
Upe from Peru by Anna and Anthony
Couchsurfing gifted us with many surprises on our travels. One of them was to be hosted by a very humble family in the north of Peru. The generosity of those poor people was like a shock to us. That generosity we best shared over their unique table, cooking and eating. While plantain –that large non-sweet banana– is a common ingredient throughout South America, we discovered with that family a novel way to prepare it: upe.
Upe (oo-pey) is a warm morning drink typical to the north of Peru. It's prepared by grating unripe (green) plantain and cooking it at low temperature together with milk, water and a bit of sugar. The result is a thick sweetened drink that is perfect before a long day of work outdoors.
Khinkali from The Republic of Georgia by Maggie Turansky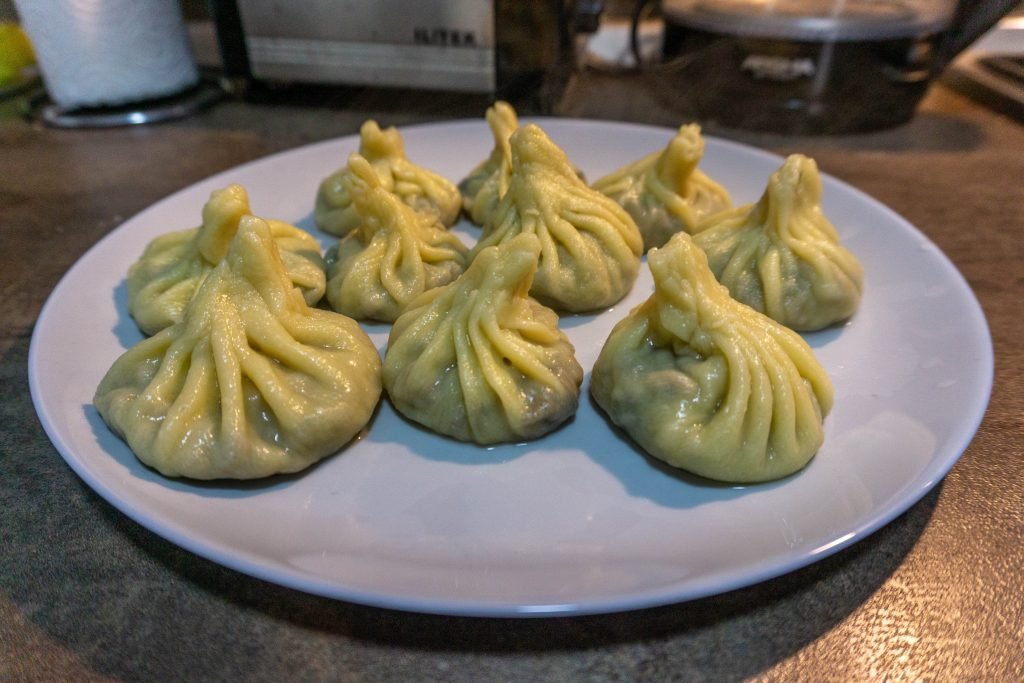 Khinkali are a kind of delicious soup dumpling that are one of the most popular foods to eat in the Republic of Georgia. They come in many different varieties, the most traditional one being filled with pork and beef, however, it is possible to find vegetarian fillings (like mushroom, cheese and potato), as well.  Khinkali looks like a giant Shanghai soup dumpling and they are traditionally eaten by hand — you pick it up from the nub on the top, take a small bite to suck out the juice, and then eat until you reach the top bit, which you then discard. The fillings are typically spiced with coriander, caraway and garlic and are incredibly flavourful and filling. And though it may look complicated, it is actually fairly easy to make khinkali at home and it is the perfect way to keep memories of a trip to Georgia alive or travel to the beautiful nation in the Caucasus without leaving your kitchen.
Daikon Kimchi from Korea by Bea.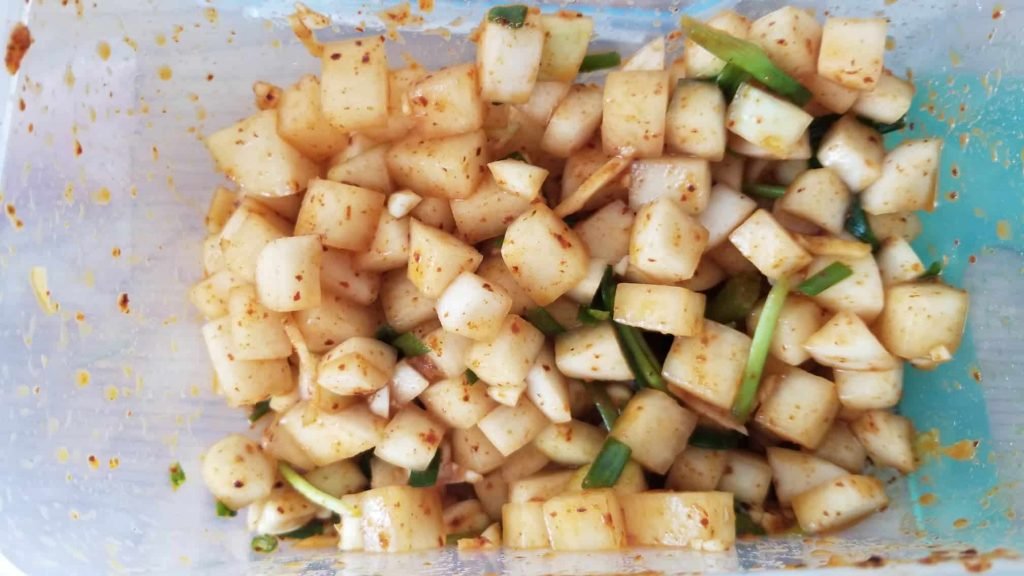 Here's a
super easy, 4-step Kimchi recipe
from my Korean neighbour, Sook Sook. I've grown to love this little appetizer for all its health benefits. Like any fermented food (Eg. sauerkraut, kombucha and yoghurt), the probiotic bacteria does wonders for your gut health! The best part?  It's so cheap and easy to make! All you have to do is cut up veggies, season it and let the natural fermentation process begin.
It'll be ready to eat in just a few days!  The key is to a) select quality vegetables, and b) get the right Korean chilli flake powder to perfect the taste.
Lamb shanks from New Zealand by Amy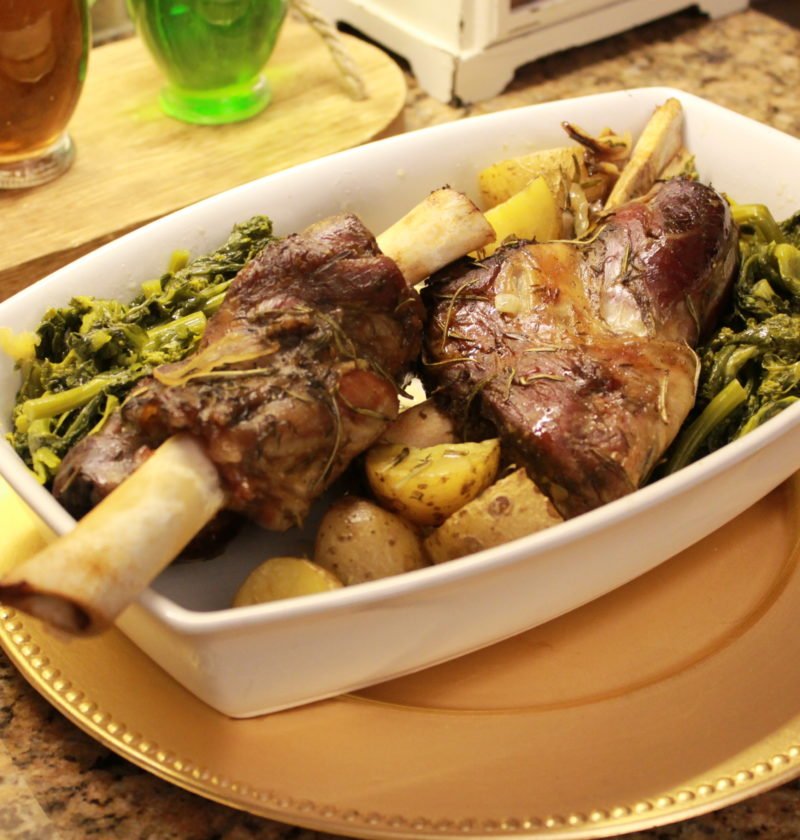 New Zealand is known for their flavorful and relatively inexpensive lamb. The perfect combination for this absolutely divine Roasted Lamb Shank Recipe. If you have never had lamb before, you will need to place it on your bucket list of foods to try. Lamb has a unique flavour, some people may even call it gamey. But, if lamb is cooked right, it can be very tasty, tender and delicious. Lamb makes an especially extravagant meat option as a special dinner for two. Most definitely, New Zealand Spring Lamb is a change from ordinary. Turn ordinary into extraordinary with this Roasted Lamb Shank Recipe today.
Carbonara from Rome by Marta Correale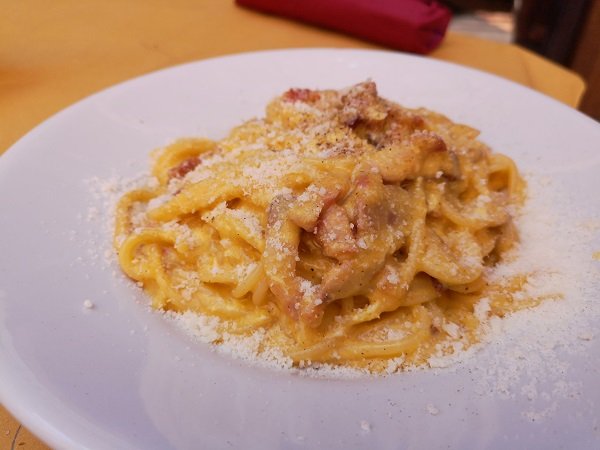 One of my favourite dishes in the whole world and one that I can easily replicate in my kitchen, no matter where in the world I am, is pasta alla carbonara. Carbonara is an Italian recipe from Rome, my hometown, and it is an earthy and filling meal that packs in punch in terms of flavour and texture. The basic pasta sauce is made with eggs and grated cheese but the real kick is given by small dices guanciale, a local cut of meat somewhat similar to bacon. Carbonara is a simple dish, most popular in inexpensive yet traditional restaurants in Rome. I love its taste but even more, I love how typical of the city it is: anywhere in the world, tucking into carbonara is an easy way to feel back home! 
Banana Fritters from Jamaica by Juleen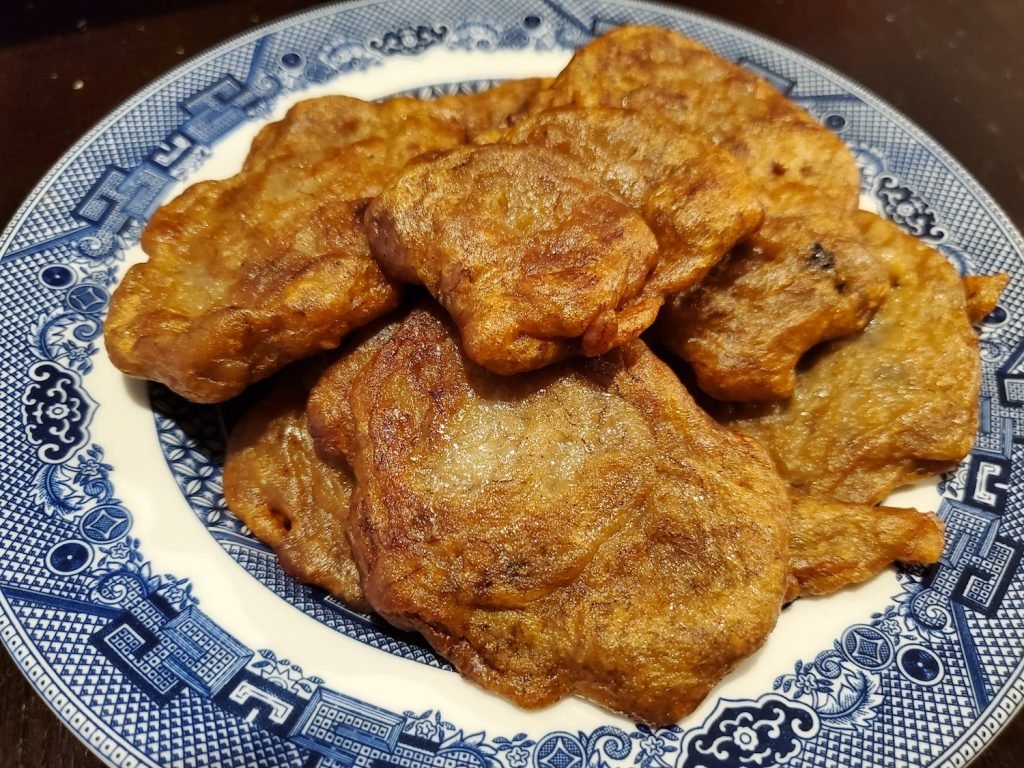 One of my favourite foods to prepare when I'm feeling homesick is banana fritters. One bite into a banana fritter and suddenly I'm taken back to getting fritters after school when I was a kid. I like banana fritters because they are relatively easy to make and great for someone like me who has a sweet tooth. The main ingredient in banana fritters, as you can guess, is banana, which should be at least ripe but I prefer overripe. I usually store any banana that has gotten too ripe to eat in a Ziploc bag in the freezer. When I'm ready, I just grab the Ziploc from the freezer and do my thing. Banana fritters can be eaten at any meals and you can also control the sweetness by putting less or more sugar. I also love that the ingredients are common in pretty much any country I've lived in.
Okonomiyaki from Japan by Nick and Ashley
We first encountered okonomiyaki during our travels through the country of Japan. We had never heard nor tried okonomiyaki before, but we were excited to try it when our Japanese hosts suggested it for dinner one night.
We all gathered around our hosts' table and took turns pouring the okonomiyaki mixture onto the hot plate that was placed in the middle. Not only was the okonomiyaki delicious, but it was a great way of bringing everyone in the household together, cooking a communal meal with conversation and friendship.
While we never had this dish in its city of origin (Osaka), we have continued to make it in our home since leaving Japan. We have taken this recipe with us (with some small alterations), and share this with others we meet as we continue to travel the world.
Yorkshire Pudding from England by Vicky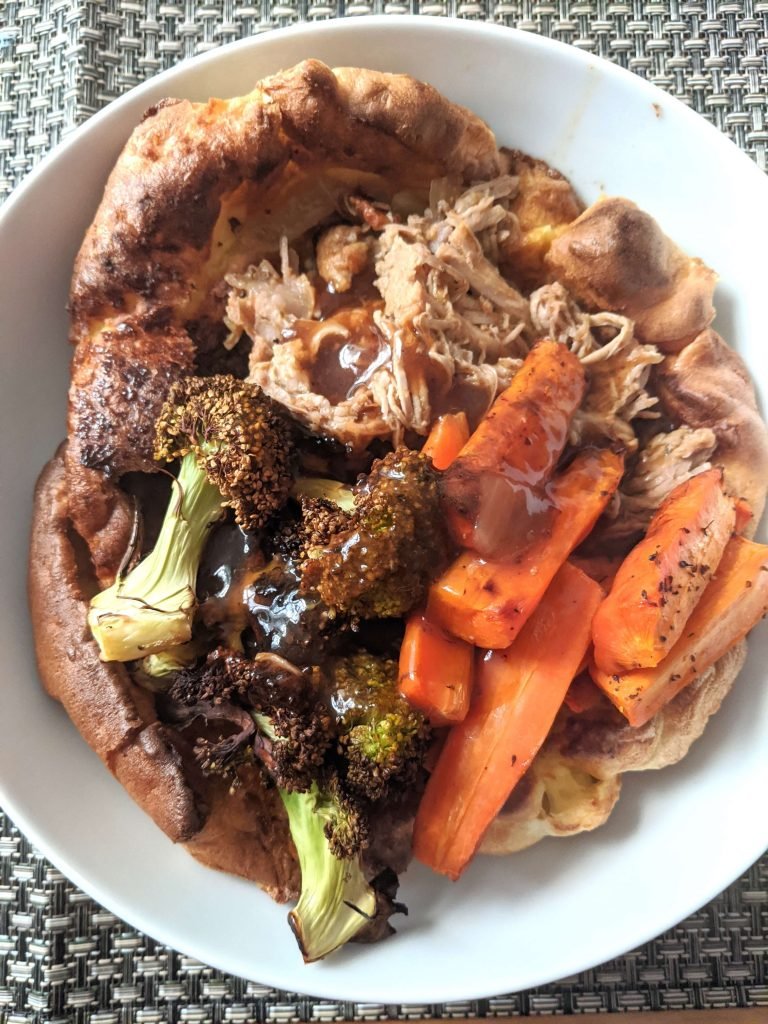 My mum is from
Yorkshire
 and I spent my childhood summers on my Grandparents' farm up there. My Grandma was SUCH a great cook, and used local products which of course was just the norm then, rather than a trend. She would serve 
Yorkshire
 Puddings as a starter.
They're more traditionally served as an accompaniment with a roast dinner, but we'd have a big one filled with gravy before we even got started on the main dish. I love them!
Yorkshire
 Puddings are super easy to make as well – you just need 140g of plain flour, 4 eggs, 200ml milk and oil. You need to get the oil really hot before you put the puddings in, et voila. A delicious hearty dinner – filled with whatever you like but always served hot – and forever England to me."
So, which recipe will you be trying for your upcoming virtual trip?