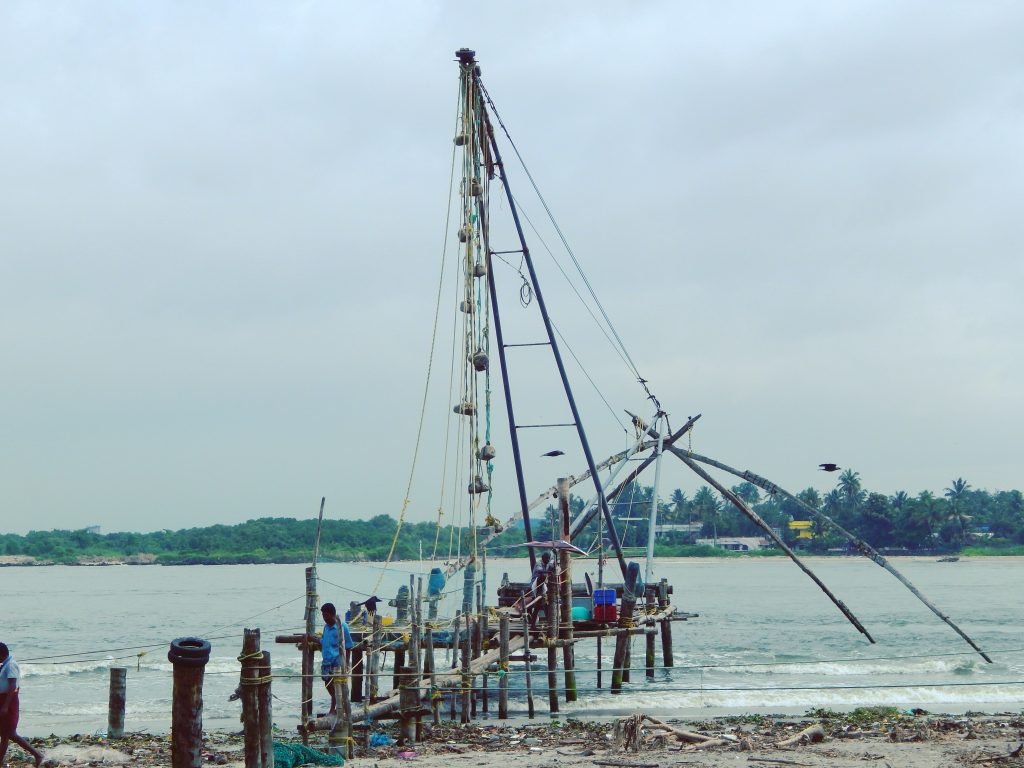 "What are those curious looking entrapments all through Fort Kochi?" I asked myself as I took a stroll through the shoreline early in the morning. With the breeze merrily playing with my hair and a cup of coffee that set me back by Rs. 10, I sat on one of the many benches that dotted Fort Kochi. There were several fishermen who were rhythmically moving around it, anticipating the next move. They gestured and spoke excitedly in rapid Malayalam as one of them lowered the fishing net. After a lull of 5 minutes I heard an exclamation as three men collectively pulled out the net full of fish. One of them collected the catch and started examining it.
I asked a lady who had served me my coffee and tried to use the one of the two phrases I knew in Malayalam, "it entāṇ" (What is that?)
"Cheena Vala", she replied.
"Cheena Vala?", I asked
"Cheeni fishing net", she translated for me.
Chinese Fishing Nets or Cheena Vala as they are called locally are fixed land installations, which are operated from the shore. The nets are mounted on teak or bamboo poles and held up horizontally by a mechanism which helps it lowering it to the sea for fishing.
These nets can be operated by around six men. They are 10 meters high and spread up to 20 meters into the sea. Each net has a limited operating depth and different nets are used during high tide or low tide.
Historically, it is believed that Chinese explorer Zheng He brought the Chinese fishing nets to the court of Kublai Khan for the first time between 1350 to 1450 AD.
Now you would assume that these gigantic contraptions would help you catch a lot of fish whereas, in reality, the fishermen prefer to catch small quantities and wait till the catch is sold off. That is why; no matter where you eat at Fort Kochi, you get the freshest of sea food available. Yum!
Most of the fishing for the wholesale market in larger quantities is done early in morning. Sometimes as early as 3 am. For the local markets, fishermen are seen operating the nets throughout the day. Can you spot all the Chinese Fishing Nets in this picture? 🙂
The Chinese fishing nets are so elegant; it is almost lyrical how the fishermen operate it jabbering away and knowing when would be the perfect second to haul the nets up.  For a first time viewer like me, the balancing and slow rhythm of the nets is splendid to watch.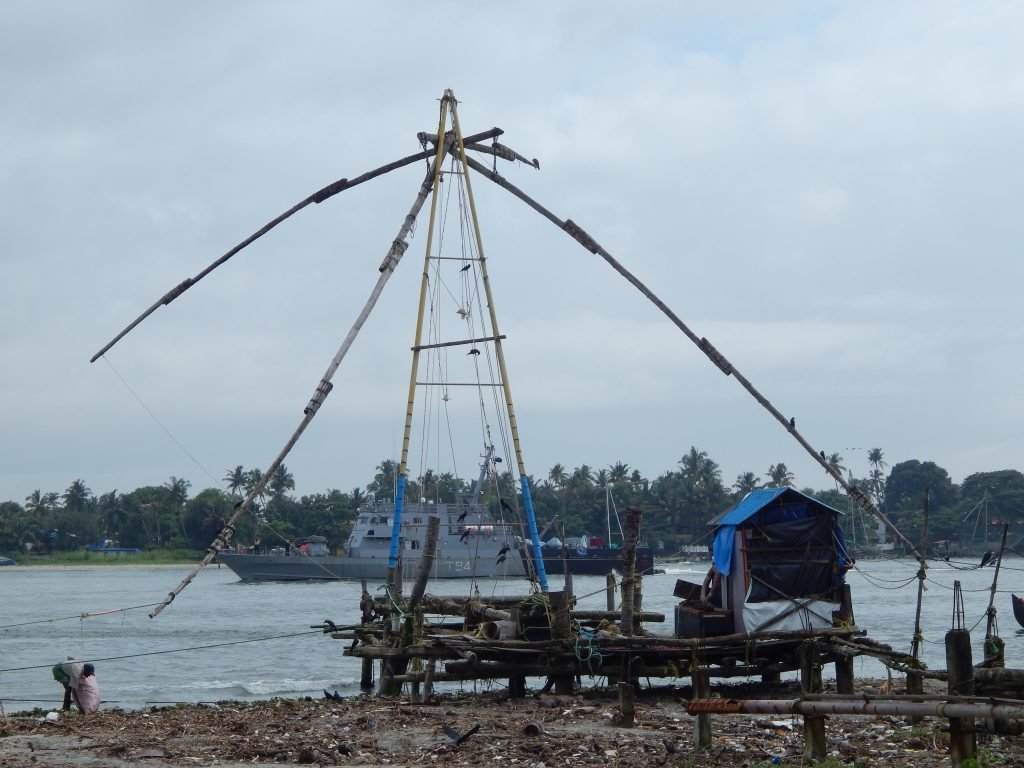 By the way, the Chinese Fishing nets are one of the most photographed spots around Fort Kochi. I couldn't help but click tons of photographs, too!
For the best view, take a walk through the Vasco da Gama Square. A couple of locals did mention that you could see bigger fishing nets around Marine Drive which is nearly 30 kilometers away from Fort Kochi but I couldn't make it.
What I love about Kochi is that every trip I make to the city, I seem to learn something new. The locals are super friendly and while language can sometimes be a barrier, most of them will try to talk to you in English and some of them go far as to attempt some Hindi, too!
 Some quick tips
The best time to observe the Chinese Fishing Nets is early in the morning around 5:00 am but some of them do operate throughout the day, too.
Fort Kochi, though a bustling tourist destination, is almost deserted from 7 am to 10 am. If you are looking to explore the place alone, this is the best time.
Carry snacks if you plan to visit Fort Kochi before 10 am because most of the shops, restaurants, and eateries are closed.
Some vendors will allow you to purchase small quantities fish caught in front of you using the Chinese Fishing Nets and quickly prepare a delicious meal for you. It will be slightly expensive but it is worth the price you pay.
That's it from me. I hope you enjoyed reading about the Chinese Fishing Nets of Kerala 🙂 Do you want to know the best things you can do at Fort Kochi? Do check Teresa's blog, Brogan Abroad, here.