Children from the 90's will all agree, that the term identity crisis was coined for us. We were a confused lot. On one hand, the world had opened up to India and we were introduced to things that our previous generations had never seen, and on the other hand, we struggled to maintain our 'Indian-ness'. We drank Coca Cola, brushed our teeth with Colgate, took bath with Liril, sang along with the "Hamara Bajaj' ad, giggled at Amul's clever quips and cooked the 2 minute Maggi for 10 minutes, at least. We watched KJo's NRI centric movies and planned to go to Switzerland for a Yasfh Raj ishtyle romance.
I remember how in my childhood I would wrinkle my nose and look down upon learning Marathi and Hindi in school. I wanted to be a posh world traveller and Indian languages were not for people with big dreams like me.
I stopped attending the Bharatnatyam classes that my mom had signed me up for, almost failed in my Marathi exam and attended Japanese and French language classes because that's what globetrotting Indians should do? Right?
Then came the year 2010; the year when I got my passport and was going to Japan as a part of a student exchange program. I couldn't wait to get to a foreign land and show off my international personality. I could walk English, talk English and even dance in English. I was truly a global citizen.
Travelling to Japan was one of the most humbling experiences of my life. It was in Japan that I learnt the two most important lessons in my life:
1) As clichéd as it sounds, everyone should take pride in their culture
2) Everybody in the world is an Indian at heart 😉
What happened was this:
After sightseeing, attending lectures and basically having a lot of fun, we were to stay in a Japanese family's home for a few days to experience their day to day life.
At the end of it all, we had to put up an Indian cultural performance and nobody was more heartbroken than me. I mean, I had learnt all the fancy movies from pop videos for nothing! We were at a loss about what to do, when at midnight, when I am at my creative best, an idea popped into my mind!
Didn't I learn Bharatnatayam as a child? I did remember a few mudras and knew a couple of steps. Sure, I was rusty and it would be a very basic performance but it was as Indian as it could get!
And our group had 2 extremely enthusiastic Punjabi girls who wanted to rock out their bhangra moves.
After a lot of careful practices and preparations….NOT. We had less than 24 hours you see.
So, with a lot of jugaad and juggling we proudly put together this for our audience.
I have to apologize for the video quality and my editing skills are sketchy at best but I can't describe what a wonderful feeling it was to hear all the claps after my dance performance. It was something very simple but it did win a lot of hearts, if I may say so myself.
Next up was Bhangra by our Dilli ki ladkiyan
At this point of time our entire group was in flutters. For the first minute, there was utter silence. We were just about to stop the music, dejected that our second performance had bombed, but all out of nowhere a Sherwani wearing Sohma San jumped right in, and performed his own style of Bhangra. I mean see him; he can put any Punjabi to shame! Soon enough, the entire stage area was filled with Japanese men, women and children and all the Indian delegates dancing their heart out. Have a look!
After our energetic dance performance, we were tired and it was time for our hosts to showcase their talent! The first was a traditional Japanese dance performance by a mother daughter duo and the second one, which overwhelmed me was a Bharatnatyam dance by a Japanese girl who had been learning it for the past 8 years. Can you believe that?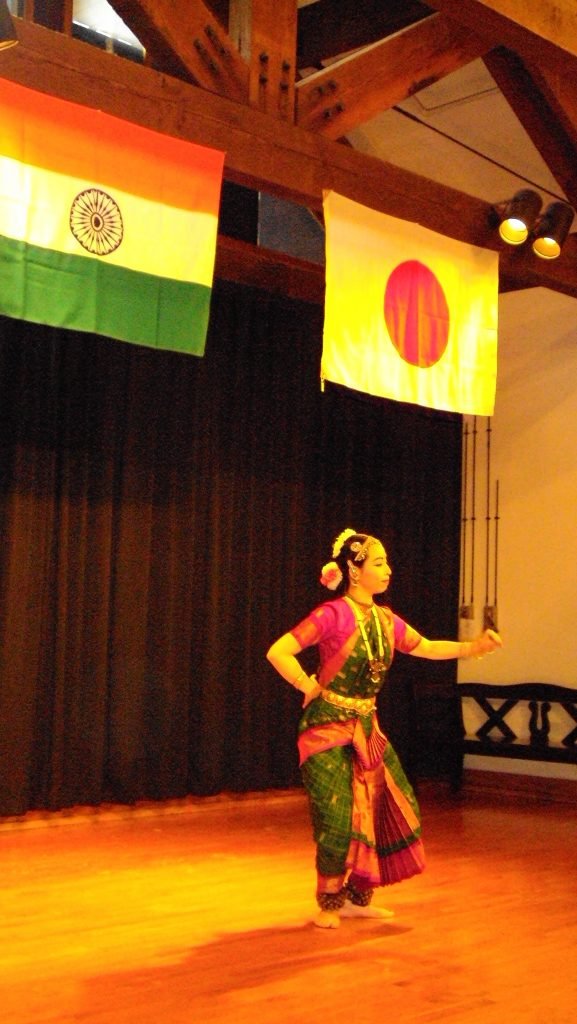 Buoyed by our success, and after getting way too many compliments, we had a small dance workshop at a University. Snippets of our dance lessons in Japan 🙂
My childhood dancing lessons, in a dance form that I never appreciated and doing baarati style bhangra saved us and gave us memories of a lifetime. We made tons of friends and I even became an email pal with Sarah San for a few years.
I have come a long way from being the girl who once scorned at being an Indian and following the Indian way of life. I think even India has come a long way and has truly arrived on the global scene. Have you recently watched "More Indian than you think ads?" on their website bit.ly/2oQTj8q
Hilarious isn't it? Yet somehow it manages to drive home a beautiful point; the world is ready for the Indian way of thinking and has started embracing it, too. After all, as I say, there is a little bit of India in everybody. Do you agree? 🙂
Please note: All the images/ videos of this video have been taken by me.