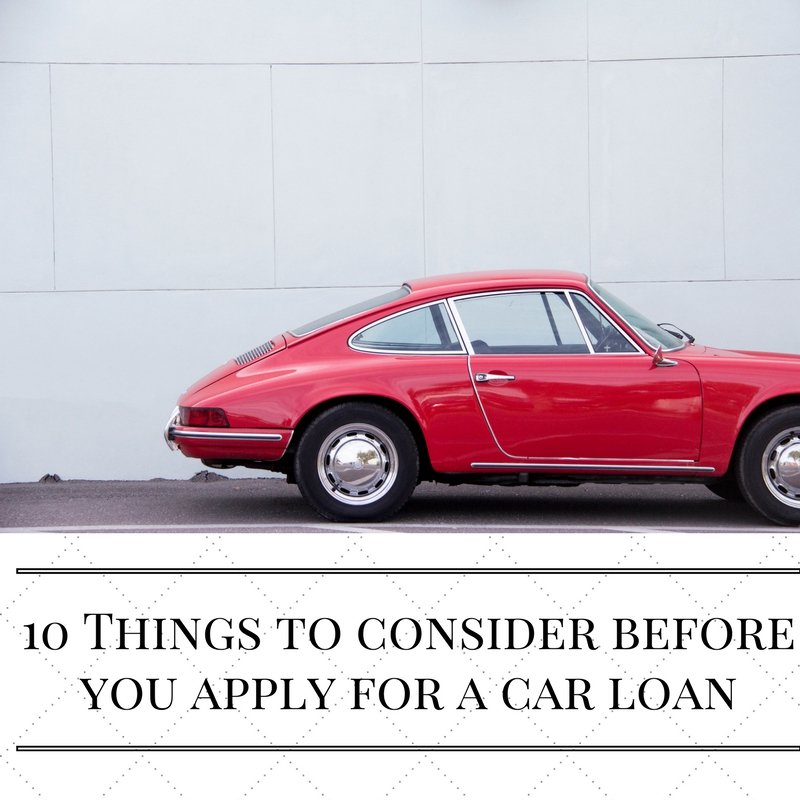 You know you are a grown-up when instead of looking for cute cat videos you start putting in search terms like "best car loans in India". Ever since I switched jobs, the commute has become a major hassle for me. Which is why; I have been thinking seriously about investing in a car. I don't want to borrow money from mum and dad and a car loan seems to be the best option for me. Before I take this major financial decision, I have realized that one needs to keep emotions and excitement aside and take a cold hard look at practical facts.
After a lot of research and discussions with people who have taken loans, I have come up with my list of top 10 things you MUST consider before you apply for a car loan.
1. Will you really drive your car regularly?
Owning a car is one thing, using it regularly for commute is another? Sure, it can be fun for the first few months but eventually, I have seen my friends give up and switch back to cabs and rickshaws. Being stuck in traffic, the stress of driving for long distances and wanting to multi-task while travelling are the three reasons why people give up on driving. What happens then is you are stuck with an almost new car which you would have to sell at a lower price even as you continue to repay your loan.
2. Keep an eye on the RBI
The Reserve Bank of India is the nation's central bank. They are in charge of the monetary policy. Keep an eye out on the repo rate (the rate which RBI lends to commercial banks). Lower the repo rate, higher liquidity with banks. This translates into lower interest rates for your car loan.
3. How about a second-hand car?
If your car is meant for commuting and according to you utility trumps style, then a second-hand car is an ideal choice for you. There are many pre-owned car showrooms dotted across the city who provide fully serviced second-hand cars at a great price. You should be wary of the maintenance costs that might crop up and therefore always buy a car from a trusted source.
 4. Can you afford a car loan?
 You have found your dream car that you fully intend to drive every day but can you afford to have a chunk of your salary go to a monthly EMI? Are you sure that you will remain employed until you manage to pay off the loan?
5. Is the rate of interest in your interest?
Interest rates, especially on car loans, can sometimes be the deterring factor. If your credit score is good, you can negotiate for a lower interest rate. During certain months, banks often offer attractive discounts on loans. Wait for this period to apply for the loan. Another thing to look for while trying to understand the interest rate is whether the bank is offering you a fixed interest rate or a diminishing interest rate. Explore multiple options before you settle on something.
6. What about the down payment?
You need to have a certain amount of money saved up to make a down payment on your car. You can opt for a 100% car loan but that would unnecessarily mean paying more EMI's with additional interest. If you have decent savings kept aside, you should consider taking a partial car loan by making a down payment.
7. Can you afford the additional charges of owning a car?
Owning a car means along with a fixed monthly EMI payment and parking fees, you would be spending a lot of money on petrol, tolls, car maintenance, and insurance. Can you afford to spend this money every month? It is essential that you factor these ongoing costs while making a decision.
8. What if you manage to pay off your car loan early?
Say you received a great bonus after your appraisal or some unexpected income from somewhere, can you just walk to your bank and pay off your car loan in one go? Not all the time. Certain banks charge a pre-closure penalty to customers because that would mean the loss of additional interest to the bank. Therefore, it is absolutely essential you read the fine print before you sign the papers.
9. What if you miss paying out an instalment?
Life is unpredictable and you never know when you urgently require cash for something. This would mean that you may not be able to pay your EMI for one month. Does your bank have any provisions for it or would have to incur an additional penalty? It is important to get this information beforehand.
10. Any other hidden charges?
Does your bank have any processing fees? Do you have to pay any additional charges for the loan to be passed? Go through the documents that your loan officer provides with a fine-tooth comb. Information is power and the more information you have about your car loan, better the choice you will make.
When it comes to purchasing cars, a loan is the best. However, always go with a car loan from a bank than an aggregator or third-party sources. Banks are always a safe bet. Read and follow these 10 points and you will be able to get the best loan to buy that car you always desired.