Being a professional in the development sector means two things; one, I travel extensively in rural areas and two, my hand sanitizer is my best friend. Generally, I would just walk to the nearby kirana store and pick up the cheapest one available. To me, they all seemed the same till of course Himalaya Herbals contacted me and asked me to try their PureHands Hand Sanitizer.
Have a look at the variants they offer.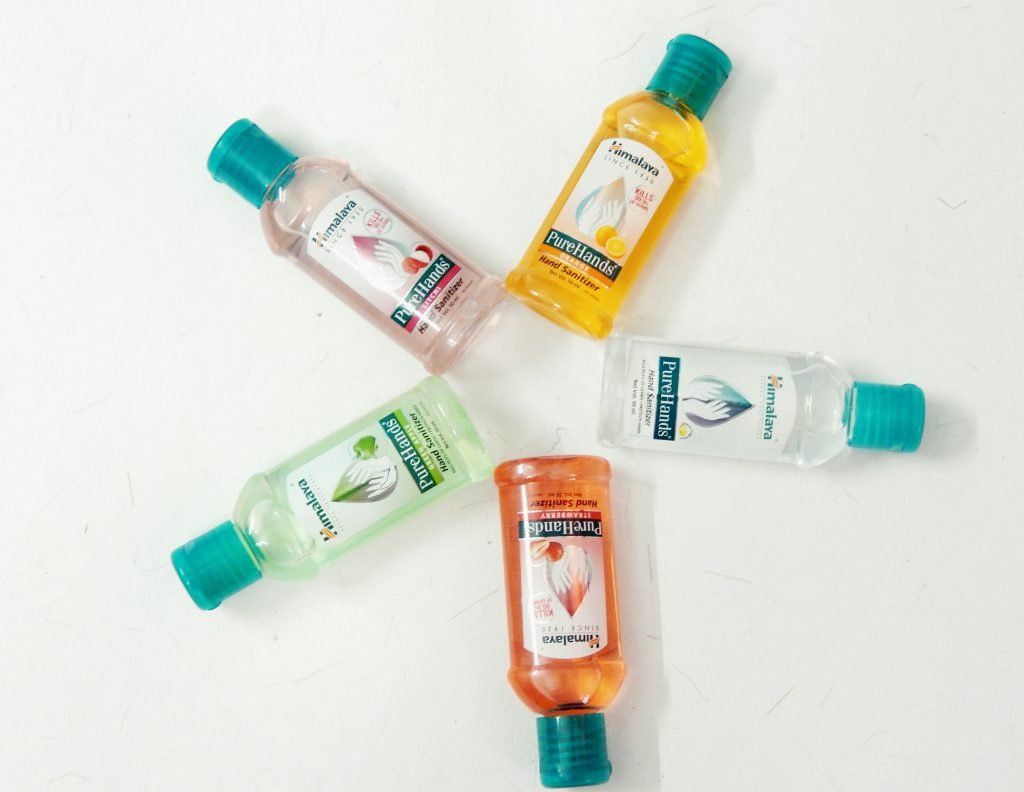 Product details
Variants available: Lemon, Green Apple, Strawberry, Orange and Litchi
Price: Rs. 60 for a 50ml bottle
Key Ingredients: Hrivera, Coriander, Lime, Ushira, Neem and Rectified Alcohol.
Directions to Use: Take 0.5 ml or 1ml of the gel on your palms. Rub well all over the palms, back of hands, fingernails, grooves briskly until dry. No water required after use.
Now that you are well acquainted with the product, should I dive straight into my review? Nah. I feel like doing something different. I want to give you a glimpse into my life as well as show you what a typical day of my sanitizer looks like 🙂
So here's presenting, for the first time ever in the world I think, the day in the life of my Himalaya PureHands Hand Sanitizer!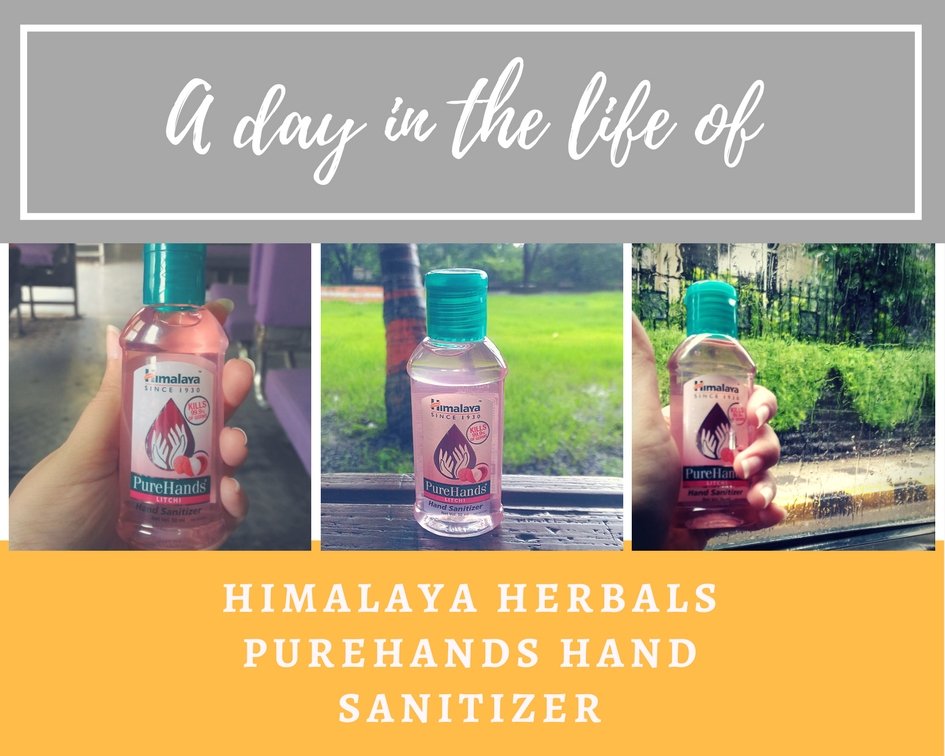 So here's presenting, for the first time ever in the world I think, the day in the life of my Himalaya PureHands Hand Sanitizer! I am going to let my hand sanitizer take over now.
A day in the life of Himalaya PureHands Hand Sanitizer 
So, the human loves litchi and she chose me to travel all over the city and the villages she works. She begins her day by using me first thing in the morning. She says she likes her hands to smell good in the morning. After she is done whatever humans do in the morning, I am unceremoniously dumped into her bag. I used to dislike it first but I have made friends with Nivea, the lip balm.
She loves travelling in the train and when it rains, in the cab. A drop of me is enough to clean her hands in a jiffy so that she can sink her teeth into that yummy vada pav sold by the old uncle on the street corner.
With her, I get to meet new humans who live far far away form the city and they love opening me and trying me out for the first time. A little human once squealed, "Its so cold" and promptly put a few more drops on his palm.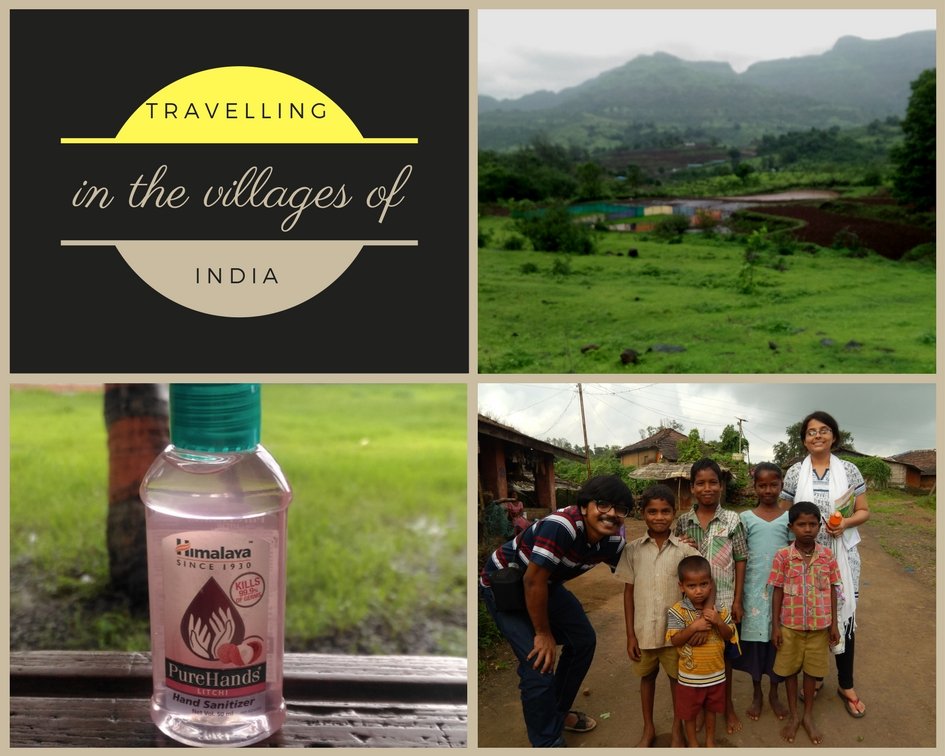 It is an adventure going to these places and doing so many things with her. We visit different houses and hear so many inspiring stories, too. When she is working, I snugly go to sleep in the pocket of her purse.
And that folks is typically what my day looks like.
Quick note from me
It is true; I love carrying my Himalaya PureHands Hands Sanitizer, the litchi variant everywhere I go. I have been using it for the past couple of weeks and I am happy with the results. It is pocket friendly i.e. it is cheap and it fits perfectly in my pockets, too. Hope you enjoyed the review and glimpse into my day to day life.
And it's time for a giveaway! 
What will you win? 3 of my readers will win gift hampers from the Himalaya Personal Care range.
How can you win? Share this post on:
1. Your Facebook profile tagging @Munniofalltrades, @HimalayaWellness and 5 friends. Be sure to use these hashtags #HimalayaPureHandsSanitizer and #MunniofalltradesGiveaway
2. Twitter: @kbmotihar and @HimalayaIndia with the hashtag #HimalayaPureHandsSanitizer
3. Leave links to your entries in the comments below and wait for our winner announcement. 🙂
This contest begins on 27th July 2017 and ends on 12th August 2017. It is open to Indian residents only. All the best guys!
Congratulations to Hiral, Ankita and Peeyush! Please email me your details on kbmotihar@gmail.com 🙂