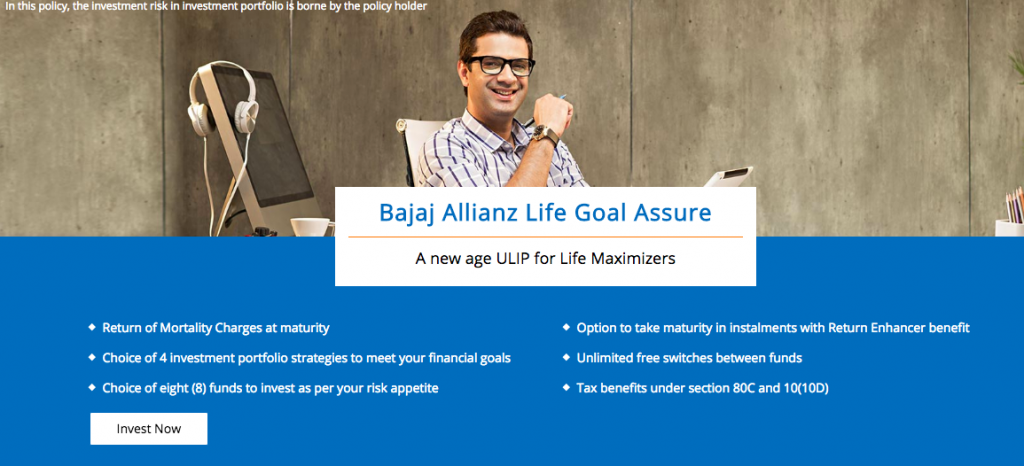 For someone who is 25 going on 26, life has just started. I am growing in my career, travelling, saving and investing. Mortality charges are possibly the last thing on my mind. I have many years to live and do I really need to be worried about death? This is one of the biggest problems that I have with Unit-Linked Insurance Plans (ULIPs). Don't get me wrong; ULIPs have several key features; they are versatile, they have several tax benefits and are excellent in the long run. However, the mortality charges are a pain point for many youngsters. It is a catch 22-situation, right? You want your family to be covered in case something unforeseen happens, yet you dislike having to shell out a good amount of money towards it. I am glad to share that Bajaj Allianz Life Insurance has been listening to us customers and it has come up with a new age ULIP, Bajaj Allianz Life Goal Assure. Let's dive straight in and get to know its features.
So, what does it do?
Described as a value-packed goal-based ULIP, Bajaj Allianz Life Goal Assure has investment benefits as well as life cover.
What makes it different from all the other ULIPs in the market?
The Unique Selling Proposition of Bajaj Allianz Life Goal Assure is:
i) ROMC feature i.e. Return on Mortality Charges where you will be refunded the total amount of mortality charges that are deducted throughout the policy term. This money will be then added either to your regular fund or top up fund as applicable. This ensures that you have the safety net of life insurance which makes you secure and at the same time you have some additional money to look forward to when your policy matures. Sounds like a win-win, right?
ii) Return Enhancer which means if you choose to receive the return in installments spread over five years, you will get an additional 0.5% in each installment. Further, your funds will continue to be invested through this time.
Is there more?
Yes, this is not where the features of Bajaj Allianz Life Goal Assure end.
This ULIP also has:
i) Fund Booster: You will receive an additional benefit on maturity of your policy
ii) Loyalty Additions: Bajaj Allianz loves their loyal customers, which is why you will get additional benefits for investing regularly when your annual premium is more than 5 lakhs and your policy terms is for 10 years or more.
iii) Unlimited Free Switches: I dislike additional charges that certain investment products levy when I move my funds – either withdraw them or invest them. It is not so here. You have free unlimited switching options with Bajaj Allianz Life Goal Assure.
iv) Tax benefits: Everybody loves tax benefit and under this ULIP, you will be exempted from taxes under sections 80C up to Rs. 1,50,000 at the time of investment as well as maturity.
Bajaj Allianz Life Goal Assure provides its customers with four portfolio strategies, which are designed keeping in mind the different types of risk appetites customers may have:
i) Investor Selectable Portfolio Strategy
ii) Wheel of Life Portfolio Strategy
iii) Trigger Based Portfolio Strategy
iv) Auto Transfer Portfolio Strategy
If you would like to know more about Bajaj Allianz Life Goal Assure, I would encourage you to visit www.bajajallianzlife.com to read up on the literature available. You'll also have the option of a step-by-step guide towards investing for your Life Goals, while using tools like Returns Calculator and Risk Xplorer. The website helps to simplify your calculations and weigh the pros and cons of different plans.
As I always say, one must read the fine print carefully and think deeply before you invest with anybody. Please feel to write to me in case of any queries 🙂