Technology touches each and every part of our lives; our Smartphones are becoming all the more intelligent, our gadgets are getting sleeker and are packed with features and we can't even imagine existing without the internet. Somehow, this technology hasn't really touched upon one aspect of our lives. That is our day to day household cleaning. Sure, there are vacuum cleaners available, but they don't clean up after you. You have to operate them on your own. Plus, they are bulky and extremely noisy.
That brings me to the question, wouldn't it be far more relaxing if you could sit on your comfy sofa and use your smartphone to operate a tiny albeit a powerful device that could mop and sweep hard floor surfaces and tackle dirt and stains in small spaces, like kitchens and bathrooms for you? It would be great, wouldn't it?
Here's presenting the iRobot Braava jet, the first mopping robot to be introduced in India.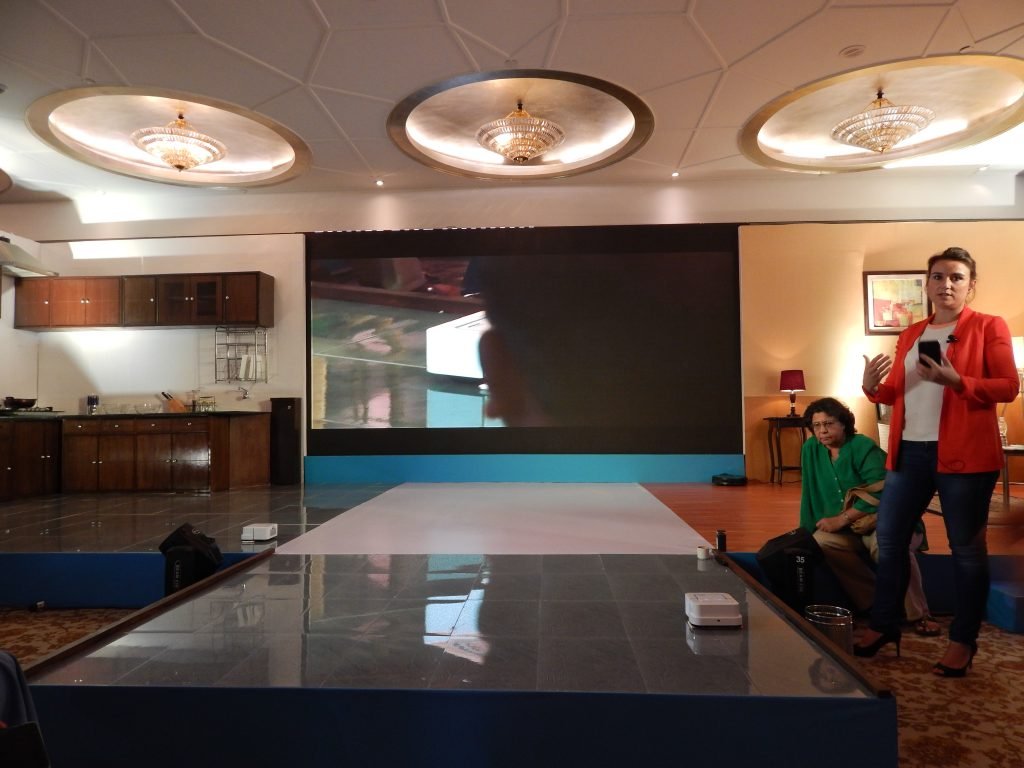 iRobot Braava jet cuts through the mess of day-to-day life and delivers fresh, clean floors every day. Priced at Rs.19,900, Braava jet combines a compact design, vibrating cleaning head, precision jet spray and Braava jet Cleaning Pads to lift dirt and stains, even in hard-to-reach places.
I am sure you are brimming with questions about iRobot. So let me answer a few for you.
How do I operate it?
You just have to attach the desired Braava jet Cleaning Pad and press the 'Clean' button. The robot will automatically determine its cleaning action based on the pad chosen.
What type of Cleaning Pads can I choose from?
Single-Use Wet Mopping Pad – triple-pass cleaning for dirt and stains well-sealed floors such as hardwood, tile, and stone
Single-Use Damp Sweeping Pad – single-pass cleaning for everyday dust and dirt on sealed wood floors, and can also be used on tile and stone
Single-Use Dry Sweeping Pad – single-pass cleaning traps and locks dust, dirt and pet hair on all hard floors, including hardwood, tile, and stone
How does the iRobot Braava jet work?
The Braava jet uses the Braava jet Cleaning Pads to tackle a range of hard floor cleaning jobs, from wet mopping and damp sweeping to simple dusting. The wet mopping and damp sweeping pads contain a water-activated cleaning agent. 
What do I do once the cleaning is done?
When Braava jet is finished cleaning, you have to place the robot over a waste basket and hit the 'eject' button to drop the pad into the trash.
What are the cool features of the Braava Jet?
Virtual Wall Mode:To keep Braava jet from entering unwanted areas, you can create an invisible boundary using the Virtual Wall Mode.
iRobot HOME App:Available for Android and iOS devices, the HOME App allows users to access the 'Clean' button to start or stop Braava jet, use Spot Clean for a quicker, deeper clean of a smaller area, easily get software updates and directly access customer service.
Inclusions when you purchase the iRobot Braava jet: It comes packaged with a long-lasting Lithium-Ion Battery, a battery charger, and two of each type of cleaning pad (wet mopping, damp sweeping and dry sweeping).
Pricing and Availability
The Braava jet Mopping Robot is available for purchase in India at Rs 19,900 with the launch offer of Rs 17,900 at iRobot flagship stores, www.irobot.in and will be available also on e-commerce platforms like Amazon.
Braava jet Cleaning Pads retail for Rs 690 for a box of 10 cleaning pads and can be purchased on www.irobot.in or wherever the Braava jet is sold. The washable cleaning pads retail for Rs 1190 for a box of two.
I had the opportunity to attend the launch of the event and see a product demonstration first hand. Here's a short video that I have made live at the event:
So, what do you say? Isn't it time that technology helps make our homes smarter?